Bentley set to be all-electric by 2030
Move to EVs will be preceded by plug-in hybrids across the range – and the end of the W12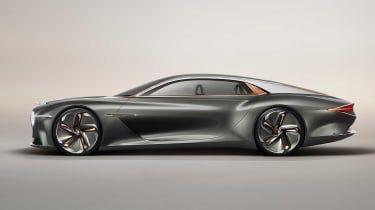 Bentley's future plans have been revealed with the announcement it will become an all-electric brand as early as 2030. This will happen after electrified versions of the current model range have been released, with the marque's first electric-only model due in 2025.
The company has yet to specify what exact form its first EV will take, but Bentley will be able to tap into the Volkswagen Group's investment in electrified technologies and bespoke electric platforms to create a whole family of all-electric luxury models. 
Before then, the current model range – comprising the Continental GT, Flying Spur and Bentayga – are all due to spawn plug-in hybrid variants in the near-term. The Bentayga was already sold with an Audi-based hybrid powertrain in its pre-facelift form, and it's a powertrain that will find itself in the recently updated version next year.
> Bentley EXP 100 GT Concept reveals Crewe's take on the future of GT motoring
The Continental GT and Flying Spur will find their electrification in a different powertrain, likely looking to the Porsche Panamera given its shared MSB platform. Whether the Bentleys will adopt the larger V8 plug-in system found in the Panamera Turbo S E-Hybrid or the smaller V6 arrangement remains to be seen, but both coupe and saloon will be revealed in 2021. 
Beyond 2026, Bentley's whole range will feature only full-electric and plug-in hybrid models, calling an end to W12 production on all three of its current models, and signalling the demise of 12-cylinder engines across the Volkswagen Group.
This news comes within a pivotal two years in Bentley's history, the marque celebrating 100 years since the company's founding and also the end of Mulsanne production – the final bastion of the company's iconic 6.75-litre V8 engine. 
To coincide with the move to a cleaner model range, Bentley has also promised it will become end-to-end carbon-neutral by 2030, working within the walls of Crewe and with its suppliers to embody a new form of environmentally ethical luxury across the brand's manufacturing and product pillars.