> Click here for the evo review of the BMW 1M Coupe.
Love the 1M, hate the indicators, more specifically the 'return to centre' stalk operating them. Manually cancelling them is the particular problem because it's all too easy to find yourself signalling in the opposite direction instead of turning them off. You end up in the indicating equivalent of a tank-slapper.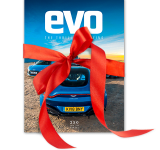 Subscribe to evo magazine
If you're passionate about the world's greatest performance cars, experience the thrill of driving with evo magazine. Try your first 5 issues for £5.