BMW 1M Coupe: Long term test
The rear tyres have taken a beating this month, after the 1M's eCoty experience.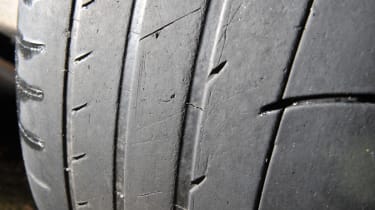 I'm not sure what made me reach down into the depths of the wheelarch and feel the rear tyre whilst I was filling the 1M with Shell's finest. It was a miserably wet evening so there was every reason for the little Bimmer to have been rather frisky during the previous half-hour's drive on the back-roads between home and Silverstone, but there was more to it than that.
Sure enough, as the tips of my fingers ran across the surface of the Michelin there was barely the shallowest of runnels interrupting a surface that was otherwise as bald as Harry Hill's head. Our jumped-up pumped-up 1-series might have returned from battling with a host of £100,000+ supercars in Portugal last month quietly satisfied and holding its kidney grille high, but the back tyres had taken a beating and, stupidly, I hadn't checked them before I took it out. The fuel pump's flow clicked to a stop and my blood ran slightly cool as I realised I was driving around on two lots of three points.
The run back to the office was undeniably fun, but I was glad that I had darkness to hide the evidence of one too many enthusiastic eCoty cornering shots. New boots are on their way.
> Click here for the evo review of the BMW 1M Coupe.