Because it's there. The pithy explanation for why men climb mountains might also explain why Infiniti is coming to Europe. Nissan's upmarket offshoot started out in America nearly two decades ago, and since then has sauntered up and over the motoring foothills of the Middle East, Russia and China. Now it really wants to prove itself – by trying to conquer the world's most challenging automotive landscape. This, then, is a simple rite of passage.
Except that rites of passage don't sit comfortably in the profit-motivated world of modern business. Infiniti wants to succeed in Europe for the prestige, certainly, and also for the halo effect that booming European sales will cast over other markets, but mainly it wants to make it in this new territory because someone somewhere believes there's money to be made.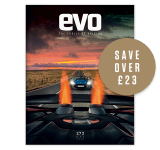 Subscribe to evo magazine
Subscribe today to have every issue of evo delivered straight to you. You'll SAVE 39% on the shop price, and get evo for its original cover price for a whole year!
That someone is Carlos Ghosn, CEO of Nissan-Renault and emphatically not a man who's likely to act on whim or whimsy. Product begets profit, and that puts firm pressure on the G37 Coupé to perform. It has a brief that's easier to understand than to achieve: beat the BMW 335i coupe. Infiniti has done its homework, so the G37 is cheaper, more powerful (by 14bhp), and better equipped as standard. The flagship 'S' model also has some neat and potentially decisive features: four-wheel active steering, sports suspension and a viscous limited-slip differential. The Japanese firm has neglected to read the small print, though. The 335i is lighter (by 91kg) and has more torque – an extra 30lb ft, delivered almost 4000rpm sooner.
We know from previous experience just how devastatingly effective the BMW's twin-turbo straight-six is on the road, but oddly enough we've never performance-tested a 335i at Millbrook before. Pull away, skip second, select fifth and it's capable of things no 3-litre should be. Like 50-70mph in 4.7sec. That's quicker than an M3 can manage and a whopping 2.3sec ahead of the shorter-geared Infiniti. The advantage is even more marked in sixth – between three and four seconds faster in every increment between 40 and 120mph. Tug the right-hand paddle to select the seventh gear in this G37S's automatic gearbox (a six-speed manual is standard) and it takes nearly twice as long as the Beemer to see off each 20mph chunk.
So is the Infiniti's challenge over before it's even begun? Of course not. The in-gear tests could be tailor-made for the 335i's wide-reaching torque, but even so, in the lower gears the G37S holds its own. It's a quick car in its own right; faster than you expect it to be, and certainly swifter than it looks.
The Infiniti's 3.7-litre V6 is, broadly speaking, the same engine also charged with motivating the new Nissan 370Z, and it's a proper thing: plenty of muted growling, great throttle response and capable of putting real pressure on your back above 4500rpm. The auto transmission slings home the shifts ably enough, but disappointingly for a car as apparently driver-oriented as this one, full gearbox control is lacking – more of which later. The manual we drove at the car's launch (evo 125) unlocks more of the engine's undoubted character and brings you closer to the heart of the action.
The auto doesn't hamper performance unduly, though – witness the standing-start figures recorded by our Racelogic timing gear (page 120). On a wet mile-straight the G37S passes 60mph in 5.8sec, touches 100mph in under 14, and is back down to zero again before 20. But that isn't enough to contain the 335i, which is a hugely deceptive car – speed accumulates without effort or drama, big numbers appearing long before you expect. It is slower than an M3, but not by much. When the brake dust dissipates, we find 0-100-0 has taken just 17.4sec.
On to the West Circuit at the Bedford Autodrome. Neither car felt completely at home here, each revealing flaws in the other. To be truly track-competent the BMW needs a limited-slip diff, while the Infiniti wants for better brakes and more gearbox control. Stomp on the G37's anchors at three-figure speeds and the tail goes decidedly light, wagging slightly. Usually this is a sign that the front end has found truly exceptional grip and is digging in hard, but on the wet surface the front tyres are more inclined to surf and skate, making the car's manners all the more puzzling.
While all this is going on you're trying to change down for the upcoming corner, only the Infiniti's gearbox electrics won't let you – persistent pulls on the left-hand paddle are greeted not by lower gears, but incessant beeping. Having dealt with the corner, you emerge on the other side at least a gear higher than you want, and only when you get straight again will the transmission kick down. And this is in manual mode… The end result is a slow, frustrating lap. The true manual would have been at least a second and a half faster than the 1:32.9 we got out of the auto G37S.
But even that wouldn't be enough to keep the 335i at bay, not with its time of 1:29.9. Yes, the German car can accelerate faster, but what really gives it the advantage is the speed it can carry through the quicker turns. Better weight balance enables it to work all four tyres more evenly and adjustably, the car simply giving you more options when tackling a corner thanks to its more dextrous, biddable chassis.  In comparison the Infiniti is entertainingly tail-happy, easy to provoke into a slide and, once there, even more controllable than the BMW thanks to that viscous diff, which is as good at improving traction out of the West Circuit's two slowest corners as it is when dealing with oversteer.
A great place though the Bedford Autodrome is to test road cars, throwing previously blurred traits into sharp focus, it's no substitute for time spent investigating these cars on a good road. That includes assessing cabins. Sorry, Infiniti, but you need to work on plastic quality; the brittle transmission tunnel cladding ain't impressive. At least the plump seats are a pleasure to sit in, and as far as interior ambience goes the Infiniti has the 3-series well beaten. It's not that spending time in the G37 is hugely eventful (the night-time lighting's a treat, though), more that so little effort has been put into making the BMW's cabin interesting. That said, it's hard to pick fault with the 335's more generous accommodation, especially if you've just extracted yourself from the back seat of the Infiniti with a cricked neck…
The G37S is a thoroughly pleasant car to cruise along in, though. The engineers worked hard to deliver a European driving experience, and they've succeeded. The proof is in the soothing yet controlled ride, the precise steering response and the crisp turn-in.  At six-tenths it doesn't have fine enough levels of tactility in the controls to make it particularly memorable, but push harder and the G37's meaty V6, the weighty steering and honest front-engined rear-drive layout make it very entertaining.
 It's easy to underestimate the BMW, familiarity breeding if not contempt then an inclination to overlook its strengths. Chief amongst these is its steering feel, which has a sense of harmonious connectedness that pervades the whole car. It's not just the trickling, nibbly feedback that you get, but the confidence it inspires. For a plain-Jane coupe it really is dynamite, one of those car's that's with you 100 per cent, 100 per cent of the time.
Even the flaws (and there are one or two, most notably the long-travel clutch, although we're no fans of the thick-rimmed steering wheel, either) are easily overlooked alongside the meaty brakes, tingly engine note, exquisitely linear power delivery and immaculately honed suspension. The rougher the road gets, the better this M Sport-spec 335i reacts to it.
So the BMW wins this test, but the real pity is that as a result of the economic downturn the dealer network that was due to start selling Infinitis in Europe recently announced huge losses, so there's a possibility that the G37S's arrival in the UK could be delayed until 2010.
Which would be a shame, because although as motoring ed Barker says, 'It's not like anyone's hanging on for an Infiniti, is it?', the G37 gives the 335i a good fight. The big coupe is a bit like a 350Z that's grown a slight belly, been told that it's got to put on a middle management suit and change its Converse for some Hush Puppies. Yet underneath the soft-edged lines and the slightly plusher seats still lies the feisty heart of the Z. While it will cruise smoothly, if you grab the G37 by the scruff it is truly entertaining. I suspect its gruff V6, meaty gearchange (if you get the manual) and keenness to oversteer will surprise a few who thought they were buying a middling car for a mainstream audience.
Ultimately the Infiniti doesn't have the dynamic or stylistic polish of the 335i, but coming second to such a brilliantly honed act is no disgrace. And not everyone in Europe wants to buy a BMW or an Audi…
Extra Info
Lap Times
PERFORMANCE
Infiniti G37s
BMW 335i
 
0-30
2.4
2.3
0-40
3.4
3.2
0-50
4.4
4.2
0-60
5.8
5.2
0-70
7.3
6.9
0-80
9.1
8.4
0-90
11.3
10.1
0-100
13.8
12.2
0-110
16.6
15.3
0-120
20.2
18.2
0-130
25.5
22.1
0-140
32
29
0-150
-
-
1/4 MILE
sec
14.3
13.8
mph
101.8
104
IN-GEAR TIMES (3RD)
20-40
2.9
2.9
30-50
3
2.8
40-60
3
2.9
50-70
3
3
60-80
3.1
3.1
70-90
-
3.3
80-100
-
3.8
IN-GEAR TIMES (4TH)
20-40
-
4.5
30-50
4.5
4
40-60
4.4
4
50-70
4.4
4.1
60-80
4.4
4.3
70-90
4.5
4.6
80-100
4.9
4.8
90-110
5.4
5.1
100-120
6.4
5.4
110-130
-
6.2
120-140
-
-
IN-GEAR TIMES (5TH)
20-40
-
-
30-50
7.7
4.5
40-60
7
4.6
50-70
7
4.7
60-80
7
4.9
70-90
7.5
5.2
80-100
7.9
5.5
90-110
8.5
5.9
100-120
9.2
6.5
110-130
-
7.1
120-140
-
-
IN-GEAR TIMES (6TH)
20-40
-
-
30-50
-
5.5
40-60
11.1
5.5
50-70
8.8
5.7
60-80
8.8
5.9
70-90
9.2
6.2
80-100
10
6.7
90-110
11.3
7.4
100-120
12.8
8.3
110-130
-
9.2
BRAKING
100-0
5
4.8
dist. ft
350.1
345.5
60-0
3.1
3
dist. ft
124.1
123.2
Conditions: wet
Comparison
| | | |
| --- | --- | --- |
|   | Infiniti G37 S | BMW 335i |
| Engine | V6 | In-line 6-cyl, twin-turbo |
| Location | Front, longitudinal | Front, longitudinal |
| Displacement | 3696cc | 2979cc |
| Bore x stroke | 95.5 x 86mm | 84 x 89.6mm |
| Cylinder block | Aluminium alloy | Aluminium alloy |
| Cylinder head | Aluminium alloy, dohc per bank, four valves per cylinder, CVTCS | Aluminium alloy, dohc, four valves per cylinder, VANOS |
| Fuel and ignition | Electronic engine management, sequential multipoint injection | Electronic engine management, sequential multipoint injection |
| Max power | 316bhp @ 7000rpm | 302bhp @ 5800rpm |
| Max torque | 265lb ft @ 5200rpm | 295lb ft @ 1300rpm |
| Transmission | Six-speed manual (or seven-speed auto as tested), rear-drive, limited-slip diff, VDC | Six-speed manual gearbox (seven-speed auto optional), rear-wheel drive, DSC+ |
| Front suspension | Double-wishbones, coil springs, dampers, anti-roll bar | MacPherson struts, coil springs, dampers, anti-roll bar |
| Rear suspension | Multi-link, coil springs, dampers, anti-roll bar, 4WAS active steering | Multi-link, coil springs, dampers, anti-roll bar |
| Brakes | Ventilated discs, 355mm front, 350mm rear, ABS, BA, EBD | Vented discs, 348mm fr, 336mm rear, ABS, CBC, DBC, EBD |
| Wheels | 8.5 x 19in front, 9 x 19in rear, aluminium alloy | 8 x 18in front, 8.5 x 18in rear, aluminium alloy |
| Tyres | 225/45 R19 fr, 245/40 R19 rear, Bridgestone Potenza RE050 | 225/40 R18 fr, 255/5 R18 rear, Bridgestone Potenza RE050A |
| Weight (kerb) | 1706kg | 1615kg |
| Power-to-weight | 188bhp/ton | 190bhp/ton |
| 0-60mph | 5.8sec | 5.2sec |
| Max speed | 155mph (limited) | 155mph (limited) |
| Basic price | £34,500 | £35,635 |
| On sale | 2010? | Now |
| evo rating | 3/5 | 4/5 |