You could say there is no more one quintessential BMW than the 4-series coupe. Putting to one side its marketing-led name change a generation ago, its direct ancestry resonates with car enthusiasts like a pint after work on a Friday. 
So after a controversial reveal, BMW's all-new 4-series coupe has finally landed in the UK in coupe form, with a convertible and four-door Gran Coupe joining it in the next few months. Alongside the coupe's launch, BMW has also introduced this M440i M Performance model for the first time, which will act as a middle-ground performance derivative alongside the M4 when it arrives in March next year.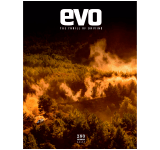 Subscribe to evo magazine
Subscribe today to have every issue of evo delivered straight to you. You'll SAVE 39% on the shop price, and get evo for its original cover price for a whole year!
Engine, transmission and 0-60 time
We've seen these powertrain components in an array of other models, both within the BMW range and outside of it. The B58 3-litre straight-six petrol engine features a single twin-scroll turbocharger, and packs an impressive 369bhp and stout 369lb ft of torque. The engine itself is a closed-deck modular unit that also finds its base in the S58 found in the M4, and due to BMW's multitude of engine supply deals can also be found in everything from the Toyota Supra to Morgan's Plus Six.
Like all of BMW's current M Performance models, the M440i is all-wheel drive and connected exclusively to an eight-speed automatic transmission. As this isn't a full-fat M model those front driveshafts are not able to be called off by the driver, however in BMW's usual fashion there's still a huge array of driver mode variability between each of the car's dynamic components.
What is fresh in the M440i is its mild-hybrid system, which makes use of the very in-vogue 48V electrical system and a small electric motor to run some of the engine's ancillaries and provide a very subtle boost under hard acceleration. With the trifecta of an auto gearbox, all-wheel drive and a boosty turbocharged engine the M440i wallops the naught to sixty in just 4.5sec, going onto the usual 155mph limited top speed. 
Technical highlights
The new 4-series differs most from its predecessors by a pretty generous jump in its overall dimensions, stretching 128mm longer and splaying out 27mm wider. Track widths have also jumped by 18mm and 28mm, front and rear. Compared to the current 3-series, the 4's centre-of-gravity is also 21mm lower, and thanks to an array of re-designed shear panels and underbody bracing is much stiffer too, especially around the rear axle. 
Unique to the M440i in the 4-series range is the combination of the aforementioned all-wheel drive system and an electronically-controlled locking rear differential, while adaptive dampers and a speed-sensitive variable ratio steering rack are also standard fit. It also bungs in a set of larger four-piston brake calipers up front, plus a whole array of active safety kit too. 
The interior design is identical to lesser 3-series, with a familiar dash layout that's simple and ergonomically sound. Those fond of clear simple round dials of BMW's past will be disappointed to find that they've been replaced with the fussy ugly digital dial pack found across the rest of BMW's range, and while build quality is very good the actual materials feel a little low-rent, especially for near-£55k.
What's it like to drive?
Reach for the steering wheel and its thick squidgy rim is instantly off-putting, look down and you find the nasty shiny black plastic gear selector, flick the flimsy indicator stalk and you wonder why BMW has lost sight of why these crucial first touchpoints matter. It might sound like semantics, but it frames that crucial first interaction with the M440i in a bad light. Straight away it starts on the back foot. 
The dead steering is the next bugaboo, it's so lifeless just off the straight ahead that you find yourself wiggling the rack as you drive down a straight road as to try and ascertain whether your input actually has any bearing on the front tyres. Dive into the driver menus and the steering's Normal and Sport settings (in contrast to the default Comfort) are slightly more evenly weighted, but feel isn't any more apparent.
In contrast to these unimpressive first impressions though, the M440i's powertrain instantly feels good for every bit of its 369bhp when up and running. While milling about at low speeds the engine's tractable and torquey throughout the rev-band, with impressive response and a pleasing lack of turbo lag. It feels effortless, and makes the 4 feel quicker than it's figures might suggest.
Start to up the pace, tune into more appropriate driver modes and the M440i's dynamic capability is clear. The body feels well tied down, wheel control is excellent and kept to a softer setting, the dampers find a rhythm with the road surface while still filtering out the most abrupt road scars. It's now that the steering becomes a little more trustworthy, if still not particularly communicative. 
The balance of the powertrain is something new for a BMW though, as unlike many other BMW xDrive systems, its rear-bias feels quite subtle, requiring provocation to get the rear end moving around in the dry – this would doubtlessly be different in greasy conditions. The nose is more enthusiastic, with enough grip across the front axle to match the steering's relatively fast steering ratio without feeling out of step with the body control. You would really have to dig deep to find any form of understeer on a dry road too, while the power delivery itself is also much improved over high-powered 4-series models, with none of the previous F91's rear-axle squirm under hard acceleration.
But there's a problem to all this, and it's that despite some objectively impressive dynamics the new M440i leaves me cold as there's just not enough of the soul that so clearly defined the two-door BMW coupe in previous generations. The engine, although strong, feels and sounds lifeless compared to the raspy in-line six weil of versions gone past. The steering doesn't provide any real interaction and the handling balance itself, although capable, lacks the nuance and texture that used to define BMW. The M440i feels like a sorted and well executed contender in the premium coupe class, but no longer the model which defines it.
Price and rivals
So the M440i has grown up, but then so has its price point. At a rather chunky £54,645 basic, it is well equipped with LED headlights, 19-inch wheels, leather seats and a myriad of digital displays. If you want to plump for some real technological highlights though it'll cost you, with clever parking cameras, laser-assisted headlights, upgraded stereo options, a massive head up display available within various option packages. 
The BMW's key rivals are a typical set of mid-strength German coupes. Audi's S5, arguably the model that defined this sub-M4 genre back in 2007, is still around, but not only has V8 given way to V6, but petrol has been swapped for diesel in the latest S5 TDI. It's a strong engine, but the already anodyne driving experience has now been further relegated into the high-performing German appliance category. It's also nothing as sophisticated to look at as the dreamy original, instead going for that fussy 'more is more' approach. 
AMG's C43 is actually far more spritely than its dour looks suggest on the road, as the somewhat old-fashioned twin-turbo V6 engine is by far the most exciting and interactive of the bunch. It's not quite as capable as the BMW, nor comfortable or sensible as the Audi, but as a fast coupe with a bit of charisma the C43 is a welcome surprise.