When the E92 M3 was launched in the autumn of 2007, BMW's baby M-car had made quite a journey in the 21 years since the original E30. From a delicate 2.3-litre four-cylinder 200bhp road-racer, it had evolved into a 4-litre eight-cylinder 414bhp monster. What we didn't realise at the time was that it would also be the last naturally aspirated M3.
And what an engine. Unique to the M3 and drawing on BMW's F1 experience (the block came straight from its F1 foundry at Landshut), it had individual throttle butterflies for each cylinder, double-VANOS valve timing, a pair of oil pumps for the twin sumps, and incredibly low masses that allowed it to rev to a searing 8400rpm. We'll probably never see its like again.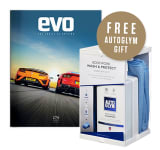 Subscribe to evo magazine
Subscribe today to our exclusive new offer and SAVE 39% on the shop price, get evo for its original cover price of £3.00 an issue, plus get a FREE gift worth £20!
> BMW M3 review - still the sports saloon king?
There was a choice of a six-speed manual or seven-speed dual-clutch transmission (an extra £2500), while all cars got an M Differential and driver-programmable modes for throttle response, stability control, steering weight and suspension stiffness (EDC, or Electronic Damper Control, was a £1295 option, later standard).
The two-door coupe (E92 in BMW-speak) came first, with a basic price of £50,625, though few were sold like that. It was subtle, almost understated in appearance, especially on the standard 18-inch alloys (most had the optional 19s), though there were enough visual clues – the unpainted carbonfibre roof, the four tailpipes, the 'powerdome' in the bonnet – to signal its M-division origins.
The saloon (the E90) followed in 2008. Though it did without the carbon roof, it was only marginally heavier and every bit as good to drive – in fact we rated it even more highly than the coupe.
There were a number of variations. The M3 Edition, launched in 2009, was largely a cosmetic exercise but did include a 10mm drop in ride height, which gave the chassis even more poise. The Competition Package, released in 2010, had the lowered springs but also revised stability control, a new Sport setting and revised damper rates within the now-standard EDC, plus 19-inch CSL-style alloys.
The ultimate was the stripped-out, roll-caged 444bhp GTS version of the coupe and its CRT (for Carbon Racing Technology) saloon sibling, but they were rare and fantastically expensive – and still are. It's the regular coupe and saloon we're focusing on here.
Checkpoints 
Engine
The high-revving, naturally aspirated V8 is unique to the E90-series M3 and one of the great BMW M engines, but it's not without issues, as Munich Legends' Stuart Draper explains.
A common issue is failure of the throttle actuators. 'It happens to them all at some point,' says Stuart, 'usually after about 30,000 to 40,000 miles, either electronic failure or the nylon gears wear out. But rather than replace them, most people now have them overhauled, which costs about £400 for the pair rather than £1400 for new ones, plus about three hours' labour. Once they've been uprated, they shouldn't give any problems.'
Less common but potentially far more serious, as V8 M3s reach higher mileages (generally 80,000-plus) specialists are seeing an increasing number of bottom-end engine failures where a bearing shell has been spun, in the worst cases requiring a rebuild with new crankshaft, rods, etc, which can cost as much as seven grand.
'How carefully the car was run-in and how meticulously it's been serviced play a part,' says Stuart, 'but driving the car hard from cold seems to be the main culprit. There's a reason why M-cars have an oil temp gauge, and it's the most important gauge in the car.
'At every V8 service, we send an oil sample to a lab to check for metallic contaminants. If it comes back clean and if you're a careful driver and warm the car up before driving it hard, then you're unlikely to suffer any issues. For a high-performance engine, it is actually remarkably reliable. I've got a customer with a car that's done 130,000 miles and there's no sign of an issue, but he's a really careful owner.
'It is becoming more of a problem and people tend to be wary of high-mileage cars unless they've had a shell replacement. A lot of people now budget to have the shells replaced – about £1700 – then you know it'll be totally reliable.'
A warranty could be a good investment. BMW charges around £100 a month for full coverage, and more affordable alternatives are available.
Transmission
The manual 'box isn't the sweetest. 'It tends to be particularly notchy from cold,' says Stuart, 'and you have to be very precise with it, otherwise you can mis-select a gear. That said, it's a totally reliable gearbox.' If the clutch needs replacement it's a five-hour job. Including a flywheel, reckon on about £1400 all-in.
'The DCT is a good system and incredibly reliable,' says Stuart. 'We've never done a clutch on a DCT and we look after hundreds. Check underneath though – the one thing they do suffer with is oil leaks from pipes and gaskets. It can be a problem if they run low on oil, but most people notice well in advance.
'Prop joints can wear and become noisy, but usually it's cars that have been tracked. We've also seen the odd diff failure on high-mileage cars. Both are expensive if they fail. Listen for constant rubbing noises from the prop; a failing diff will graunch on tight turns or make a humming noise like a wheel bearing.'
Suspension, steering, brakes
No real issues here. 'The EDC suspension is incredibly robust and most people find the non-EDC ride too harsh for everyday use,' says Stuart. As is often the case with M-cars, the brakes are not this M3's strongest suit; AP Racing discs and calipers, Pagid pads and braided hoses are all common upgrades. OE tyres were either Michelin Pilot Super Sports or Conti Sport Contact 3s.
Information 
Specification
| | |
| --- | --- |
| Engine | V8, 3999cc     |
| Max power | 414bhp @ 8300rpm |
| Max torque | 295lb ft @ 3900rpm |
| Transmission | Six-speed manual (DCT option), rear-wheel drive |
| Weight | 1580kg (266bhp/ton) |
| 0-62mph | 4.8sec (claimed) |
| Top speed | 155mph (limited) |
| Price new | £50,625 (Sept 2007) |
Parts prices
Prices from munichlegends.co.uk. Tyre price from blackcircles.com. All prices include VAT but exclude fitting charges.
| | |
| --- | --- |
| Tyres | £199.60 front, £256.10 rear (each, Michelin Pilot Super Sport) |
| Front pads | £182.35 (set) |
| Front discs | £520.00 (pair) |
| Damper | £432 (EDC, single, front) |
| Clutch | £360 (manual) |
| Flywheel | £480 |
| Spark plugs | £148.40 (set) |
| Oil filter | £23.75 |
| Air filter | £55.09 |
Servicing
| | |
| --- | --- |
| Service 1 | £286.80 |
| Service 2 | £346.80 |
| Service 3 | £682.80 |
Prices from munichlegends.co.uk, including VAT. Variable intervals, but every 2 years minimum.
What to pay 
High-mileage (generally 90k-plus) coupes start at around £15k from specialists, though you can find privately advertised cars for less. Average-mileage cars with solid histories are generally £17k-18k, while lower-mileage examples (60k and less) start at around £20k. Equivalent saloons often fetch £2k-3k more, simply because there are far fewer of them and people have cottoned on to the fact that they lose nothing dynamically while being considerably more versatile and every bit as handsome, if not more so.
At the top end, late, low-mileage one- or two-owner cars can be as much as £30k. The Competition Package can add a couple of grand. The other key thing that adds value is the EDC suspension, which most have, while desirable options include extended leather.
'I bought one'
'I've had my E92 M3 for three years and 40,000 miles now. I bought it privately as an immaculate four-year-old example with the DCT transmission and EDC suspension.
'Compared with the E46 I owned before, the E92 is an upgrade in almost every sense: more refined, more comfortable, faster and, to my ears at least, better sounding. That said, when hustling along B-roads the E92 does feel its weight. It definitely prefers fast A-roads to tight, twisty lanes.
'Some feel the E92 is too torque-light and it's true that if you put your foot down in the wrong gear at 1500rpm it'll take time to wake up, but it's certainly poky enough from 3000rpm upwards and gets steadily more urgent through to the manic 8k red line. I still tend to shift up early most of the time as the mid-range is lovely, but it is satisfying to wait for the change-lights and really stretch its legs occasionally.
'Drawbacks? Not many. It likes a drink: 22mpg on average and a litre of oil every 3000 to 4000 miles. Road noise is inescapable, especially on poor surfaces. The throttle actuators on my car failed at about 60,000 miles and I had them replaced with an upgraded set by rebuild.co.uk for a fraction of the BMW price. The driver's side seat-belt extender, which passes you the belt, broke recently but was fixed easily for less than a fiver with some Araldite and instructions from YouTube. Apart from that, it's all good; an almost perfect all-rounder.
'For my next car I've been considering a 911, but they don't seem especially good value in comparison, costing nearly twice the price for a car of similar age, mileage and performance.  I'm not really taken with the F80 M3/M4 so I've started looking at the F10 M5. Maybe in the spring…' Jason Cross
What we said 
Road test, September 2007 'The undoubted highlight of the new M3 is the engine. Every gear presents you with the opportunity to enjoy a seamless, savage surge from tickover to the red line. This is a 4-litre V8 that spins with the hunger and ferocity of Honda's finest four-cylinder VTEC units.
'It feels plenty quick enough if you shift up at around 7500rpm. However, it's only when you've felt the intoxicating rush continue for another 900 blissful revolutions that you can claim to have experienced the V8 M3 in all its glory. How often you'd work it this hard is debatable, but, when you can, it makes this car very special indeed.
'It's not quite feelsome enough or focused enough to be a truly inspirational drive in the purest sense  – there's a CSL on the way, though [what would actually become the GTS – Ed] – but there's no doubting that this new M3 is everything it needs to be. Tremendously quick, consummately capable and, when you're in the mood, highly entertaining, it maintains the M3's position as BMW's best drivers' car.' – evo 108
Rivals
Audi RS4 (B7)
A 4.2-litre V8 gives an M3-matching 414bhp and 0-62mph in 4.7sec. It's closely matched on the road too – hugely capable and rewarding, with the added security of 4WD. There's even an estate. From c£15k.
Mercedes C63 AMG (W204)
Monstrous pace from a 6.2-litre, 451bhp V8 (0-62mph in 4.5sec) and an engaging drive, if maybe lacking the ultimate finesse of the M3. Coupe, saloon or wagon options, with prices from c£20k.
Lexus IS F
Can trade blows with the M3 (0-62 in 5.2sec and an unlimited 173mph all-out) thanks to a 5-litre, 417bhp V8, while its rear-drive chassis has a playful side, too. Rarity keeps values strong. From c£20k.