evo Car of the Year 2018 - evo Car of the Year 2018 – Best of the rest
The best new cars of the last 12 months, together, for the most anticipated test of the motoring year. It's evo Car of the Year 2018
evo Car of the Year 2018 - Best of the rest
eCoty is not over yet: meet six more new arrivals from 2018 that are the cream of the crop in their respective fields
Sports Saloon of the Year – Kia Stinger GT S
Do not adjust your set – there really is a Kia in eCoty. You know, the same South Korean manufacturer that gave the world the seven-year warranty and the octogenarian magnet that is the Venga MPV. Against this backdrop it would be easy to overlook the Stinger GT S, but to do so would be to miss out on one of the most surprising and charismatic fast saloons out there. Not only is it a joy to pick apart your favourite road with, it's also quick – think 340i – and blessed with looks that lift it above the competition. And when you're not up for a laugh it's a hushed executive express.
Kia management know that you don't beat BMW at its own game by cutting corners. So there's a 365bhp turbo V6 driving the rear wheels through an eight-speed auto and limited-slip diff, plus stiffened suspension with bespoke lower elements, and Brembo brakes.
> Click here for our review of the Kia Stinger GT S
It's a genuine giggle, the combination of grunt, just enough grip and a long wheelbase delivering approachable, old-school rear-wheel-drive thrills. It's not perfect (the rear axle feels a little soft and the steering could be chattier) but it engages and entertains more than the competition, plus it stands out for not being the default choice. Yet what's really exciting is that this is Kia's first attempt at cracking the quick saloon formula, so it's only going to get better.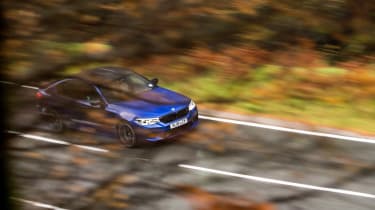 Supersaloon of the Year – BMW M5 Competition
Somewhere in BMW M's Munich base there must be a specially guarded box with the word 'Competition' scrawled on the side. Within it are all the tricks needed to turn the firm's go-faster saloons and coupes from 'nearly there' to 'gorblimey good'.
Competition upgrades have a knack of unlocking the last few otherwise latent per cent of the car's potential. In fairness, the M5 is probably the least in need of the treatment, but there's always been a sense that it was perhaps a little too composed, a little too slick, a little too clinical.
The Competition addresses these concerns by adding a small but crucial edge to the driving experience. Sure, there's more power, but with an increase of 24bhp to 616bhp the gains are negligible (although still enough to trim the 0-62mph time by a tenth to just 3.3sec, with 190mph possible if you send the speed limiter packing). No, it's the chassis changes that are key to the Comp's altered state. There are ten per cent stiffer springs, recalibrated dampers, firmer anti-roll bar mounts, ball joints for the rear toe links and more negative camber at the front. The engine mounts are 50 per cent stiffer, too.
> Click here for our review of the BMW M5 Competition
You feel it the moment the wheels start turning. There's a nuggetyness to the ride and greater brightness to the steering, both of which create a quicker and deeper sense of connection. Up the pace and the Competition responds fractionally sooner and with more control, egging you on to explore the M5's extraordinary talents. You want it to grip like Sticky the stick insect? No problem. Smokey sideways loutishness? But of course: just press this button.
There's no hiding from its size or weight, while the high-set driving position has more than a whiff of SUV about it, but in all other respects the M5 Competition sets the supersaloon standard for 2018.
SUV of the Year – Alfa Romeo Stelvio Quadrifoglio
You won't want to like the Stelvio Quadrifoglio. It's an SUV after all, and not a particularly subtle one at that. But then you learn that it's powered by the same 503bhp V6 that's under the carbonfibre bonnet of the Giulia Quadrifoglio. Oh, and its development team, headed up by Roberto Fedeli, is the same one that worked its magic on the saloon (Fedeli's CV also includes the Ferrari 458, so he clearly knows his onions). And then you drive it and think: 'Oh, bloody hell. Why does it have to be so good?'
Yep, despite our usually faultless instincts when it comes to SUVs, the Stelvio is a rather fine thing – the best four-by-four by far, in the evo sense. What's really remarkable is how it disguises its height and bulk (it's the wrong side of 1800kg) to behave like a hot hatch when you turn up the wick.
By strapping traction-enhancing four-wheel drive to the Giulia's twin-turbo 2.9-litre and eight-speed auto combo it even slices a tenth of a second from the 0-62mph sprint, taking it down to just 3.8sec. It'll do 176mph, too. Sure, the engine could be more   vocal, but it's growly enough and you can't argue with the kidney-crushing punch out of corners.
> Click here for our review of the Alfa Romeo Stelvio Quadrifoglio
Normally a deviation from the straight-ahead is kryptonite to an SUV, but not in the Stelvio. The steering is quick and precise, there's decent front-end grip, and body control is remarkably good, the resistance to roll verging on the spooky. Flick the DNA control into Race mode and unshackle the ESP and the Alfa can even be steered on the throttle, the rear-biased all-wheel drive allowing more than a snifter of oversteer.
We're not really fans of SUVs at evo, but we're willing to make an exception for the Stelvio.
Roadster of the Year – Lotus Exige Sport 410
There really is no stopping Lotus as its 70th anniversary year comes to an end. It continues to set the benchmark when it comes to pure driver's cars, so nothing makes us happier than finding the key to a Lotus in the office and nothing in the diary. With new owners Geely securing its future the attention can once again turn to the fabulous cars that have continued to be produced during even its darkest hours. Cars such as the Exige Sport 410. 
It's a genuinely fabulous piece of kit, engineered with an obsessional zeal for driver entertainment and finished with the sort of care normally reserved for vehicles with far chunkier price tags. Once you've clambered over that vast sill – removing the roof panel makes this considerably easier, of course – it's a lovely thing just to sit in: everywhere you look there's something to delight, from the exposed gear linkage to perfectly stitched Alcantara and beautifully cast alloy pedals.
> Click here for our review of the Lotus Exige Sport 410
But really the 410 is all about movement, and once you're underway you revel in a machine that weighs just 1108kg. It's a timely reminder that it doesn't matter how much grunt you add, there's no substitute for minimal mass. There's just a glorious lack of inertia with the Lotus, with every turn of the steering, prod of the throttle and squeeze of the brakes resulting in an instant and accurate response.
The extremely talkative steering (unassisted of course) is heavy at first but once up to speed requires nothing more than wristy inputs, the Exige diving through corners fast and flat, its sense of balance simply sublime.
It's freakishly quick, too, the 410bhp supercharged 3.5-litre V6 pulling with relentless energy once the revs rise above 4000rpm, accompanied by a nape-prickling howl from its titanium exhaust. How is it possible that an engine from a mundane Toyota saloon can sound this good?
It's time for a new Lotus adage: Lots Of Thrills, Usually Sensational.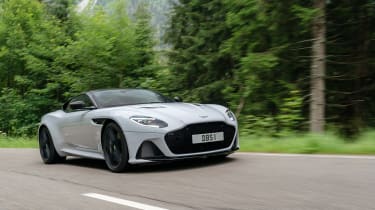 GT of the Year – Aston Martin DBS Superleggera
 The definition of grand tourer has been stretched somewhat in recent years, as well-heeled continent crossers are as likely to plump for high-end SUVs or fast estates as the traditional archetype of the low-slung, two-plus-two coupe with an enormous engine. Yet there's really nothing like the latter if you want to live the glamorous GT dream, annihilating autoroutes and monstering mountain passes as you spear effortlessly toward the French Riviera. C'est magnifique, non? It's a brief the DBS Superleggera fills to perfection.
I mean, just look at it. Oozing equal parts beauty and brutality, it's a car that you just know is going to be something a bit special, a machine that's engineered to make even a trip to the grocer's a red letter day. It feels like a proper GT inside, too, all low-slung seating, giant transmission tunnel and high-set dashboard. You feel cocooned and comfortable in this leather-lined haven, happy to sit there non-stop from Le Havre to the heel of Italy (fuel stops aside, and there will be plenty of fuel stops thanks to the monstrous twin-turbo V12). This is grand touring at its unashamed luxury-and-largesse best.
> Click here for our review of the Aston Martin DBS Superleggera
Yet the Aston's ability to meld this with a generous dollop of genuine evoness is what earns it this year's GT trophy. No, it's not as refined as last year's victor, the Bentley Continental GT, but the trade-off is some real excitement when pushing on. Performance, as you'd expect, is awe-inspiring, the 5.2-litre V12 delivering acceleration every bit as electrifying as its 715bhp output suggests. And with 664lb ft of torque it gives the rear axle a real workout, causing the DBS to squirm and shimmy whenever you ask for every last ounce of its explosive performance.
From its fast and accurate steering through to its deft and controlled damping, the Superleggera is a real hoot to hoof hard. Yes, it's very big, but such is its agility that you quickly put that to the back of your mind and press on regardless, revelling in a car with an impressive breadth of ability.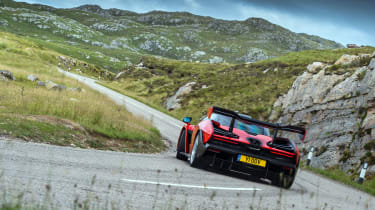 Hypercar of the Year – McLaren Senna
Hypercar, eh? It would be all too easy to reel off the Senna's vital stats here, all of which put it in the very top percentile of the very fastest cars. It's stupefyingly quick in almost every increment you can think of and will crack 200mph at a canter. Then there's the low weight, the improbable downforce figures and the 'Sorry, can you say that again?' lap times. And it looks like no other car out there. By every conceivable yardstick the Senna comfortably earns its hypercar billing.
It's as formidable on a track as on the road, too. (With a name like Senna what did you expect?) Not just because of its perception-spinning pace, but because it's a totally immersive experience. This isn't a car you have sussed straightaway, it's one that requires time and a willingness to up your game considerably to get the best from it. But it truly rewards when you make the effort, sucking you into a world where only the next braking zone and corner entry and exit matter.
> Click here for our review of the McLaren Senna
For all that, though, it's what the Senna does at sane speeds that elevates it above the competition. Many cars of this type can be something of an anti-climax when used at anything less than full tilt. Not so the Senna. McLaren has created a stripped-out, sensorial immersion machine. The Senna is a car that excites at any speed. It's intoxicating, absorbing and endlessly enjoyable. Is it worthy of such a hallowed name? You better believe it.