£10,000 puts you in a very interesting place when it comes to buying a used performance car. Suddenly, a world of Skylines and Evos has opened up, and even Porsche's desirable badge is comfortably in reach.
What's surprising about a £10k purchase is just what is available for the money. Sure, as with our £5000 offerings, you always need to keep your eyes peeled for issues, but strike it lucky and you can have an incredible vehicle for the money.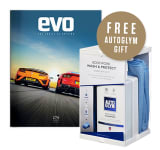 Subscribe to evo magazine
Subscribe today to our exclusive new offer and SAVE 39% on the shop price, get evo for its original cover price of £3.00 an issue, plus get a FREE gift worth £20!
The evo team has picked out its favourite cars for £10,000 below. Read on to find out what we recommend investing in.
>Read - The best cars to buy for £15,000
E46 BMW M3 - Nick Trott
The E46 M3 is, for some, the best M car that BMW ever produced. It offers just the right balance of size/performance and weight to deliver thrills that can stay with the best of what some modern cars offer.
We particularly like the engine, describing it as a 'peach that punches hard at any revs without the need to drop a cog or two, rocketing off with that characteristic growl and fizz from as low as 2000rpm.'
So what to look out for? Well, servicing is absolutely crucial. It's imperative that the run in service at 1200 miles has been done, if not, just walk away.
>Read: E46 M3 buyers guide
On top of this you want to keep an eye out for cars built prior to 2003 as they had crankshaft big-end bearing issues. What we will say is, any E46 M3 with uprated brakes, provided done properly, isn't a bad thing.
At this price point, you're going to be looking at higher mileage examples with 70k+ miles being likely. However, the E46 M3 is a solid runner, so don't let this put you off. The phoenix yellow paint however, that's a matter of individual taste.
| | |
| --- | --- |
| Engine | Straight-six, 3246cc |
| Power | 338bhp @ 7900rpm |
| Torque | 269lb ft @ 5000rp |
| 0-60mph (claimed) | 5.1sec |
| Top Speed (claimed) | 155mph (limited) |
| MPG | 21.1 |
| On sale | '00-'07 |
986 Porsche Boxster S - Stuart Gallagher
Don't be fooled by the hairdresser's car name tag, the 986 Porsche Boxster is a proper sports car, especially in S form. Eeking out 252bhp from its mid-mounted 3.2-litre flat-six, the Boxster S could dash from 0-60mph in 5.7sec and onto 162mph. Though that placed it in BMW Z4 territory, its sharper, typically communicative Porsche chassis meant it very much warranted the famous Stuttgart badge on its nose.
Capable as it may be, the 986 is getting on a bit these days, so unsurprisingly does often suffer from some issues. We said of the 3.2-litre unit: 'one of the key areas to check is around the bell housing. An oil leak here could indicate a crankshaft oil seal failing, but as long as oil isn't dripping on the floor, replacement can usually wait until the car needs a clutch.'
>Read: Porsche Boxster S buyers guide
The car's effective suspension is also prone to wear related issues after 30,000 miles, with bottom-arm bushes often needing replacing beyond this, as do rose-joints on the trailing arms.
If a car with these refreshed parts and regular servicing falls into this price bracket, generally, you're onto a winner. If you can stand the image-related comments, £10,000 can buy a fairly-low mileage, well looked after Boxster S.
| | |
| --- | --- |
| Engine | Flat-six, 3179cc |
| Power | 252bhp |
| Torque | 225lb ft |
| 0-60mph (claimed) | 5.7sec |
| Top Speed (claimed) | 162mph |
| MPG | 26 |
| On Sale | '96-'04 |
R32 and R33 Nissan Skyline - Jethro Bovingdon
Before the mighty R35, Nissan's fastest wore the Skyline nametag. For many, the R32 and R33 generation cars are the most desirible to own, coming from a time when Ferrari 355 and 360 owners were shocked by the Nissan badged car that wouldn't disappear from their rear-view mirror.
With supercar performance available for a fraction of the cost, the R32 and R33-gen Skylines still represent fantastic value performance motoring. The later R33 produced 276bhp from its twin-turbocharged 2.6-litre engine. 60mph came in just 5.4sec, while complex electronics and a dynamic chassis ensured the Skyline consistently punched above its weight on track.
Given these cars often face such a tough life, unlooked after examples can sprout issues. Often, cars have been modded, with increases in power leading to gearbox issues. Turbos can also go when pushed harder, so look out for smoking on cold starts.
Aside from fast Nissans, if he had a spare £10k laying around, Bovingdon would also have his eye on Tommi Makinen Mitsubishi Evo VIs.
| | |
| --- | --- |
| Engine | Twin-turbocharged straight-six, 2568cc |
| Power | 276bhp |
| Torque | 289lb ft |
| 0-60mph (claimed) | 5.4sec |
| Top Speed (claimed) | 155mph |
| MPG | 21-23 |
| On Sale | '98-'99 |
Lotus Elise S1 - Henry Catchpole
The Colin Chapman formula of lightweight sports cars started way back in the mid-twentieth century, when cars like the fibreglass bodied Lotus Elan dominated the race circuits of Britain. The Elan's featherweight bloodline can be traced through to modern Lotuses, with the Elise S1 arguably one of the greatest examples of an incredibly talented bunch.
>Read - Lotus Elise S1 buying checkpoints
Thankfully, due to being fairly mechanical simple, the Elise doesn't fall too deeply into the 'Lotus = lots of trouble usually serious' label, but there are still a few pointers to look out for. We said: 'the head gasket is a worry, its failure typically caused by a leak from the very small-capacity cooling system. Much has been written on the K-series' potential troubles, including the way the head goes soft if it has overheated, but treated well it's a good unit and the latest type of gasket has cured the failures.'
Gearboxes are also generally strong, but as explained, gear linkages will 'always need adjusting after 20,000 miles and must be checked at every service. Otherwise the selectors will ultimately be damaged and there'll be a £600 bill.'
The body is bonded together, so check for cracks in the glue because re-bonding can be an expensive process. The interior is also fairly fragile in places, but well looked after cars should be able to avoid any major issues. And if you're able to spend £10k on an S1, you'll likely find a well looked after low-miler.
| | |
| --- | --- |
| Engine | In-line 4-cyl, 1796cc |
| Power | 118bhp |
| Torque | 122lb ft |
| 0-60mph (claimed) | 6.1sec |
| Top Speed (claimed) | 155mph |
| MPG | 33 |
| On Sale | '96-'00 |
Mitsubishi Evo VIII - Dan Prosser
There's something about owning a car with rally heritage that makes it feel just that little bit extra special. Even in its most basic form, the Evo VIII produced 261bhp and 261lb ft of torque and sent power to all four-wheels. 0-60mph takes just 5.9sec and top speed is 152mph, very much cementing the four-door as a super-saloon in its day.
Even in our modern world of turbocharged everythings, the Evo VIII can still hold its own, making it a great value for money buy. But understandably, a car like this is often driven hard so can suffer from problems.
Owners who subject their car to constant hard acceleration off the line, are likely to rapidly wear the drivetrain's transfer case, with replacements expensive. Since the car is heavily turbocharged, check for smoking on start up and any boost issues.
Other than that, the Evo VIII is labelled as a strong car, surviving frequent track driving as long as oil is changed every 3,000 miles. For the money, the Evo VIII is serious bit of kit, and with the recent confirmation there will be no future Evos, it's sure to become a classic.
| | |
| --- | --- |
| Engine | Turbocharged in-line 4-cyl, 1997cc |
| Power | 261bhp |
| Torque | 261lb ft |
| 0-60mph (claimed) | 5.9sec |
| Top Speed (claimed) | 152mph |
| MPG | 25 |
| On Sale | '04-'05 |