Returning for our third instalment of evo's recommended buys, this time we've added £5k to the budget. In typical pub chat fashion, we asked evo's expert panel 'what car would you buy if £15,000 were burning a hole in your pocket?'
The larger budget undoubtedly opens the doors to an even more serious selection of cars. But such are the apparent effects of working for a specialist performance car magazine, we've ended up with the rather familiar looking list below. But what a list of cars.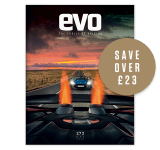 Subscribe to evo magazine
Subscribe today to have every issue of evo delivered straight to you. You'll SAVE 39% on the shop price, and get evo for its original cover price for a whole year!
To help you buy the best examples and avoid common issues, we cover the basic areas of inspection for each of these machines. Read on to find out what we'd be investing in. 
>Read - Best cars to buy for £5000 - evo garage
E46 BMW M3 – Nick Trott
Editor Trott must love his fast BMWs, because even if £5k were added to his £10k budget, he'd still opt for an E46 M3. It's with good reason though, because adding that extra 50 per cent of cash enables him to reach a far better selection of E46s.
Unsurprisingly, mileage drops and general condition improves, but you'll still have to look out for other third-gen M3 issues. Some older car issues were mentioned in our £10k list, but one that can affect even the most cherished M3s – especially those driven on track – is a cracking subframe.
>Read - E46 M3 buyers' guide
While repairs are possible, they can be costly. But if the issue is caught early, repairs are easy. Symptoms can include clicking from the rear under acceleration/braking, so listen out for any noises on test-drives.
Thankfully, as confirmed by Trott's reluctance to switch his car of choice, if you find a crack free E46 M3, it won't disappoint. A 338bhp straight-six, rear-wheel drive and timeless looks; you'd be joined by very few in calling it a bad choice.
| | |
| --- | --- |
| Engine | Straight-six, 3246cc |
| Power | 338bhp @ 7900rpm |
| Torque | 269lb ft @ 5000rp |
| 0-60mph (claimed) | 5.1sec |
| Top Speed (claimed) | 155mph (limited) |
| MPG | 21.1 |
| On sale | '00-'07 |
Mitsubishi Evo VI – Stuart Gallagher 
Deputy editor Gallagher would ditch his £10k 986 Boxster for a four-wheel drive rallying icon, should he receive that extra £5k. His choice of Mitsubishi Evo VI would provide him with a near immaculate example, especially given that even lower production Tommi Makinen Editions can squeeze in under £10k (Jethro Bovingdon was tempted by one in his £10k budget). 
With £15k you're faced with a choice: well looked after original spec cars or highly modified, tuner cars. We'd usually opt for the former; Mitsubishi had a pretty good idea of how to make a good car anyway and barn based modifications can often lead to a string of reliability issues.
>Read - Mistubishi Evo VI Tommi Makinen Edition
Performance is strong from factory anyway: 246bhp produced from the VI's turbocharged four-pot enables a 4.6sec 0-60mph time. Four-wheel drive, a sweet five-speed 'box and seriously fast throttle response are all thanks to the car's tarmac rally stage setup, adding to its already tantalising aura of world rally nostalgia. 
Common issues include warped discs and noisy gearbox bearings, but largely, the cars are strong. Such is the name they hold, cars are often well looked after. Tommi Makinen Editions are already becoming a collectable car too, so it's unlikely you'd lose on that £15k.
| | |
| --- | --- |
| Engine | In-line 4-cyl, 1997cc, turbo |
| Power | 276bhp @ 6500rpm |
| Torque | 275lb ft @ 2750rpm |
| 0-62mph (claimed) | 4.6sec |
| Top Speed (claimed) | 150mph |
| MPG | 23 |
| On sale | '00 |
E60 BMW M5 – Jethro Bovingdon
From a car with rallying roots to one with an F1 connection, Jethro Bovingdon would choose the E60 BMW M5 should £15k land on his desk. He wouldn't mind an E63 M6 either, but given the M5's increased usability (it has four doors afterall), it's arguably even more car for the money.
The car's winning factor has to be what's under the bonnet: a 5-litre V10 with connections to the 3-litre V10 fitted to Williams F1 cars of the early noughties. Though its 500bhp was little more than half of the power its F1 cousins produced, its performance and, let's not beat around the bush, gorgeous soundtrack was enough to cement the E60 as an instant classic.
>Read - BMW M5 v Lamborghini Gallardo
0-124mph takes just 21sec, and top speed (when the factory limiter is removed) is over 200mph. The car also features five-seats and offers the same bootspace as a conventional 5-series, so for £15k, you get a lot for your money. 
Unsurprisingly, the 5-litre 10-cylinder is thirsty, and servicing costs can be astronomical. The SMG gearbox can also problematic in some cars. But find yourself a well looked after, regularly serviced car, and you'll not only have a super fast saloon, but a car that shares at least some of its vocal talents with the fastest of the fast F1 cars.
| | |
| --- | --- |
| Engine | V10, 4999cc |
| Power | 500bhp @ 7750rpm |
| Torque | 384lb ft @ 6100rpm |
| 0-62mph (claimed) | 4.7 |
| Top Speed (claimed) | 155mph (limited) |
| MPG | 19.6 |
| On sale | '04-'10 |
Mitsubishi Evo IX – Henry Catchpole
While some of you may suspect this is just a list of Mitsubishis and BMW M cars, others may agree that both marques offered fantastic performance cars that now happily fall into this price range. That's why Catchpole has opted for a later Evo than Gallagher, the Evo IX.
Power is ridiculous: as much as 366bhp is produced by a comparably small turbo 2-litre four-pot (in the hottest FQ-360 model). Combined with four-wheel drive, 0-60mph takes just 4sec while top speed is 157mph. All this in a car that sold for less than £36,000 in 2007.
>Read - Mitsubishi Evo IX checkpoints
Evo IXs are commonly modified, often leading to a list of stress related issues. As a result, it'd be easier to avoid cars that have been heavily modified away from the workshops of specialists.
Unmolested cars are generally strong despite their heavy reliance on boost, but still be careful of cars that appear to have been driven hard without care. Constant off-the-line launches can quickly wear clutches, with replacements costing close to £1000 including labour.
The car's ingenious and highly complex Active Yaw Control System is one of its best features, so if the AYC light doesn't switch off after initially illuminating on startup, you could be looking at a very costly diff replacement. 
If you find a healthy car however, you're probably onto a winner. And with recent announcements that there'll be no new Evos, the IX is surely a modern classic.
(Specs for FQ-300 model)
| | |
| --- | --- |
| Engine | In-line 4-cyl, 1997cc, turbo |
| Power | 305bhp @ 6500rpm |
| Torque | 297lb ft @ 2500rpm |
| 0-62mph (claimed) | 4.5sec |
| Top Speed (claimed) | 157mph |
| MPG | 20 |
| On sale | '05-'08 |
BMW M3 CS – Dan Prosser
It might look like a normal E46 M3, but it's not. The E46 CS was essentially the midway house between a full-blown E46 CSL and the standard M3. As confirmed by editor Trott's opinions, the latter is a fine choice anyway, so the fact the CS takes one small step towards the extreme CSL is a big deal.
What did the CS borrow from the CSL? It got the car's bigger brake discs, quicker steering rack, revised springs and its lovely 19-inch forged alloy wheels, albeit in slightly less featherweight form. 
These additions, and the CSL's uprated M-Track stability control, added just £2400 to the M3's price tag when it was new, and now, the difference is sometimes even less.
>Read - BMW M3 CS review
Admittedly, CSs only just squeeze in under the £15k mark, so if you're not prepared to wait around for the right one, you'd be safer opting for Trott's choice. But if you're patient, you can often find a well looked after car with just a hint of extra mileage on the odometer.
The usual E46 M3 issues to look out for remain, and since the CS is an even more focused car, there's arguably increased chances the car will have attended a trackday or two. But take your time and search for the right one, and £15k can buy you a good example. 
When he drove the car on launch Jethro Bovingdon said 'if you're buying an M3 you'd be crazy not to pay out £2400 for the added bite, polish and aesthetic attitude that [the CS] brings.' No brainer, isn't it?
| | |
| --- | --- |
| Engine | Straight-six, 3246cc |
| Power | 338bhp @ 7900rpm |
| Torque | 269lb ft @ 5000rp |
| 0-60mph (claimed) | 5.1sec |
| Top Speed (claimed) | 155mph (limited) |
| MPG | 21.1 |
| On sale | '01-'06 |