Citroen finally has a challenger in one of the most competitive and fastest-growing segments in the European market. Well, you could consider the C4 Cactus as the French brand's rival for cars like the Nissan Juke, Renault Captur and Ford Ecosport but with the C3 Aircross now on the price lists, Citroen has designs on moving the Cactus upmarket.
It is, of course, yet another SUV-style supermini to hit the market, and features styling cues from the aforementioned Cactus as well as the regular C3 supermini. Is there fun to be found here, or has Citroen simply churned out its own take on a formula which has so far delivered very little to tempt evo readers?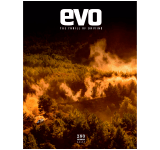 Subscribe to evo magazine
Subscribe today to have every issue of evo delivered straight to you. You'll SAVE 39% on the shop price, and get evo for its original cover price for a whole year!
Engine, transmission and 0-60 time
There are six engine and transmission combinations available in the C3 Aircross, based around three core engines – a naturally-aspirated 1.2-litre three-cylinder petrol, a turbocharged version of the same (both badged PureTech), and a 1.6-litre "BlueHDi" turbodiesel.
We're concentrating on two cars here, the PureTech 110 with stop-start and a six-speed automatic, and the BlueHDi 120. The former makes its 108bhp power peak at 5500rpm with 151lb ft of torque from 1500rpm, while the diesel outmuscles it with 118bhp at 3500rpm and a full 221lb ft from 1750rpm.
The on-paper numbers are reflected on the road, where the diesel (0-62mph in 10.7sec) instantly feels the more muscular – with the usual caveat that all is lost once you crest its peak power output. In contrast the petrol hangs on a little longer but urges you forward just a little less and requires more encouragement to do so.
It is the nicer engine to listen to however (the diesel is… well, a diesel), and Citroen wins brownie points for arranging the manual sequential mode on its automatic transmission the 'correct' way round, pulling backwards to change up and pushing forwards to change down. On the Corsican launch roads it was almost enough to indulge our WRC fantasies, were it not for a want of extra performance – 11.8sec to 62mph is unlikely to leave you with sweaty palms.
Changes from the auto are relatively swift too, though in normal automatic operation it's far from being the most responsive or smoothest we've used. In contrast, Citroen's manual 'box seems to be getting better – the shift action isn't nearly as baggy as it used to be. Heel and toe gearchanges – it can't just be us that try this in funky family hatchbacks, can it? – aren't easy to achieve thanks to a brake pedal that offers too little resistance for fancy footwork.
Technical highlights
You'll find little remarkable under the skin, but arguably that's the point – cars like this provide automakers with extra profit-making opportunities for otherwise tried and tested technology.
So what you get are MacPherson struts up front and a torsion beam at the back. It's two-wheel drive only (the front pair, obviously) and there are no active suspension gubbins. PSA's "grip control" is present here though, a traction control system that can adapt to the friction requirements of various surfaces, such as sand, snow, rocks, or simply regular paved roads. It also comes with a hill descent control system, and it's a very reasonable £400 option on Feel and Flair trim levels.
What's it like to drive?
Whatever its on-road manners, the C3 Aircross scores instant mass-market appeal for its cabin design and materials. In higher trim levels particularly, it's a far more interesting and cheerful environment than most rivals.
The "metropolitan grey" trim of our test car had a hard-wearing, tweed-like feel and a colourway you might expect to find on an Ikea sofa or on some high-end luggage, and while there's not a great deal of side support in cornering, the flat surfaces of both the front and back seats are much more comfortable than they initially appear. It feels like an honest approach and, like the regular C3, only serves to highlight how humourless the relentless push for "premium" has become.
There's also a useful amount of adjustment to the controls, so most body shapes should be able to find something that suits – though the reasonably high driving position may give the tallest drivers a squeeze. Less appealing is Citroen's touchscreen infotainment system, mostly because that's your only access to the air conditioning controls. It seems to be improving bit by bit as we try it in different models, but it's still a flawed system to use once on the move.
On the road, there's actually some entertainment to be had, with the same kind of lightweight, nimble feel already present in the standard C3 and the C4 Cactus. You'll not detect much feedback through the steering, but the rack is light and precise. Cars with mud and snow tyres – part of the grip control option – don't steer quite as accurately (there's an initial deadness to the steering not present in models on regular tyres), though all versions hang on longer than you'd expect before tyre squeal begins and traction breaks.
Push harder and there's safe understeer, and a lift of the throttle brings the nose smartly back in line. The ride quality isn't quite as pillowy as you'd expect given Citroen's recent focus on comfort – there's a firmness that suggests Citroen has prioritised body control over pliancy given the car's taller stature – but there's enough give that you're unlikely to curse it on your commute.
Price and rivals
How long have you got? As mentioned at the top, the small crossover class – B-segment SUV, in industry lingo – is growing fast. At the recent Frankfurt motor show alone Kia presented its Stonic SUV, Hyundai has recently launched the Kona, and VW and SEAT all now offer competitors too. Throw in alternatives from Peugeot (2008), Vauxhall (Mokka), Renault (Captur), Nissan (Juke), Honda (HR-V), Mazda (CX-3), Ford (Ecosport) and, currently, Citroen's own C4 Cactus. And we've almost certainly forgotten a couple.
Should you buy the Citroen? Possibly. Having not tried the very latest entrants from Kia, Hyundai, VW and SEAT – all of which are sure to be competitive – there are still unanswered questions in this class, but the C3 Aircross is undoubtedly one of the more interesting choices. For us, the Juke still gets a nod for offering a proper performance version (the Nismo RS), although regular Jukes are feeling pretty creaky by now. Mazda's CX-3 channels some of the MX-5's spirit too, and is probably as close as cars in this class get to being drivers' cars. It's an attractive car, but perhaps a little po-faced next to the extroverted Citroen.
If you do plump for the Aircross, you'll need to know that pricing begins at £13,995 on the road, though realistically you'll want to spend from £16,200 for a PureTech 110 in second-tier Feel trim, with a manual gearbox.
Even better, spend an extra £400 to get an extra 20bhp with the PureTech 130. Or spend less and buy the conventional C3, which – being a conventional car rather than a crossover – ultimately offers a better ride and handling balance than a lofty SUV, and is over 100kg lighter model-for-model. It's no hot hatch, but it's the more evo car.