Let's face it – a hundred grand is serious money to spend on a car. The same cash would get you a tidy one-bedroom flat not far from the evo offices, for instance.
But it's still remarkable what you can put on your driveway for the same sum – not least because many of the cars listed below cost considerably more when brand new.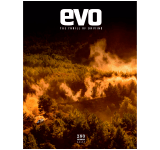 Subscribe to evo magazine
Subscribe today to have every issue of evo delivered straight to you. You'll SAVE 39% on the shop price, and get evo for its original cover price for a whole year!
It could also be said that some of the cars here are investments, so while you're putting plenty of money into them (in the form of fuel bills and significant outlay for maintenance) there's every chance you'll get a similar sum back when you decide to sell them on. Don't take our word on that, though...
evo's writers have their own favourites – read on to see what we'd pick given a six-figure sum.
Lamborghini Gallardo Balboni – Nick Trott
As supercars go, the Lamborghini Gallardo verges on the ubiquitous these days – Lamborghini built them for a decade from its 2003 launch and over 14,000 hit the roads in that time.
They still look great though, and there are dozens of them about for under £100,000. Editor Trott has ambitiously picked a Balboni with his £100k budget, which might require serious haggling abilities and possibly threats of bodily harm to the vendor, but it's not hard to see why he's selected it.
Named after Lamborghini's test driver Valentino Balboni, the eponymous special ditched Lambo's standard all-wheel drive for a rear-drive setup, losing 30kg in the process and giving the rear axle 542bhp to play with.
There was also a limited-slip differential, a white stripe down both the bodywork and the leather seats, and a numbered plaque bearing Balboni's signature.
Built under Audi's tenure, Gallardos are also generally reliable. They need regular oil top-ups – bank on a litre every 4000 miles – and as with any supercar, clutches can lead fairly short lives, between 5000-20,000 miles in typical use.
Find Lamborghini Gallardos for sale on Classic and Performance Car
McLaren 12C – Stuart Gallagher
There can be few more sensible places to put £100k than a McLaren MP4-12C. That's not a dig at the 12C's oft-derided lack of involement, though nor is it a statement of burgeoning investment potential – don't expect 12Cs to go the way of F1s any time soon.
But the V8 McLaren is one of the better daily-driver options of this quintet. Editor Trott did just that a few years back, and while a bright orange McLaren with economy in the mid-teens won't rival a Golf GTI for everyday ability, the Macca has a fantastic driving position, a cosseting ride and good visibility.
It also has fantastic performance – the 0-60mph dash takes a scant 3.1 seconds (a multi-million F1 won't do that) and given a suitable (and legal) stretch of asphalt, 200mph-plus is there for the taking.
Problems seem to be few – McLaren's infotainment system came in for plenty of criticism in the early days and there were other niggles too, but most should be running smoothly now – and owners praise the car's build quality and reliability.
Find McLaren 12Cs for sale on Classic and Performance Car
Ferrari F430 Scuderia – Henry Catchpole
Ferrari's V8 supercars always go out with a bang. For the F430, which preceded the 458 Italia, that bang came in the shape of the Scuderia – a hardcore, track-focused take on the F430 with 503bhp of banshee-wailing V8 and gearchanges not far removed in ferocity from the F1 cars of the era.
They're still rather expensive in the UK – no less than £120,000-£130,000 will put you behind the wheel – which is why Henry specifies that a left-hand drive example would be the one to have.
You might be sitting on the wrong side of the car for the UK, but that's all the more reason to explore the Scud's superlative handling on some of the best roads Europe has to offer.
It's worth noting that the Scuderia definitely has investment potential too – its predecessor, the Ferrari 360 Challenge Stradale, is already on the way back up with prices currently in the same range as the hardcore 430.
Find Ferrari F430s for sale on Classic and Performance Car
Porsche 911 GT3 RS – Dan Prosser
As with the McLaren further up, a Porsche 911 is a thoroughly sensible place to put £100k. But in many respects, the GT3 RS is more like the Ferrari Scuderia above – an indulgent, interactive, thrilling driving experience that makes you savour every journey.
A hundred grand (or so…) will, if you search very carefully, bag you either a 996 or 997-generation GT3 RS, though if you're interested in such a thing then you'd be wise to find one sooner rather than later.
911s of virtually any age have investment potential but RS-badged Porsches are going crazy right now. That's partly due to regular market forces, but the existence of the latest GT3 and RS, with their PDK transmissions and electric steering, are leading buyers to snap up the last 'old-school' RS models before it's too late.
With either generation, the presence of the bombproof Mezger flat-six is also a bonus – avoiding some of the nastier issues that can afflict regular 996 and 997-generation 911s.
And while a car with a large roll cage where the rear seats used to reside is of dubious practicality, all 911s are usable road cars – it just happens that in GT3 RS spec, they're mighty on the track as well.
Find Porsche 911s for sale on Classic and Performance Car