N24 live - evo brings you everything from the Nürburgring 24hr race
We're coming to you live from the trackside in Germany
We're coming to you live from the N24, bringing you the latest snippets of info, photos and insider knowledge from the most exciting event in motorsport for 2015 so far.
Over the next 24 hours expect this article to fill with everything from driver quotes, to pit lane info and postings and positions.
Set to kick off at 3PM UK time, we've been walking the pit straight in the build up to the race to drink in the atmosphere. There's an incredible number of people here and an incredible number of cars.
Make sure to check back over the course of the race to find out the goings on at the N24.
16:00 - CET Race Starts.
16:05 Over 150 cars from three grids are racing around the world famous Nordschleife and part of the Grand Prix circuit. Ranging from purpose built BMW Z4 GT3s to race adapted Renaultsport Clio 200s, the cars are just a few minutes into their 24 hours of racing.
16:33 As we head off into the paddock to grab exclusive quotes and images, it's the three BMW Z4 GT3s lead the Mercedes SLS AMG GT3, Bentley Continental GT3 and four of the Audi R8 LMS. The cars have been racing for just over 32mins. 23hours 28mins to go...
16:43 - Marino Franchitti on Scuderia Cameron Glickenhaus's chances
Marino Franchitti's number 9 SCG 003C is currently running in 18th position. Here's what Franchitti had to say to evo shortly before the race:
'We're excited to get started. The team have been working flat out preparing for the race and they have made a massive amount of progress in a short period of time. We ran for six hours without issue in the qualifying race; that's the longest the car has ran so far, so anything past that is into the unknown.'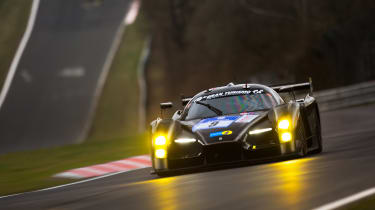 The sister SCG 003C was involved in a horror 120mph smash in practice on Thursday. But that hasn't dampened Marino's hopes for his car's race. 'We're aiming to have a clean and consistent race, but as the crash for our sister car showed on Thursday, this is the 'Ring and you can't count on anything.  We've had incredible support from all the fans here and hopefully we can put on a  good show for them.'
17:35 After 1hour 35mins it's an all German top five as the number 5 Mercedes SLS AMG GT3 leads the number 26 BMW Z4 GT3 and number 4 Audi R8 LMS, with the second SLS and Z4 following. Bentley is currently in sixth with its number 11 Continental GT3.
Rain has started to fall on certain parts of the circuit, meaning drivers now face the unique challenge of having to drive for different conditions throughout the lap.
17:50 Dunlop supplies a large portion of the GT3 grid with its tyres. The ever-changing weather conditions will keep its engineers on its toes. Before the rain started to fall, we caught up with some of its senior members.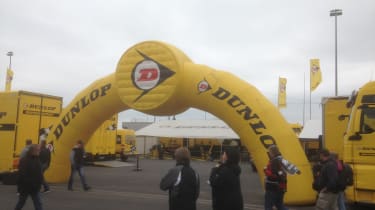 Alexander Kuehn, manager of original equipment at Dunlop Motorsport: 'We've brought a new tyre to the 24 Hours, it was developed for the Nurburgring because of the very specific racetrack you need to have very special tyre compounds.'
Stefan Nasello, Dunlop R&D race engineer: 'We were testing with BMW and Mercedes to develop the new construction we're using here. The problem with the Nurburgring is durability, because you have a lot of undulations and high vertical loading onto the tyre. These are very unique conditions.'
20:11 Darren Turner of Aston Martin Racing spoke exclusively to evo about the choas of starting the N24 in his Vantage GT3:
'It's a crazy race, it's 24 hours but no one seems to approach the first hour with that mentality. It's flat out.
'At the start there was one little moment; something happened, what looked like a car travelling at 60kmh when he didn't need to be, so there was a big queue and I nearly hit the guy in front of me. I just about avoided him by going right, then I looked in my mirrors and the two guys behind were coming at such a speed I was like, I'm just going to go to the grass. They whistled past, but I think they had contact so one of them ended up with a puncture.
'At the time I was thinking I've lost three of four places here and I'm not going to get them back. I could've probably complained that they overtook me under a yellow flag, but in reality it's just too hard to even argue that [given how chaotic the start is]. Anyway, I was more relieved that the car was in once piece and we can fight another day.'
When asked how he'd descirbe the 'Ring in a few words, Turner said: 'it's a cross between a roller-coaster and a horror movie. You're scared all the way round, but you're having such a great time.'
20:27 We've spoken to Tobias Moers, CEO of AMG, about the success of its SLS GT3 car at the N24 and, crucially, the big boots that the AMG GT has to follow. Here's what he had to say.
"The new AMG GT race car will have several advantages over the SLS - it has a shorter wheelbase, it's lighter, and more aerodynamically efficient... But the car is still in development so there's a lot to find out."
The AMG GT GT3 car will make its racing debut in the next two months.
"The SLS will still be supported for customer teams. We have to - there are close to 100 cars and more than 40 teams running the car worldwide - whether that's the Pirelli World Series in the US or GT300 in Japan."
"The Nordschleife is an important part of our road car development program too... And lap times? We know we have to be fast... An A45 will do close to 8 minutes, a GT around 7:32-7:33... But we're not chasing lap times and the competition. It's easy to make an SUV fast around here, for example, but that has little relevance to how they're driven on the road."
20:49 - Full set of images from Aston Martin Racing added
21:24 Chris Harris tells evo about his stint in the Aston Martin GT12 race car
'What we're hoping for is attrition. Last year was great, we started the race and all the GT3 cars took each other out, so we gained about 10 places by doing nothing. But this year, with the speed limits and everything else, there's quite a lot of good behaviour going on.'
'What we tend to do in this sort of car is sit back, get the pace sorted out, don't take too many risks and hope, by the time the sun's come out, 15 of the big boys have taken themselves out or had a mechanical failure. That's how we make our positions up.'
'The car is really good to drive. It's basically the street car, but we're down on power in the race car, down to something like 550bhp [thanks to regulation restrictors. The road car produces 592bhp].'
'It's all been done a bit last minute here because of these new regs, so the throttle map's not had that much work done on it. It rained on four or five miles of the circuit, and if I'd been in a car with a less aggressive throttle map, I might have stayed on slicks. But I had two or three massive 'pretending that I'm still working at evo' sideways moments and thought, this is probably not the best thing to be doing. I came in and put the cut slick on, and that sorted it out.'
'For us, it's an old-fashioned endurance race. The less time we spend in the pits, the better we do. I like the fact we're in a street car, we drove it the last 10 miles to the circuit.'
'We're racing against the [Porsche] Cup cars, who have an edge on ultimate pace because they've got a sequential dog 'box so they lose so little time in upshifts, where as we have the gearbox from the street car. But what a great way to test the car. If it finishes mechanically, after 24 hours, Aston Martin can say to the customers, we think it's quite tough. It's still essentially the street car.'
20:29 With the light fading, we've sent evo photographer Aston Parrott around the pits to get some shots. The mood here is fantastic.
22:02 Rob Huff, currently running 18th in a Mercedes-Benz SLS AMG GT3, explains what it's like to run at the 'Ring - and in the dark
"It's quite interesting at night. It's difficult for the eyes to keep focusing and readjusting. The Nordschleife is completely pitch black, but there are fireworks, cameras and more which can be really distressing for the eyes. The speed of the cars around the track is quite a natural feeling for us, but the concentration at night is much more difficult.
"And yes, you do smell the cooking bratwurst as you're going aroun - sometimes it makes me want to take an impromptu pit stop out on the track! But I'll wait until we've finished and have something nice on Sunday night..."
22:33 Class leaders so far, and observations
The new Audi R8 of Haase, Mamerow, Rast and Winkelhock is leading SP9 GT3. They're spectacular to watch - visibly quicker from our vantage point at the end of the pitlane, and braking a good 25-50 yards later into turn one than the next quickest GT3 cars.
Interspersing the GT3 runners in SP-X is the lone SCG 003c of Lauck, Jahn, Mailleux and friend of evo Marino Franchitti. SP7 is led by the Porsche GT3 of Breuer, Cairoli, Müller and Stursberg. Kageyama, Ishiura, Oshima and Iguchi lead SP-PRO in the Lexus LFA Code X.
It's a Subaru in the lead of SP 3T - the WRX of Van Dam, Yamauchi, Schrick and Lasée. We're watching SP3 though - currently a close battle between a Renaultsport Clio, and the oldest car in the race, an Opel Manta run by Beckmann, Strycek, Hass and Schulten. It's the variety that makes the N24.
23:48 evo takes a tour of the pit garages and paddock with AMG
There's a mathematical problem with the N24 that you might not have considered: More than 150 cars, but only around 40 pit garages. Up to four teams share some garages, with predictable chaos. It not only presents a problem for space, but also pit timing - it's not unusual for cars to be stacked up outside the garages.
We spend a few minutes in ROWE Racing's garage - one of those sharing a garage with three other teams. There are tyres in neat piles along the walls - both slicks and wets. Tyre engineers, mechanics and more furtively scurry around. The team's pit stop goes without issue. No sooner has ROWE returned to their fold-out seats, then dozens of blue-clad Japanese mechanics rush past, carrying tyres, wheel guns and even an in-house film crew, ready for the #114 Subaru WRX STI.
We're also invited inside AMG's factory parts truck, which supplies items on race weekends without cost to teams who need them. The truck contains virtually everything a team would need to repair a car - from the smallest nuts and bolts to large sections of bodywork or entire suspension setups.
We've been sneaking through the woods of the Nordschleife to capture some stunning night time images. With an ominous back drop of pitch black forest contrasted by the yellow and white high beams of the remaining racers, the Nurburgring 24 Hours features some of the most spectacular sights in motorsport.
We'll upload the rest of the pictures to our gallery on Sunday.
8:12 Good morning from evo
We're still here and, like the front-runners, still going strong. Audi's lead into the night has now been surpassed by the #25 BMW Z4 GT3 of Martin, Luhr, Palttala and Westbrook. The M6 GT3 replacing it will have a lot of work to do. Mercedes is another manufacturer soon to change cars, and the fourth-place position of the #5 car suggests the AMG GT will have its work cut out too.
The rate of attrition is still high though. Double-yellow flags are currently waving into Bergwerk and on the run up to Kesselchen. There's an Aston Martin currently prone at the side of the track.
11:18 Progress update
Things seem to have calmed down. Several teams are changing brake discs and pads during their stops but few are having any major difficulties. The #28 Audi once again leads, followed by the #25 BMW Z4. The top five are filled out by the #44 Porsche 997 GT3 R, the #5 Mercedes SLS, and the Farfus-Müller-Catsburg-Adorf Z4.
13:28 Don't be fooled by the large portions of cake and Currywurst supplied around the paddock, most of the N24's drivers are on a strictly controlled diet. We caught up with Prodrive driver performance trainer, John Camilleri, to find out what input he has with Aston Martin Racing's drivers.
'All circuits have their own physical challenges, and the Nurbugring is quite unusual because the drivers encounter quite a lot of vertical g, quite a lot of bouncing around, elevations etc. So looking after the guys whilst they're here at the event, and also before it back at base, is a unique challenge. 
'We've done a lot of the groundwork before we arrived at the circuit. The program for Le Mans, for example, started seven weeks ago but the race isn't for another three weeks. And it's not all race prepeartion, we've got to take into account things like travel tiredness and jet lag as well, so sometimes the drivers are already in a state of fatigue before we've even started.
'People think the GT cars are quite easy to driver, because they look like road cars. But drivers' average heart rates are around 150 beats per minute, and they're burning around 1000 calories an hour. Especially with the GT12 and GT3 cars, where there's no air conditioning, even in relatively low ambient conditions the cockpit can get quite hot.
'This speeds up the metabolic rate a lot, so we have to make sure they stay hydrated in the car. The more information I can get from the drivers when they're out there, the more specific I can be with helping them recover between stints.
'Our GT3 cars are running three drivers rather than four, so the drivers have much less time to recover too.' No doubt then that the AMR drivers have been even more dependent on John than usual to keep them healthy and energetic throughout the weekend. Just two and a half hours left, guys...
13:16 Update - pictures from overnight added
Yes we're doing a bit of time travelling, but we wanted to share an incredible set of images captured last night by evo photographer Aston Parrott.
The R8 in particular looked and sounding incredible tearing through the Nordschleife.
13:39 - more action from the pits
We've got such a vast amount of material to share from the N24 with you. Here's our next batch of images, straight from the pit lane.
The atmosphere is slightly hard to describe. Unlike Le Mans or F1, access is fairly unrestricted so you're free to wander about (provided you've got the right pass), as you please.
The result of which is that you really have to keep your wits about you, as race cars fly up and down and teams come running through with tyres and fuel.
We hope the below images at least give you a sense of what the N24's pits are like.
15:35 'Ring veteran Peter Dumbreck of Falken Motorsports says the N24 is both terrifying and cruel:
'At night, a lot of accidents happen; a lot of people have big shunts. Around here it's the number one thing that knocks people out.
'Because it's dark, you really have no idea what's going on. Twice I almost hit the back of a group of cars. We got released from a code 60kmh zone, accelerated hard and through the gears, and then all of a sudden we were hard on the brakes as cars appeared around the corner doing 60kmh at another double yellow sector. You're like, ahhhh!
'The Nurburgring 24 Hours is terrifying and cruel. But as I say, if you make it through the night, you're in the fight.'
If luck stays on his side, Dumbreck and his teammates in the number 44 997 Porsche 911 GT3 R are on course for third position.
18:00 Goodbye Nurburgring
After 24 hours and 156 laps of racing, the 2015 N24 has drawn to a close. Drivers, teams and cars have had to battle their way through changing track and weather conditions, and it was the number 28 Audi R8 LMS of Audi Sport WRT that crossed the line in first. In second and 40sec behind was the number 25 BMW Z4 GT3 of Marc VDS, making the 2015 race the closest race in the iconic event's history. Third place honours went to the number 44 997 Porsche 911 GT3R of Falken Motorsport.
Given the trecherous conditions and dangerous nature of the Nurburgring, it wasn't just the top three that celebrated the race's close. Team evo has enjoyed its first weekend of covering a 24 hour race in this fashion, so we hope you've enjoyed the ride as much as we have. Take a look through our gallery, which we've now updated with stunning images of the race's winning R8 LMS and its overjoyed drivers, as well as the emotional podium proceedings.