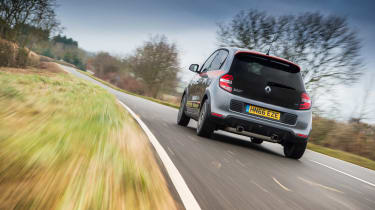 A power output of 130-150bhp used to be the norm for supermini hot hatchbacks, but now you need at least 200bhp, an aggressive chassis and a set of sticky tyres to be taken seriously – as evidenced by cars like the Ford Fiesta ST, Renault Sport Clio 220 Trophy and Peugeot 208 GTI by Peugeot Sport.
Thankfully, those with lower budgets can still find entertainment in the supermini and city car classes without spending more than £20,000 and scraping 30mpg economy. Most of our best small cars, the models you'll find listed below, should achieve mpg figures in the 40s in daily driving, shouldn't cost the earth to run or insure, but will still put a smile on your face when the road opens up.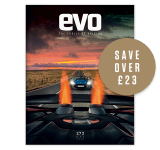 Subscribe to evo magazine
Subscribe today to have every issue of evo delivered straight to you. You'll SAVE 39% on the shop price, and get evo for its original cover price for a whole year!
Best small cars on sale now
Fiat 595 Abarth
Rating: 3 stars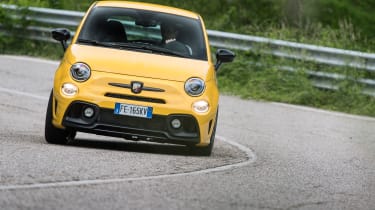 The Abarth 500's tiny stance might shout "trinket" more than "hot hatchback" and it's getting on a bit these days, but its presence in the warm hatch market is hard to ignore thanks to a starting price tag of £15,510.
For that you get a 1.4-litre turbocharged engine like all 500 (and 595, and 695) Abarths, albeit in a modest 138bhp state of tune – the same as the Fiesta ST-Line below. It's a fizzy little unit, enhanced by an amusingly parpy exhaust note and the short throw of that dashboard-mounted gearshift lever.
> Read our review of the Abarth 595 here
Really throw the 500 around and it loses its cool – there's not the chassis sophistication of something like a Mini Cooper. But drive a few tenths back from the limit and you'll find a car full of brio and character, and plenty of poke: 0-62mph takes 7.9sec.
Ford Fiesta ST-Line
Rating: 4 stars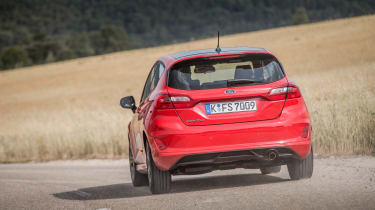 The latest Ford Fiesta, and by extension the sporty ST-Line, has carried on where the old model left off. That car provided sub-ST thrills with a surprisingly highly-tuned three-cylinder engine and an agile chassis. If it had any faults, it was that the price wasn't that far shy of the full ST at the time.
Until the latest ST arrives the new ST-Line is the hottest Fiesta you can buy, and it remains entertaining. Power comes from a 1-litre turbocharged three-cylinder, boasting 138bhp and 133lb ft in its hottest trim (lower power models are available), and it'll clear the 0-62mph sprint in nine seconds flat.
> We've reviewed the Ford Fiesta ST-Line here
Better than the performance is the chassis. There's even more maturity to the new Fiesta so it's probably not the best choice if you're looking for a raw and rowdy experience, but it's agile, delivers decent feedback through the controls, and takes the edge off poorly-surfaced roads.
Pricing begins at £17,395 for the 183bhp car. Until the full ST model arrives we won't be sure how much value that represents, but it's only £800 more than the entry-level 99bhp ST-Line.
Mazda 2 GT Sport
Rating: 4 stars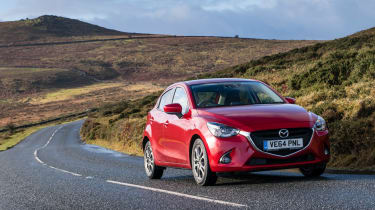 Mazda's smallest offering is a bit of an anomaly. Often overlooked in the supermini market, it's stylish on the outside and has a slick, driver-focused cabin to shame virtually any other car in its class.
It also has an engine cribbed from the entry-level MX-5, which you'd imagine is a bit of a hidden gem, given Mazda's ability to make even the humblest of its cars drive and perform with a verve you don't often get elsewhere.
> Check out our review of the Mazda 2 supermini here
And to an extent, that's what you get. Next to the Mini and Fiesta a basic Mazda 2 is among the best cars in its class to drive. It rides and handles well, and the naturally-aspirated engine is enjoyable to work with the slick manual gearbox.
We just wish it had even more of the MX-5's character. The de-tuned engine isn't quite as keen to rev, the steering not quite as sharp, and the handling not quite as engaging. There's potential here (and a very good small car for typical buyers) but not quite enough Zoom-Zoom for the £16,995 price tag.
Mini Cooper
Rating: 4 stars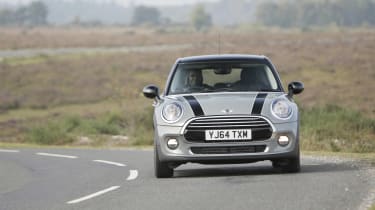 The regular Mini Cooper has always been a sweet spot in the Mini range and the current model is no exception. It's neither as fast nor as sharp as a Cooper S or John Cooper Works-badged model, but get the £16,200 Cooper on the right road and it still puts a grin on your face.
Part of this is down to the engine. While it hasn't escaped the trend towards turbocharging, the 1.5-litre three-cylinder motor (also found in the back of BMW's i8) is smooth, reasonably punchy (134bhp, and 162lb ft at 1250rpm) and willing to spin all the way to the red line.
> Check out our review of the retro Mini Cooper here
And the softer setup than hotter Minis means it really flows down the road, aided by the same responsive steering as any other Mini and nice balance to the chassis – all the more exploitable with lower levels of grip.
You certainly shouldn't rule out the three-pot Cooper if you're after an uncomplicated, fun driving experience, and despite the premium-esque badge the pricing undercuts Ford's alternative.
Renault Twingo GT
Rating: 3 stars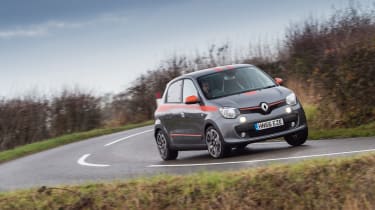 Let's be clear from the start: The £14,250 Renault Twingo GT isn't a performance car on par with the old Renault Sport Twingo 133. It lacks the power (it has less pep than several of the other cars here, with 109bhp) and lacks the focus, although it's a little easier to live with than the stiff-riding 133.
But it is an intriguing car, with a rear-mounted engine sending power to the rear wheels through a manual gearbox. If this gives you images of a sort of budget Porsche 911 then you'll be disappointed, but it does give the Twingo slightly different dynamic characteristics to its supermini and city car rivals.
> Read our full review of the Renault Twingo GT
There's also joy in driving the Twingo GT hard, even if that joy is more related to thrashing the living daylights from a relatively slow car than it is for any feedback you might get (there's little). At the very least, it's a car with character.
It's just a pity it doesn't handle with the amusing verve as the mechanically-similar Smart Forfour Brabus. The Smart might be expensive, but considering Renault Sport developed both it's surprising to find Renault's car is the less exuberant.
SEAT Ibiza FR
Rating: 4 stars
SEAT's latest Ibiza arrived in summer 2017 and it's not hard to see the appeal. The old model was easy enough on the eye but the latest one takes the Leon's styling and gives it an even sportier, tighly-surfaced look. In sporty FR trim, it's really quite appealing.
Underneath it's not far removed from the Leon either, being based on a smaller version of the Volkswagen Group's MQB platform – just like its VW Polo cousin. The subtext is that the new Leon feels like a car from the class above – and that's both a good and a bad thing.
> Click to read our review of the SEAT Ibiza FR
It's good because the Ibiza FR is easier to live with than ever. It's bad, because the Ibiza was never the sharpest tool in the box before, and the extra maturity means it feels even less up for a bit of fun.
Don't get us wrong – there's a very competent chassis lurking underneath, and the 113bhp 1.0 TSI and 148bhp 1.5 TSI both provide a decent performance hit (though the 1.5 feels a little rough at higher revs). It's precise but lacks feel, it's grippy but undramatic, and it's agile but not that exciting. A good, sporty small car, but not really an evo one.
Smart Fortwo/Forfour Brabus
Rating: 3.5 stars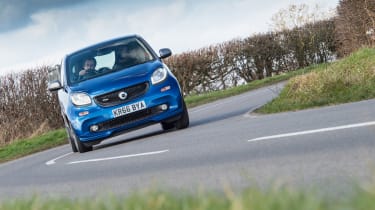 Smart's Brabus models have always operated on the fringes of conventional hot small cars. The Fortwo was a curio, bouncing along country roads like an old Mini (until you get to a corner, where it's rather more terrifying), while the Forfour was a surprisingly conventional front-drive supermini sharing its platform with Mitsubishi.
> Smart Fortwo Brabus reviewed here
The latest cars are different though, sharing their platform with the rear-drive Renault Twingo GT. But where the Twingo is slightly stale, admonishing you with a strict stability control system, the Brabus models let their freak flag fly – even rewarding you with a distinct rear-drive, slightly tail-happy feeling if you turn into a corner on the brakes or off the throttle.
> Read our review of the Smart Forfour Brabus here
The Smart's six-speed dual-clutch transmission is a better match than the Twingo's five-speed manual too (and of course, makes great sense in town driving). The only real demerits are slightly vague (but still quick) steering, and high prices – even the Fortwo starts at £16,585, which seems ludicrous when you look at what else you can get for the money.
Suzuki Swift
Rating: 4 stars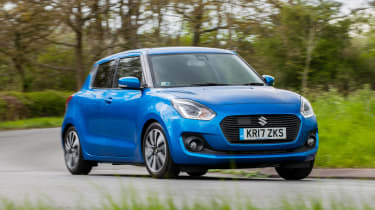 The Swift Sport is no more (for now), but Suzuki still offers an unlikely small, entertaining car contender in the form of the regular Swift.
No, really – when we drove the latest Swift back in the summer of 2017, we came away impressed. Slightly unusual looks and a relatively nondescript cabin design aside, it proved to be among the more entertaining small cars we've driven recently.
That's partly down to Suzuki's oddly-named "Boosterjet" 1-litre three-cylinder turbocharged engine, whose 109bhp output is more than enough when combined with electric assistance as part of Suzuki's SHVS mild-hybrid system, and a light 980kg kerb weight.
And it's partly down to subtle things like really well-matched control weights, good responses to both the steering and the throttle, and a nimbleness stemming from its low weight. A quid under £15k buys the mild hybrid, but we suspect the regular Boosterjet at £13,499 would be broadly as talented.
Vauxhall Adam S
Rating: 3.5 stars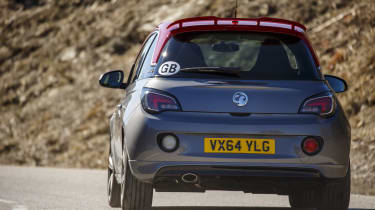 Ignore the price – which at £18,720 is significantly more than the other cars here and not too far from some proper supermini hot hatchbacks – and the Vauxhall Adam S is a warm hatch with real appeal.
It's not a bad looking thing for starters, with less potential for distasteful colour combinations than the regular Adam and a likeably squat stance over its 18-inch alloy wheels. And at 148bhp it's capable of decent pace, hitting 62mph from rest in 8.5sec.
> Click here to go to our review of the Vauxhall Adam S
It can entertain on the road too. While not as tactile as a Fiesta Zetec S or as sophisticated as a Mini, it's got oodles of grip and it's small enough to feel properly nimble – just what you want from a car this size.
There is an element of style over substance with the Adam S (not a shock when you consider its rivals – Vauxhall wants you to think Minis and Fiat 500s) but we suspect that price is the bigger reason for not seeing many on the road.
Volkswagen Up GTI
Rating: 4 stars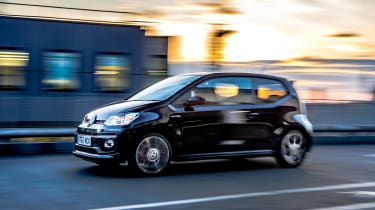 Perhaps the best car on this list, the 113bhp Volkswagen Up GTI is a rather charming machine. With its 8.8sec 0-60mph times, it might not be mind-bendlingly fast, but look beyond the six stone weakling statistics and you'll find a genuinely engaging pocket rocket.
> Volkswagen Up GTI reviewed here
Part of the VW's appeal is down to a couple of key features. The first is the Up GTI's sub-ton kerb weight. Tipping the scales at just 995kg, the engine's modest power suddenly looks more than sufficient, while its featherweight body also suggests the Up will be more than fun enough when presented with a corner or two. In reality, both are true; the Up GTI is brisk, even if it isn't truly fast, and it's eager, tenacious and eminently chuckable on a tight British B-road.
The other exciting number is the Up GTI's price. At £14,055 it doesn't matter that it's not the most agile car or that there are limitations to its suspension, because the torquey engine, quality interior, super-fast gear change, perfectly resolved looks and fun-loving driving experience mean that it feels like a true performance car bargain.
What else is there?
One of our favourite toasty hatches was the old Suzuki Swift Sport – a revvy 1.6-litre naturally-aspirated engine and biddable chassis made it fun and approachable, and Suzuki always got the value aspect right – it was as cheap as most dreary 1-litre superminis available from other manufacturers.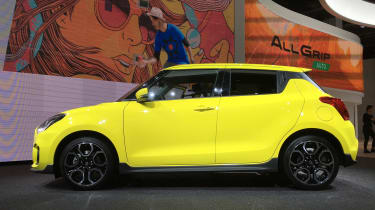 Thankfully, Suzuki has seen fit to add to the impressive new Swift range with a new Swift Sport. Revealed at the Frankfurt motor show in 2017, it's followed the crowd and gone turbocharged – but we have a suspicion that it'll be as fun as before, thanks to a featherweight 970kg kerb weight. While it probably won't match RS Clios or 208 GTIs in terms of performance, its price is sure to make it very tempting indeed next to some of the cars you see above.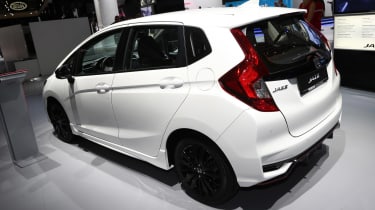 Don't laugh, but we're also interested to try Honda's upcoming 1.5-litre Jazz. The UK has never had even a warm version of Honda's supermini despite sportier models being offered in the US and Japan, but with 128bhp the new Dynamic model should give a reasonable turn of pace, and aside from everything else, it'll be the only naturally-aspirated warm hatch on sale.
evo best small cars 2019: