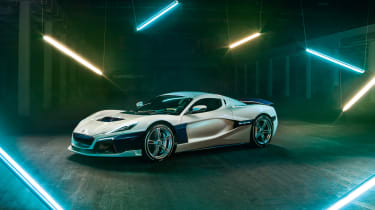 1/10
If Elon Musk is the frontman of the automotive industry's future, Mate Rimac is the songwriter. Tesla's charismatic lead is on the album covers, figuratively stumbling out of clubs at 4am and quarrelling with reporters as he sells sleek electric sedans and promises to put future generations on Mars. But it's Mate writing those earworms, teaming up with legacy automakers and tech start-ups alike to profoundly influence how we'll get from place to place in the next quarter-century and beyond.
Not that Mate is short on charisma. Several times during our interview he politely apologises for pausing to engage with people passing by, and in full swing he speaks at a pace that makes even his firm's 1888bhp C Two supercar look slovenly.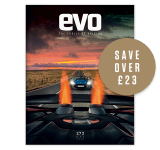 Subscribe to evo magazine
Subscribe today to have every issue of evo delivered straight to you. You'll SAVE 39% on the shop price, and get evo for its original cover price for a whole year!
> Rimac Automobili C_Two revealed at Geneva - is this the hypercar of the future?
Words are still chosen very carefully. Rimac (the eponymous supercar company Mate created) has lucrative, high-profile clients on its books – Aston Martin, Porsche, Pininfarina and Koenigsegg are just the ones known publicly – and as a result Mate likely knows more about the direction of the industry than any one CEO at a major automaker. Or technology firm, for that matter: the Croatian outfit is also deeply embedded in autonomous vehicle technology.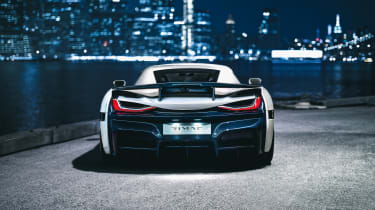 The C Two was launched at last year's Geneva show, and made another appearance this year, with deliveries scheduled for 2020. On display was the car's carbonfibre structure – a design Mate says was created completely from scratch, rather than being an evolution of the C One's.
'The monocoque, the suspension, the suspension geometry, everything is from zero,' explains Mate. 'The rear and front powertrain are completely different to optimise each for their purposes. So the front motors and the rear motors are completely different, the inverters are completely different, the gearboxes are completely different.' Even the electronic control units (29 of them), pumps, fans and the battery itself were specially developed for the car, and the company is currently in the process of building the 30 prototypes necessary for global homologation – including crash-testing.
Last time we spoke, Mate had mentioned that he was keen to one day create an electric sports car more along the lines of an Elise or Alpine A110, focused less on the insane speed of cars such as the C Two, and more on driving purity and light weight. Has there been any further progress?
'It's something I would like to do, but it's just a huge amount of work,' says Mate. 'Maybe I would like to do a car that's much more lightweight, and simpler, without the arsenal of technologies that we have here. But that's not what the customers want at the moment.'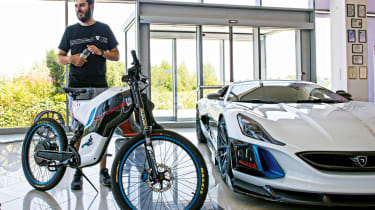 They do want technology, though. The C Two may not be chasing the same audience as the self-driving autonomous pod that's been previewed by Google spin-off Waymo, but just as Rimac expects its high-performance technology to benefit regular road transport once it has filtered down from hypercars, the car's Driver Coach system is a shop window for autonomous technology: 'The Driver Coach that we are developing is interesting,' says Mate. 'It takes you onto the track, and on the track it does two perfect laps without you having any input. It's like you have a racing driver sitting next to you, permanently inside the car.'
It seems nearly every week there's an announcement about a new ostentatious and cosmically fast electric hypercar that makes the Pista and 720S featured elsewhere in this issue – and already far too fast to realistically exploit on the road – look like playthings. Where does Mate think this race, which Rimac is undoubtedly at the forefront of, is going?
He pauses. 'It's going towards… racehorses.' Another pause. 'On one side, you've got collectables. On the other side, you have the mobility services. That's going to turn everything on its head. Electrification keeps everybody in their comfort zone. The OEMs still produce the cars and sell them to people. They [the people] just don't go to the gas station. And that keeps everybody in their comfort zone, but actually it's nothing – it's no change whatsoever. The really big disruption is mobility as a service.'
So is there no future for human driving?
Another uncharacteristic pause. 'No,' he says finally. 'Other than racehorses. So… I'm a petrolhead. I started with converting a BMW E30, 1984, four years older than myself. I was drifting and stuff like that. If I had the money I would buy all the hypercars there are, you know?
'But looking at the numbers – the human lives, and productivity, and the cost of injuries, health, deaths, traffic jams, congestion, environmental impact, the limitations of the infrastructure – when you take all that into consideration, switching to autonomous driving is going to be the biggest single positive change for humanity in the coming decades.'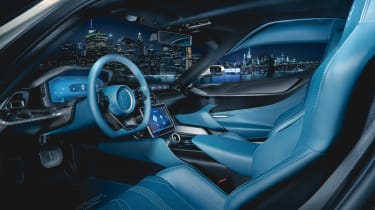 Mate pre-empts my next question. 'And you'll have people whining about "I wanna buy cars" and stuff like that. But it seems very silly to put something so trivial in front of all of these other things. You know… another CEO in my position would tell you some bullshit about the future of supercars and stuff like that. I'm very straightforward, and I say what I really mean, and what I think. Maybe it's not in the best interest of the company and the products we do, but we are very clear about that and open about that, and I'm not very politically correct so I say what I think. I think driving will go completely away. Completely.
'I'm sorry,' he concludes with a sympathetic smile. 'That's not a very evo interview…'
So who are the big names calling upon Rimac's expertise to help them realise their electric dreams?
1. Pininfarina
Pininfarina's new electric hypercar is the first fruit of its 80million-euro contract with Rimac, first announced in 2018. Rimac has provided its expertise for the Battista's battery and drivetrain, and is also handling much of the hardware and software. When quizzed, Mate Rimac doesn't reveal just how much of the firm's own C Two can be found in cars such as the Battista, but does hint that it's 'a lot'. With electric hypercars coming out of the woodwork almost monthly, the Battista probably won't be the only such car packing Rimac technology.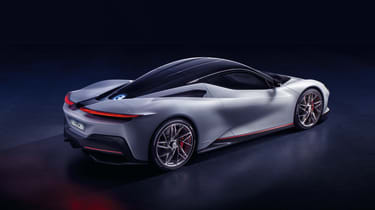 2. Aston Martin
The Valkyrie is set to be the most extreme road car ever created when it's finished in 2020, with the capability to match LMP1 lap times. With Red Bull Advanced Technologies behind the project and Cosworth developing its incredible V12 engine, Aston Martin has brought in Rimac to supply the Valkyrie's high-performance and lightweight hybrid battery system. Electric power will be vital to ensure driveability, but will also be called upon for a power boost, should 11,100rpm and 6.5 litres be insufficient on their own.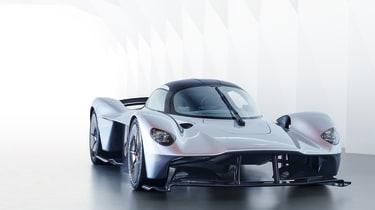 3. Koenigsegg
Not content simply to supply the world's most extreme road car, Rimac is also involved in one of the world's most powerful road cars – the 1479bhp Koenigsegg Regera. It's quite the meeting of minds: Christian von Koenigsegg himself developed the car's remarkable direct-drive gearless transmission, while a compact 9.27kWh battery pack from Rimac deploys 500kW (671bhp) to support a twin-turbocharged 5-litre V8. Expect further collaboration between the two firms in the future.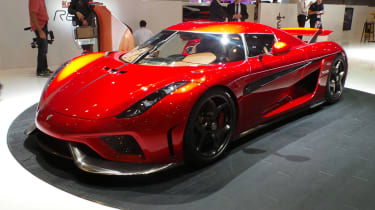 4. Porsche
If you doubt Rimac's significance in the future automotive sphere, consider this: last year, Porsche AG bought a ten per cent minority shareholding in Rimac Automobili. At the time, Porsche declared particular interest in Rimac's expertise in electrification, connectivity and advanced driver assistance. Involvement in the upcoming Taycan and the mooted electrified Boxster, Cayman and 911 models is a given, but we'd also be very surprised if future Porsches didn't include Rimac's Driver Coach system, where the car is able to autonomously navigate a circuit as a real instructor might.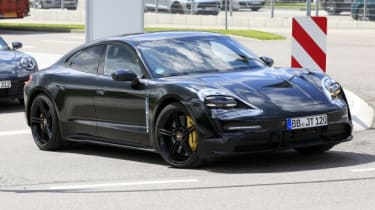 5. Mobility providers
Rimac mentions no names directly, but does note that the company is heavily involved with automated mobility and connectivity service providers. Think of the C Two not just as a shop window for performance car makers but also technology firms, with Rimac developing its own driver assistance features for piloted driving, plus driver and vehicle exterior monitoring, and the Driver Coach system. Rimac has already been involved in creating mobile software for OEMs too, such as the applications that let you remotely monitor the charging and heating of electric cars. You'll almost certainly be using Rimac technology in one of your future cars.