Clank, clank, clank. If you weren't aware, you might think the sound was coming from nearby roadworks, or earth-movers clearing ground for a new development. But looming above you is Middlesbrough's Transporter Bridge, icon of the town's skyline since 1911, moving people and vehicles across the Tees on a precarious-looking gondola suspended by cables running 160 feet to a beam above. Clank, clank, clank.
Our Suzuki Swift Sport is well below the three-ton weight limit for vehicles on the bridge, but we're already south of the river and the Swift's diminutive size also makes it ideal for the first leg of our trip to today's primary destination, the North York Moors. We skirt Teesside University and take the A172, new estates prolonging the blend between bland urban fringe and verdant countryside.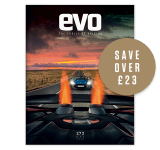 Subscribe to evo magazine
Subscribe today to have every issue of evo delivered straight to you. You'll SAVE 39% on the shop price, and get evo for its original cover price for a whole year!
The sporadic rain showers certainly take me back, as do signs for Stokesley, gateway to the Moors. In the past I'd take my 59-horsepower Fiesta down the B1257 through Great Broughton to Helmsley, its suspension bucking and rolling like the road itself, but a few months ago I discovered the narrower course through Kildale, which skirts dry stone walls and crests small bridges more like a road in the Dales. Much of the road lacks clear sight lines, but the Swift feels at home here.
There's enough performance to make up down the straights what a cautious approach through the damp corners takes away, but it's also narrow enough to slip through gaps and hug the verge in a way larger cars would struggle with. Photographer Aston Parrott, behind in his Alfa Stelvio Quadrifoglio with twice the number of driven wheels and three-and-a-half times the power, probably wouldn't be going much quicker if I wasn't here.
The road's learning curve is satisfying too, twisting more dramatically the further you go and allowing you to build speed naturally as you find a rhythm. The section from Stokesley through Easby to Kildale gently sweeps and kinks, before releasing you into the Moors over a cattle grid and via a picture-postcard valley surrounding Sleddale Beck. The road descends one side, squeezing you over a stone bridge at its nadir, and slingshots up the other through a well-sighted S-bend, a steep uphill right-hander and a longer, hilltop run towards Commondale. The Suzuki feels great, allowing you to push its chassis at appropriate speeds, and the punchy, 138bhp 1.4 happy to drag the lightweight body up steep inclines. After Commondale the road esses once again before a long, arrow-straight run to the stark, open intersection with Smeathorns Road.
You'll want to turn right – south, and towards Castleton. I never discovered this route back in the day, but from Castleton over Blakey Ridge to the chocolate-box village of Hutton-le-Hole is one of the most picturesque and entertaining stretches of road in the country, and a firm evo favourite – you'll recognise it from our Alpine A110, Porsche Cayman and Audi TT supertest (evo 249), among others.
Take the earlier cattle grid as a word of warning, as sheep can – and do – emerge from the heather up here, and in spring and summer particularly like to lounge alongside the road. Your speed should always be tempered by the knowledge something large and woolly could be absent-mindedly bumbling across the road over that crest or around the next corner. Yet Blakey Ridge is equally blessed with open sections with perfect visibility, allowing me to safely clear sightseeing traffic and tax the Swift's dampers through a few undulations.
Around the halfway point we pass the Lion Inn, a beacon of light and warm grub on long, cold winter shoots. We don't eat there today though, instead pressing on through the southern section of Blakey Ridge, which throws one or two off-camber surprises at you before wiggling left and right into the valley. The road crosses another cattle grid just as the '30' signs appear, though four-legged creatures still roam free in Hutton-le-Hole itself. Aston and I recharge – and escape the weather, which has closed in dramatically in the space of a few minutes, as it tends to here – in The Forge tea rooms. Once again, the Swift's size becomes a benefit, allowing me to park directly in front without knocking over the hand-written specials board. Small is as beautiful up here as it is in the city.
From here it's down to the A170, rejoining the commuter traffic to head west again in the direction of Helmsley. If you're looking for a circular tour, you can head north and take the B1257 back up to Stokesley, or perhaps turn east, to Scarborough, and pace around the well-known motorcycle course, Oliver's Mount, with a newspaper full of fish and chips. Or you could head southwest, fast-track it down to Leeds, and see what else Yorkshire has to offer.