One crisp autumn morning you decide you want to drive your Ferrari Daytona through the Alps then down to the Amalfi coast. But the car's not kept at your house, instead it's in a museum, because it seems a shame to keep a car like that hidden from admiring eyes. No problem, you simply drive to the converted former agricultural factory where it's on display, open the main doors with your key, activate the car lift and make your way to the bay that your 365 GTB/4 is kept in. Visitors move to the sides as you drive down the wide corridors towards the Ferrari's sharp, Plexiglas-dominated nose.
The same key that let you through the main door – a black plastic item with a chip at one end – also opens the sliding glass door that keeps your Ferrari's original glass from greasy hands and its Verde Medio Metallizzato paint from the accidental scoring of a wayward zip. A crowd has started to draw as you begin to swap into the Daytona from your idling 997 GT3 (because you don't come to collect your Daytona in a 320d). The battery is fully charged and the car has been serviced and maintained by one of the classic car specialists that reside on the ground floor, so it starts instantly. Once you've pulled the big GT out of its bay and reversed the Porsche into the empty space, you trundle out the same way you came in – along the corridor, down the lift, through the main door – then it's onwards to the Alps.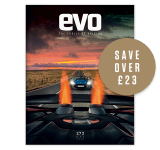 Subscribe to evo magazine
Subscribe today to have every issue of evo delivered straight to you. You'll SAVE 39% on the shop price, and get evo for its original cover price for a whole year!
This might sound like a fantasy, but for the group of enthusiasts who keep their cars at Klassikstadt, it's a reality. On the outskirts of Frankfurt, this huge car storage facility cum museum is packed full of privately owned cars so special mere garages don't befit their provenance, each parked up to be viewed by the public but ready to be driven away day or night. To cement its status as an automotive paradise there are also classic and modern car dealers, restorers, an interior trimmer, marque-specific specialists, a model shop and even a rather good restaurant on the same site.
Of course, with it being such an appealing place to keep your car, not just any automobile is granted access to Klassikstadt. Places are in demand so you need to have an exceptional car to even be considered for a slot when one comes up, but that means there are some extraordinary vehicles to be found here. Titus Schneider, who manages the 'museum', is our guide today. We climb a set of stairs to the first floor and walk up to a collection of Porsches. I can see what appears to be the front of a tough-looking red 911 2.7 RS ahead of a 356 Carrera and an achingly pretty 906. I am sure he's going to give us a tour of the mid-engined racer but he stops short at the 911. On closer inspection it turns out this isn't simply an RS, but an RSR with super-wide Fuchs wheels and matching swollen arches – so that's why it looked particularly mean.
Now, all RSRs are rare and interesting, but this one's story isn't full of dozens of race wins and entries into prestigious events. Instead, someone over-revved the engine early in its career and subsequently it sat dormant for decades. But those circumstances put this RSR in a unique position. Improvements and modifications were made frequently to race cars to make them faster – no one worried about originality because originality doesn't win races. But as this 911 didn't compete much it wasn't corrupted by meddling mechanics and is therefore the most original RSR in existence. Even Porsche doesn't have a better one, and without this car we wouldn't know exactly what an uncorrupted RSR should be like.
Thankfully, rather than being left as original but broken, it was recommissioned in 2010, the engine painstakingly rebuilt to its original specification so that the car can be driven.
I can understand why Porsche fans would get a little flustered when cooing over the RSR, and I certainly think it looks fantastic in plain red with only a smattering of stickers. Yet the brake dust, rough edges and imperfections of its stablemate, the 906, hint that its historic Dunlop tyres touch tarmac a lot more often; that makes it even more appealing. More impressive still is that this full-on race car isn't confined to circuits; it's road legal and its owner uses it on public roads. Not that long ago he picked it up from Klassikstadt, drove it to Frankfurt airport and flew it out to California for the Rennsport reunion at Leguna Seca. He then used it as his transport while over there and it still sports the Lufthansa Cargo delivery stickers.
Most of the cars in storage here are protected behind sliding glass doors, but there's still enough space left either side of each vehicle for you to get a good look even without being able to walk around them. However, there are also one or two cars littering the corridors, like extra ornaments to keep you interested as you flit between one area of the museum and another. Some of these cars are Titus's own – the first one we bump into is his race-prepared, beige Alfa Romeo GTAm replica. Although an odd colour choice and with only one clear light (the other three are tinted yellow), it's still both pretty and mean-looking, thanks to wide wheels and riveted-on arches. It is, perhaps, not as precious as some of the other cars here, but that means there's nothing to put Titus off racing it occasionally. He's used it at the Nürburgring Oldtimer GP and it still wears the scars and tyre marks from some close racing.
From one wide-arched car to another. Around the corner, sitting between a Ferrari FXX  and a Porsche 924 Carrera GT, is a bright yellow BMW 3.0 CSL Batmobile race car – I can tell from the blistered arches that it's not a road car. But it's also got a number plate, big wheels and road tyres. Surely it isn't just an aftermarket bodykit on an ordinary CSL or CS? That's hardly befitting of Klassikstadt's policy of rare and exceptional cars. Of course, this is actually a genuine, built-by-BMW-Motorsport racing CSL. It was sold to Alpina and, after the then tuning firm decided not to race it, was converted into a road car. That's why it has the wide arches, wing and fins, and still has the roll-cage and additional space in the floor for a side-exit exhaust pipe. However, this CSL now uses a less antisocial rear-exit system, because like most of the cars here, it gets taken out and used.
This philosophy means there's a good rotation of cars: when one's out, its replacement, the owner's transport, goes on display. Some exhibits then don't always meet the high standard of Klassikstadt, but when the substitutes are modern Ferraris, McLarens and the like, there's still plenty of interest behind those glass doors.
Not everyone comes by car, though; people with such rare and expensive cars have a habit of travelling by plane or helicopter. Rather than leaving a spot empty, there's a plan should the owner not bring a reserve. On the top level, not accessible by the public, is where Klassikstadt's shareholders keep their own cars. Not just because it's easy, but also because they can be called upon to fill any gaps.
And what a substitutes' bench it is: a Ferrari F40 and 330 GTS, a Mk1 and a Mk2 Golf GTI, and a large collection of '80s and '90s German saloon cars. Amongst the DTM homologation specials – the 16-valve Mercedes 190Es and BMW E30 M3s – is a pearl white Audi V8 quattro. Because this is Klassikstadt it's not simply any Audi V8 quattro, either, it was the company car of Ferdinand Piëch, the former CEO of the Volkswagen Group.
As we make our way back down to the ground floor we pass a collection of cars sporting rally and event stickers, suggesting how often they're used, no matter what their cost or rarity. It's encouraging and absolutely the way you'd want things, but I can't help but be captivated by a very clean BMW 507 from the 1950s. It looks so good that I'd be surprised if it had ever turned a wheel.
Actually, that's not true because it has quite obviously been restored – no matter how good the car looked when it was new, I very much doubt it was this immaculate. It's astonishingly clean. I search all over it to find a scratch, chip or tarnish on the body, in the engine bay, in the wheelarches, but I can't. I don't want to say it – it seems ridiculous that a car should be so pristine – but it is actually perfect.
Someone who's gone to the extent of such a fastidious restoration as this 507's will certainly be discerning about where they keep their car. Not just in terms of security – the right sort of humidity and temperature will be important, too. Not being an expert in classic car storage, I'm not sure what the best environment is for keeping a car. I've heard lots about moisture, temperature-controlled garages and air quality but I haven't got a clue what's right and I wouldn't know how to achieve it. Yet I don't see any huge ventilation ducts, or hear any air-conditioning or dehumidifier units chuntering away. There's just some tall, finned radiators on the walls next to the big windows.
I ask Titus about what they've done about air quality and moisture. The answer is, well, nothing. Not because they don't care: they tested the environment of the old factory and, fortuitously, it's practically perfect for storing cars, so they haven't had to worry.
As we make our way back down to the ground floor there's a hive of activity in the trim shop. As well as some jolly upholsterers, swathes of leather and rolls of fabric, there's a bookcase full of old option books, with leather, vinyl and carpet samples neatly affixed to their pages. It's impressive that these delicate paper artefacts have survived for decades, and flicking through a book from the 1960s and seeing and feeling what seat material you could have chosen for your Camaro or Pontiac GTO is deeply fascinating.
Titus has one more surprise for us. There's a small corner on the second floor that's been made to look like an old coachbuilder's workshop. There's a bench, a spaceframe chassis, some glassfibre moulds and a Bizzarrini logo hanging from the roof. One of Klassikstadt's shareholders acquired Bizzarrini – the name, the factory, the tooling and one of the final cars built by the manufacturer, a glassfibre-rebodied Opel GT – so this will become the home of Bizzarrini. The exhibition will expand to include more cars soon.
Some of the service centres and restoration workshops are outside, so we venture into the vast car park to visit them before we leave. At the moment, it's quite bare except for a pair of glass cases displaying new cars from local Fiat, Abarth, Lancia and Alfa Romeo dealerships, plus a dozen or so parked cars.
Yet the big expanse of tarmac doesn't stay unused throughout the year. Classic car clubs meet regularly and every September they hold a sprint on a circuit made from straw bales. It's exactly what I would do with acres of flat tarmac, and that's the wonderful thing about the whole of Klassikstadt: it's what I, or any car enthusiast, would do with such a space or building.
It might be exclusive and seem a bit elitist initially, but opening up Klassikstadt to the public makes it a haven for anyone with a passion for cars to come and appreciate some of the finest, rarest and most interesting automobiles on the planet. When they're not out pounding the road or track, that is.