It's rare for an all-American muscle car to feel so at home in the UK. Huge dimensions, poor damping and handling best suited to 'straight aways' aren't traits that usually suit our narrow, rough and endlessly twisting roads. The Chevrolet Camaro Z/28, however, seems like it might have a fighting chance of bucking that trend. That's because it has been created with a very European mentality – as if Porsche Motorsport or Renault Sport had a hand in its development.
After developing the car with trick dampers, sticky tyres, less weight and a relatively exotic drivetrain, Chevrolet was more interested in publicising the Z/28's maximum cornering force (1.08g) and its Nurburgring lap time (7:37.47 in less than ideal conditions) than its quarter mile time (no official figure).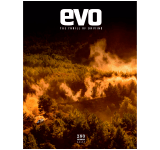 Subscribe to evo magazine
Subscribe today to have every issue of evo delivered straight to you. You'll SAVE 39% on the shop price, and get evo for its original cover price for a whole year!
In reality, it's sheer size and very focussed chassis means that there are only a few select roads on our shores that the Z/28 excels on. Once it's in its comfort zone though you can revel in its immense grip, neutral balance, impressive control and fully appreciate its characterful, muscular V8 engine. This is no ordinary muscle car.
> Read our review of Ford's latest Mustang
Chevrolet Camaro Z/28 in detail
The Z/28 weighs 136kg less than the more powerful supercharged Camaro ZL1 thanks to lightweight wheels, thinner rear window glass, manually adjustable front seats, high-density foam instead of the conventional rear seat structure and a smaller and lighter battery. Also, the pass-through from the rear seats to the boot, the tire-inflation kit, a lot of the sound deadening, the boot carpet, the fog lights, and the air conditioning have all been removed in the pursuit of losing kilos. Even after such drastic measures, the Z/28 does still weigh 1732kg. So not all that impressive a kerb weight, but enough to help it trim four seconds off the ZL1's Nordschliefe time.
The Z/28 also gets a set of Brembo carbon ceramic brakes that are not only lighter, but help provide consistent braking even when repeatedly hauling up the 1732kg car around a track.
Rather than the supercharged 6.2-litre LSA V8 found in the top-spec ZL1 Camaro, the Z/28 has the naturally aspirated 7-litre LS7 from the Corvette Z06 that produces 505bhp and 481lb ft of torque. Still a V8, naturally.
It might not be as powerful as the ZL1's motor, but the LS7 fits the Z/28's lightweight philosophy far better; with hypereutectic alloy pistons, titanium con rods and a dry-sump system, it weighs 30kg less.
As the saying goes 'power is nothing without control', and with 305/30 ZR19 Pirelli P Zero Trofeo R tyres all round, there's certainly enough mechanical grip to help keep the Z/28 on your desired path. Especially from the front axle. It also has 85 per cent stiffer front springs, 65 per cent stiffer rears and 400 per cent stiffer upper-control arm bushes compared to the ZL1.
Much of the Z/28's cornering ability, however, comes from its very special dampers. Rather than conventional shim-valve type dampers, the Z/28 has a set of Multimatic DSSV (Dynamic Suspension Spool Valve) shocks. It's the first volume production car to be fitted with this type of damper, only Aston Martin's One-77 and Ruf's CTR3 used them before – if you don't include the multitude of race cars in F1 and Le Mans, that is.
Like a conventional damper, the DSSV units have a piston that moves with suspension travel in an oil filled cylinder. Rather than being made up of multiple shims and holes, the DSSV's piston is made from a pair of units (one that deals with bump, the other with rebound) that each have two metal sleeves, one inside the other. The sleeves in each unit are pushed apart over the length of the damper by an internal coil spring. As the piston moves, the resistance of the oil forces the spring to close and the inner sleeve to slide further within the outer one. The outer sleeve has holes in its walls to allow the oil to pass through; it's the shape of these holes – often the silhouette of a wine bottle – and the stiffness of the spring that changes the damper's characteristics.
There is one element to the Z/28's make-up that is very muscle car, almost Dukes of Hazzard-esque. That's its Flying Car Mode, that disables the traction control when it detects all four wheels are off the ground so it lands smoothly. It's like its goading you into tauting some smokeys and embarking on a multi-state car chase down dusty tracks littered with unfinished bridges. 
| | |
| --- | --- |
| Engine | V8, 7008cc |
| Max power | 505bhp @ 6100rpm |
| Max torque | 481lb ft @ 4800rpm |
| Weight | 1732kg |
| Power-to-weight | 296bhp/ton |
| 0-60mph | 4.2sec (claimed) |
| Top speed | 175mph (claimed) |
What we said about the Camaro Z/28
'Already I love its absolute dedication to performance, grip and response. I love that it delivers at ten-tenths and beyond, and although the concept of a trackday-spec Camaro is vaguely absurd in the context of Exiges, GT3s and the like, there's no arguing with the execution. For once it's the chassis rather than a honking great V8 that defines an American-bred performance car. And that's despite the fact that it has a 7-litre V8 with 505bhp. Some trick.' Jethro Bovingdon, evo 205
'The Z/28's cabin plastics may be rather scratchy, but everything you touch as the driver is trimmed in Alcantara. The woofling, 505bhp Corvette V8 is also full of character and muscle, while the manual gearbox is hefty and bulky but with a well-oiled and precise action.
I'm using as much of the throttle as I dare, but the chassis is so busy that I find myself lifting off involuntarily. For one thing, the spring rates are so extreme that every bump makes its way through to the car's body, with the big ones enough to send me flying out of the seat. For another, the enormous, lightly treaded 305-section front tyres sniff out every rut and camber, dragging the car across the road. 
The sheer grip is staggering, though, and on the smoother sections it starts to come together. The steering is intuitive and the ceramic brakes are feelsome and immensely strong, so I start to lean on the car ever harder. That's when it feels sweetly balanced, agile and biddable, but soon enough the road turns lumpy again, I find myself in third gear when I need fourth, and I'm too scared to take my hand off the wheel.' Dan Prosser, evo 216
'It feels big at Blyton Park, though. Too big. You sit high up and, although there's almost zero roll and a lovely connection to those huge front tyres through the Alcantara-wrapped steering wheel, just picking apart the track feels
a little clumsy at first. Each corner feels more acute due to the Z/28's width preventing you from cutting neat lines. There's real balance here, though. The huge tyres help to almost completely eradicate understeer, and when the rear does break free it's progressive and easy to control. The multi-setting traction control is effective but the car is quickest without any intervention simply because it's predictable and finds excellent traction.' Jethro Bovingdon, evo 220