LaFerrari Spider confirmed - fastest convertible ever?
Sergio Marchionne says Spider is heading for production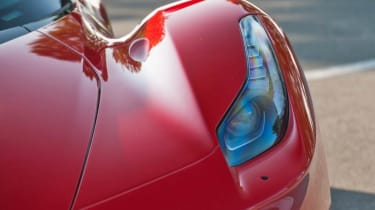 The idea of a LaFerrari Spider is nothing new, with hints of its existence floating around the internet via spy shots and iPhone photos for a good few months now.
But now it seems the car is well and truly for real, with Ferrari company chairman and Fiat Chrysler CEO Sergio Marchionne himself confirming it. Speaking to Automobile Mag, Marchionne explained: "The only future product connected to LaFerrari is the Spider. Which is no secret since potential customers have already been approached."
Exact details of the LaFerrari Spider are still to be confirmed. There's talk of it adopting the name 'LaFerrarina' and being a less hardcore, more road-friendly open-top hypercar.
>Read our 458 Speciale Aperta review
Ferrari has a history of building extremely limited-run ultra-expensive open-top versions of its cars. In 2014 there was the F60 America, essentially a convertible F12 with a price tag of £1.5million. Sold exclusively in America, only ten were built. Then there was the 458 Speciale A, of which only 499 were built, although this time the price tag (£228,682) remained closer to that of the standard Speciale.
The LaFerrari features an advanced carbonfibre passenger cell that uses four different types of carbon and weighs in at just 75kg. It's incredibly strong and should mean that the removal of the LaFerrari's roof does little to impact on torsional rigidity. Depending on the system used to turn the car into a convertible, expect a weight penalty over the hard-top.
Just 499 LaFerraris were built, each with a price of over £1million. Marchionne has confirmed that potential LaFerrari Spider customers have already been informed of the car's existence. Expect the buy-in for the Spider to be even more exclusive.
The LaFerrari's monstrous 950bhp V12 hybrid powertrain will no doubt make its way into the Spider intact, although whether or not it will be in the exact same state of tune remains to be seen. Given there's talk of the car being a softer alternative, is it possible that the 160bhp electric motor could be ditched? Unlikely, given the LaFerrari's role as a flagship product in the Ferrari range. Instead, expect chassis revisions and setup changes designed to better suit a convertible.
We're still waiting on exact details of the LaFerrari Spider, but it'll be interesting to see how it compares with the Porsche 918 Spyder. Could Ferrari have built the fastest convertible ever?