Ferrari Testarossa side strakes - Art of Speed
The Ferrari Testarossa's side strakes are a striking piece of automotive design, and they're more functional than you might imagine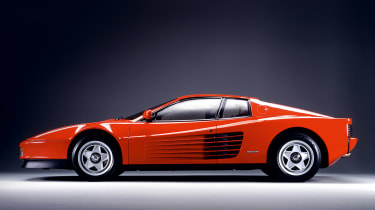 The Eighties. a decade of conspicuous consumption, padded shoulders, Elton John's supersized specs and cheesecloth shirts. A decade that spawned a supercar so attuned to the era of excess that it starred alongside the rolled-up sleeves of Don Johnson's jacket in TV's Miami Vice and was considered visually extravagant enough to earn its slot in the Rocket Man's garage.
The Ferrari Testarossa, launched in 1984, made its predecessor, the outrageously pretty Boxer, look almost prim. Italian styling house Pininfarina was responsible for both but the width and flattened surfaces of the Testarossa could hardly have contrasted more dramatically with the beautifully contained curves of the Boxer. The new 'redhead' was clearly dressed to impress and carried the automotive equivalent of padded shoulders. Even by the OTT standards of the time the move was controversial but, to a degree, it was born of necessity.
> Ferrari F8 Spider 2020 review - the thorn in a McLaren 720S Spider's side
The Boxer's mid-mounted flat-12 engine had been cooled by a single radiator situated in the nose of the car. This it did more or less successfully. The front-to-rear plumbing, however, had the unfortunate habit of heating up the cabin and its occupants. To circumvent the problem, the Testarossa's mid-mounted 4.9-litre flat-12 had twin radiators packaged in situ behind the cabin bulkhead. This required a rearward flaring of the bodywork to accommodate the angled radiators and two gaping vents to channel airflow onto them.
But in several of the markets where the Testarossa would be sold, gaping holes in cars were outlawed. Ferrari's solution was to convert the large apertures into collections of much smaller ones by dressing the holes with long, flowing strakes that extended into the doors and tapered off to a point just shy of their front shutlines. As well as being the flagship Ferrari's signature design feature (mirrored by the decorative slats running across the width of the tail), the strakes lent a little aero to the job of directing air onto the radiators. They also looked pretty cool in the door mirrors, where they were clearly visible. 
Nicknamed 'cheese graters', the Testarossa's side strakes weren't perhaps the purest styling detail ever to leave the pen of Pininfarina, but they were easy to copy. Soon the Pontiac Trans Am had them, as did a glut of Japanese sports cars. You could even buy stick-on versions over the counter. But then that was the copycat '80s. The side strake trend may have died with rolled-up jacket sleeves, but the appeal of the Testarossa is still very much alive.