I can tell exactly what you're thinking: 'the 800 in this Clive Sutton modified Ford Mustang cannot relate to its power, surely?' Well you're right, it doesn't, because this Mustang has more than 800bhp: its supercharged 5-litre V8 produces a massive 825bhp. That's over twice as much power than the Mustang's 410bhp 5-litre V8 usually produces. 
> Read our review of Ford's track-ready GT350R Mustang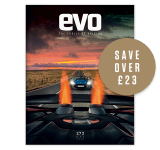 Subscribe to evo magazine
Subscribe today to have every issue of evo delivered straight to you. You'll SAVE 39% on the shop price, and get evo for its original cover price for a whole year!
Technical highlights
Premium car dealership and Mustang modifiers Clive Sutton doesn't just turn the wick up on the Ford Coyote V8 without offering upgrades to other aspects of the car, thankfully. Our test car was fitted with all of the possible chassis enhancements, which included: fully adjustable KW V3 coilovers, slotted brake discs and 20-inch diameter wheels. The 10.5-inch rear wheels are shod in 305/30 tyres, with the 9.5-inch fronts wearing 275/35.
Less substantial are some of the cosmetic upgrades our test car wore, including a carbonfibre bonnet, upper grille, bootlid, wing, side skirts and side scoops (that simply direct air onto the rear-most side windows). However, although they might be totally superfluous they do help the car look a lot more menacing.
> 'Still not quite at home on British roads, the Mustang is nevertheless fast, good value and a lot of fun.' Read our review of the entire Ford Mustang range
The mass of carbonfibre isn't restricted to just the outside. The large aluminium section found on the original dash, for instance, has been replaced with the black woven substance. It really dominates the interior, and although much darker, it does make the interior feel much more premium.
Not all of the extras on the CS800 were quite as necessary. We struggled to see any benefit in the upgraded sub-woofer, under-sill lights and the DRLs that can be set to any colour you desire.
Engine, transmission and 0-60 time
It's to the Mustang V8's credit that it can cope with an 825bhp output without needing to modify any internals. Instead of breaking the engine apart, Sutton adds a Whipple Supercharger that takes power up to 725bhp. To get the power past the 800bhp mark, there's a larger throttle body and high-flow injectors. All of this comes with a 12 month warranty, too.
To finish off the engine related parts, the CS800 has a new exhaust with four outlets and a new carbonfibre valance to accommodate the extra tips. The noise from the exhaust can be managed via a key fob and an app on your phone. The fob simply switches it between its loud and quiet modes, whereas the app allows you to select at what revs and throttle position the noise increases. You can also set a location, such as a 5 or 10 mile perimeter around your house, where the exhaust will automatically switch into its quiet mode. Clever stuff, and it'll keep your neighbours happy. Or you could set it to get louder near your house and aggravate them on purpose, your choice...
What's it like to drive?
The very first press of the C800's throttle doesn't result in the savage, barely contained, feral acceleration as you might expect from a car with 825bhp. You can't help but think that the only way this car has that much power is if all those hi-fi parts and lights have actually added an extra three tons to its weight. And that the carbonfibre has, maybe, only saved one or two grams.
The engine does make an appropriate noise, however; like a mix of thunder and gun fire with an underlying shrill whine from the supercharger. It's a proper muscle car noise, and combined with its tough looks, it gives the CS800 significant appeal, even if it is a slightly childish one.
The Ford Performance short-shift kit fitted to the test car makes a massive difference to the gear change. Other than the fact the reverse selector collar rattles around as you drive and makes a clickety-clack noise every time you change gear, it's a real improvement; more mechanical and precise. The gate is close; before you're used to it, selecting third often feels like you've accidentally gone back into first. That means you ease of the clutch with trepidation, but once you're accustomed to the neat gate you can make fast, accurate and satisfying changes.
With every swift flick up the gears the speed begins to really increase; building slowly but determinedly. The supercharged motor generates a menacing thrust rather than an explosive hit, and with your foot to the floor you start to get a hint at the CS800's huge power.
As it doesn't rely on sharp, instant acceleration to feel fast, the CS800 feels best on open, flowing A-roads where you can maintain a good average speed. Out on these (usually) smooth roads the suspension makes the Mustang more immediate and it does a good impression of a genuine sports car. On smaller, bumpier B-roads however, not only does the CS800 feel far too big, it's often unsettled and too firm.
Its low ride-height and bigger wheels mean the CS800 does weave across the road, searching out cambers and ruts, too. As it's so huge that can feel almost dangerous on small roads with close, oncoming cars. Worse though is the way it shimmies and weaves as you decelerate – and that happens on all but the absolute smoothest of roads.
Much like the Sutton CS700 Mustang we've driven before, the CS800's performance isn't particularly overt. And, on bendy, speed restricted UK roads, it doesn't feel like there is the space to really stretch its legs. What the CS800 does very well is attract attention. If you were less interested in ferocious, neck-breaking acceleration and wanted to just give your Mustang more presence, many of the Sutton upgrades do that perfectly well. 
> Find out what what we thought of the Sutton CS700 Mustang
Prices, specs and rivals
Affordable performance and power is what the basic Mustang is all about. And if you consider how much power the CS800 has, its base price of £66,941.60 seems very reasonable; what other car offers that sort of power-to-pound ratio? The power means that you could even convince yourself the test car's price of £101,734.781, with all the carbonfibre parts, subwoofers and fancy lights, is still a bargain. Just.
For £66,941.60 you don't get the wider wheels and tyres; those cost an extra £4104. Nor the short shift kit, which is £1067 more, while the slotted brake discs cost £1920 extra. All of which seem like necessary upgrades, even if they're not perfect, to complement the extra power.
If you want a hugely powerful muscle car, no matter how inappropriate it might be for UK roads, and you weren't hung-up on it being right-hand drive, then there's plenty of choice. The supercharged Dodge Challenger Hellcat comes with 707bhp from the factory and costs £38,587, the Chevrolet Camaro ZL1 1LE may only have 650bhp, but with adjustable suspension (including front camber), Brembo brakes and proper downforce, it's properly serious and costs £53,711.
All of these examples would need to be imported from the US and those prices don't include import costs and taxes that will be applied when bringing them into the UK.