You've never been able to buy an E-class coupe with a full-blown AMG V8 behind its three-pointed star and you still can't, which has always struck us as strange considering BMW's continued persistence with the M6 (soon to be M8) over the years. 
Despite its AMG badging this still isn't a full-blown '63'-engined E-class, rather it features Mercedes' new halfway-house '53' mild-hybrid power unit and replaces the outgoing '43'-engined models (saloon, estate, coupe and cab). As with the engine it replaces, the new E53 motor has six cylinders (albeit in a line rather than a V) and is only available with Mercedes' 4Matic four-wheel-drive system and 9G Speedshift auto transmission.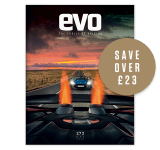 Subscribe to evo magazine
Subscribe today to have every issue of evo delivered straight to you. You'll SAVE 39% on the shop price, and get evo for its original cover price for a whole year!
Technical highlights
This is not a plug-in hybrid, nor can E53 drivers hang out with the Tesla owners and smugly drive around on electric power alone. Rather the EQ Boost tech fitted to Mercedes' new 3-litre straight-six petrol engine improves and smooths the start/stop procedure – you coast to a stop on electric power for the final few mph – and allows for better integration of the coasting function at cruising speeds. Plus, of course, it provides a chunky performance boost when you want to burn through some superunleaded. 
The EQ system is also key to the car's 48-volt electrical system, which not only allows Mercedes' engineers to use a lighter wiring loom but also future-proofs the car for further hybridisation plans. It powers an electric compressor to boost low engine-speed performance, too.
The nine-speed AMG Speedshift gearbox is neither a double-clutch transmission nor does it have a torque convertor. Instead it has a number of clutch packs placed together that are controlled individually, allowing the 53-engined cars (and the 63-engined models fitted with the same gearbox) to coast at speeds between 40 and 100mph.
> Click here for our review of the Mercedes-AMG E53 Cabriolet
As with the outgoing E43 models, and the latest E63 and E63 S, the E53 Coupe is only available with 4Matic four-wheel drive. It's a fully adaptive system, so the E53 is predominately rear-wheel drive until it needs to redistribute torque to the front axle to suit changing traction levels.
AMG Dynamic Select, AMG Ride Control air suspension and AMG Speed Sensitive steering are also included. Dynamic Select provides five driving mode options – Eco, Comfort, Sport, Sport + and Individual – each affecting the engine and gearbox maps, along with the suspension and steering. Manual mode for the gearbox can also be selected independently, so too the AMG Ride Control air suspension settings. There is also a set of larger brakes fitted as standard.
Engine, performance and 0-60mph
Replacing the outgoing 3-litre turbocharged V6 of the E43 is a new 3-litre in-line six petrol engine, featuring an EQ Boost starter motor and electric motor combo installed between the engine and gearbox. The internal combustion element of the drivetrain produces 429bhp (up from 396bhp) and 383lb ft of torque, with the electric motor adding 20bhp and 184lb ft. 
It may not have a stonking great big V8 but the E53 doesn't look to suffer greatly in the performance stakes: 62mph arrives in 4.4 seconds and the car is pegged to 155mph, which also takes very little time to reach.
What's it like to drive?
It would be easy to jump to a conclusion that an E53 Coupe will drive like any other E-class, albeit one that only has two doors. But that would be pretty far from the mark, because how Mercedes' engineers have managed to install distinct identities and traits across its E-class quartet should be applauded.
So rather than feeling like a two-door E-class, with the same sumptuous cabin but a little less interior space than its saloon and estate relatives, the E53 Coupe feels more distinct and oh-so close to an S-class Coupe that it begs the question why you would spend more on the top-of-the-range Benz. Other than simply because you are in the position to do so, of course. And if you are, you should. 
The E53's powertrain is as slick as you would expect an in-line six with a hybrid booster connected to it to be. It's not a shouty or rev-hungry engine in a traditional AMG fashion, but there's a genuine sense of engineering quality that percolates through the powertrain. The pace builds smoothly at first, and it's a toss up between which is more unobtrusive: the absence of any kind of lag from the engine or the imperceptible shifts from the nine-speed auto. But as the revs increase, so too does the urgency, and there's a more intent tone from the 'six' as you let the revs run out to their peak, allowing the E53 to scythe across the countryside at a speed and with a level of composure and surefootedness that only a generation ago would have been reserved for your traditional supersaloon. 
> Click here for our review of the Mercedes-AMG E63 S
Dynamically it takes some sub-menu programming to add a level of dynamic control to the air suspension, and because this is a softer-edged AMG, in Sport mode it's more pliant than the eight-cylinder cars. Matched with the sharper throttle and quicker shifts, Sport also gives the E53's 4Matic all-wheel drive system more to do, the result being a front end that finds more grip than expected, a consistent balance through a corner and mighty grip out of it. It's no E63 heavyweight, but the E53's middleweight performance offers a very good blend of GT cruiser mixed with a deceptively quick sports coupe.
Price and rivals
This is where Mercedes has played its trump card because there's an argument to be had that the £64,740 E53 4Matic has no direct rivals. Yet it's well within its right to line up alongside many grand coupes from the class above. 
Lexus offers the closest rival, although the £76,595 LC500 hybrid is a good £12,000 more expensive and its hybrid powertrain blunts its performance potential and it feels a less resolved car because of it.
Audi, BMW and Jaguar have nothing to offer in this sector and we'd argue that you're better off saving £35,000 on an M850i by opting for an Mercedes-AMG's more rounded E53 4Matic+.