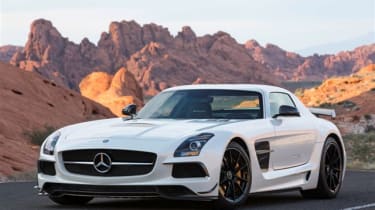 Mercedes-Benz unveiled the ultimate road-going version of its SLS supercar, the AMG Black Series, with a power increase of 40bhp over the recently launched
SLS AMG GT model
, now totalling 621bhp.
Performance has been significantly improved, with a 0-62mph time of 3.6secs, although top speed remains unchanged at 197mph. Much of the Black's upgrades were initially developed for the SLS GT3, and the extensive use of carbon fibre for the various components sees a total reduction of 150kg, keeping overall weight down to 1550kg.
The video shows the car in action, although sadly we don't get to hear what that new 621bhp engine sounds like approaching its 8000rpm rev-limit...