Mercedes SLS AMG Black Series video
The 622bhp, 196mph Mercedes SLS AMG Black Series in action on road and track in a new video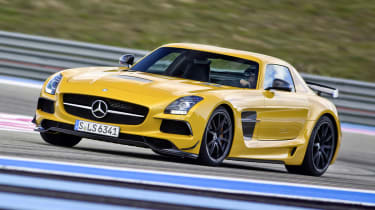 Mercedes has released a video of its new SLS Black Series in action. The bewinged supercar special is on road and track – the Paul Ricard circuit in Le Castellet, France – looking resplendent in yellow.
Sadly, it's all very well behaved, with little hooning or tyre-shredding in sight. That's perfectly understandable on road, but a little more misbehaviour on track (as exhibited by Jethro Bovingdon in our SLS AMG Black Series review) wouldn't go amiss. Still, it's a good opportunity to see the latest AMG Black looking absolutely crackers in a normal road setting, V8 grumbling away nicely as it exits corners. If you want to see a bit more tyre smoke and anger, be sure to check out the inevitable evo TV video in the summer…
With a 622bhp 6.2-litre V8 engine driving its rear wheels, the SLS Black Series will complete 0-62 in 3.6sec on its way to a 196mph top speed, which is actually 1mph lower than the regular SLS AMG gullwing thanks to the additional downforce provided by its striking aero setup.
Video: Mercedes SLS AMG Black Series in action