There's something utterly beguiling about a large capacity V8 and the one you'll find under the bonnet of the Mercedes-Benz SLS AMG is an absolute peach. It's a 6.2-litre unit and it was the first V8 from the AMG stable that it designed from the ground up, with its first application being in the E63 supersaloon where it developed 507bhp. It was given a comprehensive makeover for the SLS with a dry sump set up and 120 unique parts and in this guise it could muster a very healthy 563bhp. It's a superb engine and even when running on part throttle it rumbles and crackles like distant thunder and lightning.
It's one of those machines that had modern classic written all over it the moment it first saw the light of day and while it was the first car AMG designed from scratch in house it was also sadly the last to be fitted with a naturally aspirated V8. But the SLS was more than just a vessel for its wonderful V8 as its styling brought a sense of drama to the proceedings with its gullwing doors unashamedly harking back to the celebrated 300SL of the 1950s endowing the SLS with a further sense of drama.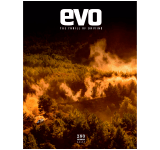 Subscribe to evo magazine
Subscribe today to have every issue of evo delivered straight to you. You'll SAVE 39% on the shop price, and get evo for its original cover price for a whole year!
It wasn't just a case of prodigious power and retro-inspired styling that made the SLS a modern icon though as when we pitched it up against some pretty serious rivals it won us over with its blend of all round ability and everyday usability. Pitched head-to-head with Aston's V12 Vantage, Ferrari's 599 HGTE and the evergreen Porsche 911 Turbo S the AMG's depth of talent won the day. The SLS's V8 was mated to a seven-speed dual-clutch transmission complete with a 'Race Start' launch control system but even so we were unable to match the claimed 0-62mph time of 3.8sec, but having said that our 0-60mph time of 4.1sec wasn't too shabby.
The SLS came to market in mid-2010 and roughly a year later it was joined by a Roadster version with an electrically-powered soft top. The transformation from coupe to Roadster saw the SLS's gullwing doors being dropped but despite this the car's all-round excellence remained, mainly thanks to its exceedingly stiff architecture with both the outer body and main structure being constructed from aluminium.
At the end of 2012 a revised GT version – in both coupe and Roadster guises – made its debut. There were revisions to both suspension and transmission to help get the best from a 20bhp power hike that Mercedes claimed reduced its 0-62mph time by a tenth of a second. The GT also saw the arrival of some additional trim options along with some more gadgets, too.
A monstrously pricey Black Series, complete with full-on carbonfibre additions and a pared back feel, arrived in 2013 and this one also packed a nigh on race-spec engine with 622bhp. The last hurrah for the SLS was the GT Final Edition which made its debut in 2014 and like the Black Series this was rare and expensive, too.
Don't get hung up on having to have a special edition model though as the 'normal' SLS coupe offers up the near perfect package of driver appeal, supercar performance and superb refinement.
Specs
| | |
| --- | --- |
| Engine | V8, 6208cc |
| Max power | 563bhp @ 6800rpm |
| Max torque | 479lb ft @ 4750rpm |
| Transmission | Seven-speed dual-clutchgearbox, rear-wheel drive |
| Weight | 1620kg |
| Power-to-weight | 335bhp/ton |
| 0-62mph | 3.8sec (claimed) |
| Top speed | 197mph (limited) |
| Price new | £157,500 (2010) |
Checkpoints
Engine
The good news here is that for what is a pretty exotic power unit the M159 in the SLS has so far proved to be pretty immune from major problems. Nigel Seopardie at independent Mercedes specialist NJS Solutions describes them as 'bulletproof' while Simon Gregg at Bramley Motor Cars knows a car with 100,000 miles with no apparent issues. Having said that if you want to protect your wallet from any potential major outlay you could invest in either a Mercedes-Benz or third-party warranty which will cost in the region of £1000-1500 each year depending on cover.
The SLS's engine is closely related to the M156 that's been used in numerous AMG machines and while the M156 can succumb to valve-gear problems the M159 so far seems to be unaffected by this. The key to ensuring longevity with either of these engines is to ensure the servicing schedule is adhered to (every year or every 10,000 miles, whichever comes first) and that the oil's replenished with the correct grade of Mobil 1. Given the performance on offer servicing costs are relatively reasonable and can be undertaken at any Mercedes dealership as well as specialists with Star diagnostic equipment.
Transmission 
As with the engine the major transmission component, the Speedshift dual-clutch 'box, is proving to be remarkably trouble free. The DCT itself is a version of the Getrag twin-clutch transaxle also used in the Ferrari 458 and California with specific AMG calibration and a carbonfibre propshaft to connect it to the V8.
Despite its robust nature ensure the DCT works properly when on a test drive – in auto mode it should be pretty seamless. In manual mode changes can be a little harsher so fully check the steering wheel paddles work properly on both up and down changes and in each of its modes. Enhanced factory AMG software is available and it's a definite plus if a potential purchase has had this upgrade carried out.
Replacement clutches are expensive – several thousand pounds – but wear and life left can be checked by diagnostics which would be wise to look at. Some clutch glitches can be resolved by the updated software or by resetting the clutch positioning sensors.
Suspension, steering and brakes
Not too much to worry about here but do check the brakes, especially if they're the optional carbon-ceramics. They do add value to a SLS but as with most carbon brake set ups they're ferociously expensive to replace so get them checked out, especially if the car's done any track days.
Check the wheels and tyres for damage, especially the optional ten-spoke forged rims. The standard items were a seven-spoke design and are quite robust, but check for damage and cracks.
Body, interior and electrics 
As you'd expect with an aluminium machine that's seven-years-old at the most there should be no corrosion issues. Do, however, check the alignment and operation of those gullwing doors if you're looking at a coupe as they're notoriously hard to align. Carry out the normal checks for accident damage, examining panel gaps and colour matching between panels carefully and while you're at it have a look for stone chips on the nose and sills.
Inside take your time to check that all the electronic components work properly as repairing non-functioning items will be expensive. Ensure all the electronics work and there are no warning lights, as rectification can be extremely costly. Lastly, if you're somewhat vertically challenged do make sure you can reach the door pull to close the gullwing door from the driver's seat!
Prices
Parts
Prices from mercedes-benzofcambridge.co.uk. Tyre price from blackcircles.com. All prices include VAT but exclude fitting charges and are correct at time of publishing.
| | |
| --- | --- |
| Tyres (each) | £187.75 front, £249.06rear (Continental SportContact) |
| Front pads(set) | £238.62 |
| Front discs(pair) | £1190.90 |
| Damper(single,front) | £1002 |
| Clutchcontrol unit | £4334.40 |
Servicing
Prices from mymercedesservice.co.uk, including VAT and are correct at time of publishing. Variable service intervals, but usually annually.
| | |
| --- | --- |
| Standardservice | £307.54 |
| Majorservice | £819.42 (includestransmission oil change,spark plugs, etc) |