MINI's new John Cooper Works Countryman is, according to its creators, a true "natural athlete" of a car. Whatever the hyperbole, it's certainly the most potent Mini you can buy, with 228bhp and 350Nm on tap courtesy of its tweaked 2.0-litre turbocharged four cylinder engine.
But then at a whisker below 1600kg with a driver on board, the JCW Countryman is also the heaviest MINI money can buy, as well as the roomiest, the best equipped and – predictably due to the aforementioned – the most expensive at £30,675 for the six-speed manual, rising to £32,275 for the eight-speed auto as tested here.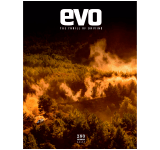 Subscribe to evo magazine
Subscribe today to have every issue of evo delivered straight to you. You'll SAVE 39% on the shop price, and get evo for its original cover price for a whole year!
Numerous styling changes have taken place, most notably at the font where the grille gets bigger, the headlights become LED powered, and the visual aggression goes up a notch generally. As a result it's an imposing looking thing, the JCW Countryman, even if it isn't exactly the prettiest looking car to wear a MINI badge.
This is undoubtedly a result of it becoming bigger in all directions dimensionally. The wheelbase is longer than before and the overall length and width have also grown, resulting in a chunk more legroom for the three rear seat passengers, plus a genuinely decent sized boot, rear seats up or down (450 litres with them in situ).
But, is the JCW Countryman really and truly the athlete MINI claims it to be? And is it better value than a regular Countryman with MINI's optional Chilli Pack fitted?
Technical highlights
Apart from its slightly beefed up 2.0-litre turbocharged, four cylinder engine, there are several key technical aspects that distinguish the JCW Countryman. The first is its ALL4 four-wheel-drive system, which effectively allows the JCW to run as a front-wheel-drive car, until such time as the brains of the outfit detect that a little extra assistance is needed, at which point the rear axle chips in to provide maximum traction immediately. From behind the wheel, however, the transition is seamless; all you are aware of is the car having faultless traction, zero torque steer, and no wheelspin anywhere, ever, when it's dry.
The second highlight is the dynamic drive programme, which has three different settings; Green (select this and half the dashboard goes a paler shade of green), Mid and Sport. In the Mid setting the steering, throttle map, gear change characteristics (of the 8-speed auto) and the electronic damper responses are all, well, quite normal in feel. Select Green and the throttle response disappears completely (it's horrible to be honest). Select Sport, though, the whole lot sharpens up quite nicely. Not quite to the point where the Countryman "goes like a rocket and handles like a go-kart" as MINI claims, but sufficiently so to make a difference if and when a decent road appears in the windscreen.
>Other technical enhancements include the standard fitment of new LED headlights, more potent Brembo brakes, sports seats and a basic sat-nav system. MINI claims the aero qualities of the car are improved, too, but makes no specific claims about downforce, so take it as read that there is a little bit less lift than before, but not much more than that.
Engine, transmission and 0-60mph time
The JCW Countryman is the most potent car ever to wear a MINI badge, with a 2.0-litre, four cylinder turbocharged engine that produces 228bhp between 5000-6000rpm and 350Nm across a totally flat torque peak between 1450-4500rpm. It uses a single turbocharger but, thanks in part to the range across which it delivers its power and torque, lag is pretty much non-existent.
But it's also heavy at 1540kg before a driver has climbed on board, and this means that while it is pleasantly brisk with a 0-62mph claim of 6.5sec and a top speed of 145mph, the JCW Countryman never feels genuinely rapid.
The lack of lag, however, is impressive, and with the optional eight-speed auto gearbox fitted the ratios are stacked nice and close, with reasonably snappy responses to the paddles so long as you are in Sport mode. In Mid mode the gear changes are fairly lethargic, downshifts seeming to happen a good half a second after you want them to. And in Green mode you can bury your foot in the carpet as hard as you like, and the downshifts – even in auto, let alone manual – simply never come.
A slightly lighter six-speed manual is the standard gearbox and its almost certainly the gearbox to go for in the JCW Countryman.
What's it like to drive?
Not bad but not great, either, if we're being brutally honest. The good bits include the way it goes – specifically the flexibility within the mid range, where the engine feels impressively effortless between 2500-4500rpm, even if it feels strained over the last 500rpm – the exhaust noises it makes on the overrun, the traction it has on all surfaces, and the amount of space and equipment it boasts inside. But as for it handling "like a go-kart" and going "like a rocket" as per the claims, think again. And certainly don't believe the hype. 
Truth is, the JCW has a four-wheel-drive system that it probably doesn't need for most of the time, and it's a big car physically, too. Admittedly this gives it more space inside than any other MINI to date, but it also introduces too much weight and too much inertia into the dynamic equation, neither of which a true-blue Mini should be burdened by.
So while the JCW is impressively refined on the move and has a soothing enough ride (so long as you de-select Sport mode) it's not as much fun to drive as it could be or, more to the point, as MINI claims it is. A genuine athlete it is not, no matter what the marketing bumpf might say – although as a rival for more conventional small four wheel-drive cars such as the Audi Q2 the JCW Countryman makes a far more compelling case for itself.
Price and rivals
Bottom line, the JCW Countryman is expensive. Especially so if you consider that a basic Audi Q2 can be yours for around £4000 less. True, the Mini has more performance and is extremely well equipped beside the new Audi. It's also probably a bit more fun to drive, with a less grown up but more engaging cabin design. And a fair bit more space.
But in the end 32 grand is surely too much for a car from such relatively humble origins, no matter how well it goes or how well specified it may be. As ever, less is more when it comes to the MINI, and the JCW Countryman seems misguided when it comes to this simple, original rule of thumb.