As the worlds of cars and technology have become increasingly tightly intertwined, so the annual Consumer Electronics Show (CES) in Las Vegas has grown in importance in the eyes of car manufacturers. As a result, CES 2018 boasted a wide range of automotive brands showing their wares and we're not just talking about new head-up displays and infotainment systems either, many revealed full-blown concept cars.
As well as the car manufacturers themselves, the CES hosted plenty of tech brands, both well-known and less so, with new automotive products on their stands. It all meant that the Las Vegas venues that hosted the CES had a vast array of exhibits to interest car fans, even if evo readers might have experienced a shudder of dread at the proliferation of autonomous driving aids and futuristic urban mobility boxes.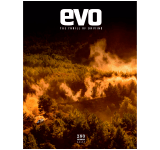 Subscribe to evo magazine
Subscribe today to have every issue of evo delivered straight to you. You'll SAVE 39% on the shop price, and get evo for its original cover price for a whole year!
Whatever your view on the direction that technology is dragging the car in, CES 2018 was a great place to get a feel for what the future, near and far, holds. We've visited the stands to deliver this round-up of the automotive technology highlights to keep you in the loop and we've ordered them by evo significance.
CES 2018: car news highlights
Nissan
One of the new technologies with most evo potential at CES was Nissan's Brain-to-vehicle (B2V) system. While the name sounds slightly disturbing, the technology's application is quite interesting, using signals from the driver's brain to assist with driving in a vehicle's manual and autonomous functions.
Still can't see the potential? Well, to us, B2V sounds much like an ability for the car to adjust its parameters to suit your driving style and mood without any need for myriad switches or infotainment menus.
Your future performance car could trundle through town silently in electric mode with light steering and comfortable damper settings, changing instantly as you see the national speed limit signs to a more aggressive setup. You wouldn't even need to configure an "individual" mode, as in theory, the car would set everything up exactly the way you like at any given time.
Hyundai Nexo
Hyundai was one of a handful of companies putting its faith in hydrogen power for future vehicles. The Hyundai Nexo will – appropriately – be the next, and sits on dedicated platform architecture, marking it out from the existing Hyundai ix35 Fuel Cell.
Like the ix35 though it's a crossover. Yes, another one – though at least there's some method in the madness with the Nexo, as the crossover layout provides more space for packaging the hydrogen gubbins beneath the passenger compartment.
In addition, Hyundai claims the Nexo is lighter than its predecessor, quicker accelerating (9.5sec to 60mph against 12.5sec), and goes 30 per cent further on a fill – at 500 miles compared to 369 miles. It takes only five minutes to refuel too, which gives it an advantage over battery electric vehicles for the time being – though we're still yet to see a widespread roll-out of places to actually fill it.
Fisker EMotion
Henrik Fisker has had a turbulent decade, with his last project, Fisker Automotive and its Karma luxury saloon, beset by all manner of problems that eventually led it to bankruptcy in 2013.
While a Chinese firm bought up the Karma and its tooling to create Karma Automotive, Henrik Fisker changed tack and set up Fisker Inc, whose first product – albeit conceptual at this stage – is the EMotion.
Due in 2019 and expected to cost around £100,000, the EMotion features an unusual butterfly door layout (something no future-not-guaranteed concept would be without) and a four-seat layout, along with a 400-mile range with the as-yet unverified potential for a 125-mile range boost in nine minutes of quick charging.
Kia
Kia announced several plans at CES, laying the ground for various future endeavours, from connected vehicle technology to electrified vehicles and autonomous driving.
Broadly, the plans comprise an aim for 16 new electrified vehicles by 2025, comprising hybrids, electric cars and fuel-cell electric vehicles. The first fuel cell Kia will make its debut in 2020, while level 4 autonomous vehicles (cars that can drive themselves in certain conditions, such as city or motorway driving) will appear from 2021. By 2030, Kia's whole range of vehicles will be "connected".
CES also previewed a future Kia electric production car in the shape of the Niro EV concept. There's already a production hybrid Niro, but the EV takes it a step further with a 64kWh lithium-polymer battery pack, good for a 238-mile range. Interior controls are touch- and gesture-activated.
Volkswagen
First electric vehicles, now artificial intelligence (AI). Volkswagen's about-turn following dieselgate continues apace, and the company is now pairing with Nvidia for its future smart vehicle technologies.
Using an AI platform developed by Nvidia, future VWs will be infused with systems such as facial recognition, gesture recognition, "flawless" voice control using natural language understanding (we'll believe it when we talk to it) and gaze tracking for driver distraction alerts.
Such systems would probably make their debut in the ID Buzz concept, unveiled last year and making its reappearance at CES. The retro-styled electric microbus (on a new MEB architecture) will mark the start of VW's introduction of autonomous driving systems.
Toyota
It's fair to say Toyota's e-Palette concept won't be high on many evo readers' wishlists, but in fairness it's also not designed to be. Unlike many autonomous concepts, it's not designed to replace conventional cars so much as provide an alternative for businesses and dedicated mobility services.
Think the Ubers and Amazons of this world, delivering people and packages. Pizzas too – restaurant chain Pizza Hut has signed up as a launch partner – while Mazda is getting involved as a technology partner.
> New Toyota Supra coming 2019
e-Palette is battery-powered and fully automated and an open vehicle control interface and set of software tools will allow companies to configure the vehicle for whatever purpose it's required to serve. It's the kind of vehicle that gives us hope that transportation will be split down the middle in future, with basic mobility, deliveries and logistics handled by vehicles like this, and more conventional cars (Toyota of course still has a three sports car plan to execute) designed for drivers on the other.
Byton
Ever heard of Byton? Us neither, but that's perhaps not surprising given it's a Chinese startup. It's not so much appeared from the blue as the blue-and-white, given ex-BMW i division boss Carsten Breitfeld is at the helm, and the firm has bases in Nanjing, Munich and California.
The company's first concept is an electric (no surprise there) SUV (nor there), which our sister site Auto Express suggests will have a starting price of around $45,000, or in the region of £33,000 at current exchange rates. Size-wise it's akin to a Range Rover Velar.
Autonomous technology is also on the cards, while range is quoted at 250 miles from an entry-level 71kWh model and 325 miles (and 469bhp) from a 95kWh battery pack. It appears to be designed to provide a luxury feel for occupants, with niceties such as 5G internet and front seats that rotate to face those in the rear.