Nissan R34 Skyline GT-R multifunction display – Art of Speed
The R34 GT-R came with Nissan's interpretation of a games console crowning the dashboard. A gimmick? Big time, but entertaining all the same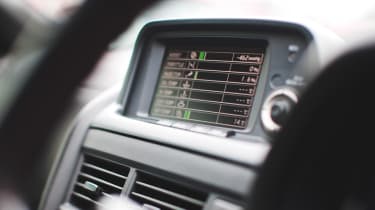 If you ever want to own an R34 Nissan Skyline GT-R, buy now. Just get it done, because members of the so-called PlayStation Generation – now in their 30s and early 40s – are coming for it. During their formative years they were indoctrinated by the R34's exotic heritage, contract-killer aesthetic and earth-shaking powertrain, so their bond with the fifth-gen Skyline GT-R is lifelong. And guess what? In a few years' time they're going to want it back. 
 Of course, only a handful will have driven one, and in truth this bond has more to do with the fact that the HICAS rear-steer and four-wheel-drive stability made the digital version an extraordinarily dependable companion on Gran Turismo. It was relentlessly fast, endlessly forgiving and tuneable beyond even the wildest dreams of a teenager, much like the real thing, and for this it has been rewarded with unconditional loyalty. 
> US-only Nissan GT-R Nismo Special Edition revealed with 592bhp
It's also a car whose reputation precedes it, not least in terms of technology, because as well as being an icon of the digital world, the R34 famously came with Nissan's interpretation of a games console crowning the dashboard. A gimmick? Big time, but entertaining all the same. 
As per the interior as a whole, the LCD's housing wasn't exactly elegant, and as far as interaction went the software was limited – the driver could set the revs for the upshift light (evo recommends 7500rpm). But in terms of what the display could tell you it was borderline encyclopaedic. Oh-so critical measurements of boost and injector pressure, throttle opening, oil, water and cabin temperature and torque split could be imparted in 30-second increments via graphs for attentive drivers to quickly read and react to (although how exactly we're still not sure).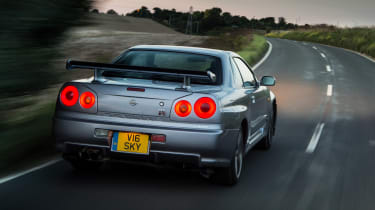 V-spec cars – and doesn't this just show that Nissan knew owners would take the twin-turbo straight-six some way past its claimed 276bhp? – even displayed temperatures within the intake and exhaust manifolds, and a final Nismo version could record lap times and monitor G-forces. All extremes recorded during a drive were stored to later substantiate outrageous claims, and the telemetry data could be downloaded to a computer in spreadsheet form for 'post-race analysis'.
It all sounds oppressively techy, but the R34's multifunction display wasn't representative of the driving experience, which remained the same as the R33 GT-R before it: raw. And with all those pretty graphics, owners could be forgiven for thinking they'd accidentally signed on the line for a Nismo GT500 racer. Surely that can only be a good thing?