Ride and handling
The standard GT-R is definitely more of a GT car than it has ever been before, with greater habitability in everyday use on the road. It still sounds like a GT-R, but with the edges smoothed slightly and the volume turned down half a notch. It certainly still accelerates like a GT-R and if anything its engine feels slightly stronger at the top of the rev-range, staying keen until all the rev-limiter lights are illuminated. Overtakes have rarely felt so easy.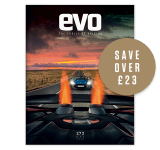 Subscribe to evo magazine
Subscribe today to have every issue of evo delivered straight to you. You'll SAVE 39% on the shop price, and get evo for its original cover price for a whole year!
However, there is definitely less aggression in the way that the GT-R handles. It's slightly mellower on turn in and some of the assertive agility that we are used to has been removed. There is still more than enough power to get the tail swinging wide on the exit of a corner, but unless you trail brake it doesn't feel like you will unsettle the rear with turn-in alone. It will still demolish a B-road in alarming fashion, leaning on incredible grip and leaving most other cars for dead in the process, but a bit of the instant adjustability feels like it's been removed. This makes it feel more secure and planted but inevitably also, makes it a little less entertaining.
One notable indication that the 2017 GT-R has shifted its focus, is that it feels like the R setting is necessary when driving really hard on the road. Previously that would have been unthinkable, with the normal setting being plenty firm enough and the R setting useable only on a track. However, if you leave the Bilstein dampers of the new car in Normal, the car just feels a little floaty when you're pushing on through compressions and over bumps.
So, the new GT-R feels more polished and easier to live with. It's still freakishly quick on both road and track and it is still distinctively GT-R, but it feels a bit like the comfort model in the range. And this makes complete sense really, because where there used to be only one GT-R that had to do it all, there is now a model range of three, with this standard car, the Track Edition (which I assume will restore some of the chassis' keen, edgy agility) and then the full-on Nismo all catering to the desires of different buyers.
The GT-R Nismo is certainly a different prospect. None of the softer ride or added refinement of the 2017 GT-R has made its way onto the Nismo. It is a hardcore track car.
> Read our review of the Nissan GT-R Nismo
Fittingly, then, we've only driven it on track, for now. On a wet and slippery Silverstone its staggering performance was apparent but it also managed to be involving and adjustable. Its hydraulic steering manages to deliver a constant stream of feedback about how much grip the front tyres have. While the throttle, thanks to the engine's power and response, gives you the ability to adjust the car's angle mid-corner.
Like the first GT-R Nismo, the 2017 model is harsh, expensive and won't appeal to everyone. But, it's being built in such low numbers that Nissan will surely find enough people who will love it and who have the means to pay for it.
evo Comment
'The Nissan GT-R divides enthusiasts like no other car has ever done. It seems to provoke a tribal response; some adoring it for its giant-killing abilities while others dislike it for its blue-collar badge and the unjustified perception that it's a remote and uninvolving car. Whatever your position on the GT-R, it will undoubtedly be remembered as one of the all-time greats.' – Dan Prosser, road test editor.
evo Tip
The Nismo version of the GT-R, the most extreme iteration of Nissan's four-wheel drive monster, is by far our favourite. The 2017 Nismo GT-R is practically identical to the first, 2013 model. That means more power and a much more aggressive, track-focused chassis.
At £150,000 its expensive, arguably too much money for a Nissan GT-R, but it's also rare and shockingly fast.
If the idea of the Nismo is too severe then the Track Edition GT-R might be perfect. We've not driven the latest version yet but the previous iteration borrowed some of the Nismo's more focused attitude without being quite as brutal.