We first spoke to Shiro Nakamura, Senior Vice President of Nissan Motor Co and the firm's chief creative officer, at Le Mans in 2015.
Unfortunately, Nissan's involvement in the sport was short-lived, but such things are water off a duck's back when there's a new GT-R to promote. It was a chance to discuss the latest car's subtle changes – but also discover what else influences Nissan design, find out whether Nissan will build a compact, lightweight sports car, and learn about Nakamura's ultra-rare classic Nissan collection…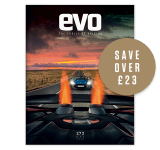 Subscribe to evo magazine
Subscribe today to have every issue of evo delivered straight to you. You'll SAVE 39% on the shop price, and get evo for its original cover price for a whole year!
evo: Last time we spoke you said you wanted to narrow Nissan's design diversity. Do the GT-R's visual changes reflect this?
Nakamura: Yes, that's one of the intentions with the minor changes. The GT-R is the top of the Nissan brand. Performance, image, and design as well. But it's slightly disconnected from regular models. This time we've used more common elements, like the V-motion grille at the front. It's still different from other Nissans, but if we put GT-R and Maxima (a large Nissan sports saloon not sold in the UK) together, you'd see more consistency across the range.
Is it difficult changing the style of a car like the GT-R, where form is dictated so much by function?
It is – we have to balance the function, aerodynamics and performance with emotional design and aesthetic expression. But that's normal in the field of design. It's a good challenge – and at the end of the day we succeeded: this car has much better aero, and better cooling for the more powerful engine. So we made it with better design and better aerodynamics. We've got lower lift at high speeds thanks to the changes, too. That's why I think this is the best R35 GT-R yet.
At New York you have the first generation 'hakosuka' and second-gen 'kenmeri' GT-Rs on display – are there any design elements from each likely to appear in future GTRs?
I think there are simple design elements, the tail lamps and the C-pillar – these two are very important. And also the front aperture – the shape, it's like a hexagonal shape air intake, which debuted with the R34 GT-R. Those are important elements. A GT-R should look almost… crude [we interpret this to mean raw, or shorn of superfluous details]. Not too many elements. It's very functional, but emotional.
But like I said last time, the GT-R's proportions should evolve. Design elements should be maintained, but with new proportions – lower, wider or whatever. It's associated with better performance. Low aero drag, the lower roof means low aero. We won't make a GT-R very low like a supercar; something that's hard to get in and out of isn't our way. It has to maintain some practicality. And it has to be front-engined. Four wheel drive. This is a GT-R.
How much is size a part of that? The R35 grew quite significantly from the R34. Could the next GT-R be smaller?
I don't think it can be smaller, because we need some performance, which means we need a certain size of engine. We may even be using hybrid technology in future, and you'd need space for the batteries. And you need dynamic stability. There is no reason to become smaller.
I'd like to talk about the Gripz concept. It had some inspiration from the 240Z. Does it serve a particular purpose – a Z-car replacement perhaps, or is it closer to the next Juke?
At the moment it's a pure design study, but could be both. We wanted to show our heritage of sports cars, and also off-road sports – the Safari rally Z is part of our heritage. But at the same time, the Juke and other crossovers are one of our strengths. So therefore we made a new proposal for an off-road sports car. We took inspiration from the Z, the other might have come from the Juke, but it's not intended to be anything specific.
Do you think the Z nameplate can justify a car like the Gripz?
I want to hear your opinion on that! What do you think? Do you think it could be a Z?
Personally, yes, but I'd like to see it as part of a Z range, almost a separate brand, rather than the only Z model. A traditional front-engined, rear-drive sports car is still essential.
Of course, because we made that concept with some 240Z, some people said, 'don't do it – a Z cannot be that car', particularly in the US media. They want to stick to the real sports cars.
Has there been positive feedback too?
Yes, particularly design-wise, I think the interior is also very positive. It's a design study, but it has a very big confidence for the direction we are going. You will probably see something like this in our future lineup. Concepts like the Gripz are there to provoke a strong reaction – we can see whether our design direction is right or not. The IDx was another example – that was also supported by many people, a very convincing design direction.
Last time you mentioned that the IDx was too different from other Nissans to make sense in the range. But the compact sports car concept went down really well. Mazda has launched the MX-5 RF at New York, at Geneva we saw the Opel GT concept and at Tokyo the Toyota S-FR. Is there potential in the market for a compact Nissan sports car?
Definitely the market is there, but we have to be a bit careful with how big it's going to be, because there are already some very well-established rivals. But it's becoming bigger, there's more potential – it's not easy to say. Design-wise it's an easy decision, but not financially.
Might Nissan create such a car if say, Toyota releases the S-FR as a production car and it's successful?
Yes – always, people love sports cars. Even the younger generations, people say they're less interested these days, but people always love them. But at the same time, we already have the Z, and the GT-R. Those will continue. Most other companies don't have a car like the GT-R or Z. Even Toyota. Nissan already has two sports cars – if we make another, Nissan would be becoming a sports car company! It's nice, but as a business, people at the top management aren't so keen.
What do you drive?
Currently I have an Infiniti Q50, and a Nissan Cube. I used to have a GT-R, I sold it, but I'll openly say I have two vintage Nissans – one is a first-gen Silvia, the other is a Z – the 432 [a limited-run Fairlady Z that used the first-generation GT-R's four-valve, triple-carb, twin-cam engine]. I drive them only once a month or so.
Which do you enjoy driving the most?
The 432 is a very special car, a very special experience. It's not as quick as a modern car, but you feel the spirit! They only made 500 or so of the original Silvia. The 432 is rare too, produced for just a year or so. Maybe soon I'll buy the new GT-R – I used to have a first-gen R35, but sold it after a few years. The latest car is better than that one!