McLaren F1 v Ferrari F40 v Pagani Zonda C12S v Lancia Delta Integrale v Bugatti Veyron v Honda NSX-R v Porsche 997 GT3 v Nissan Skyline R34 GT-R
The ten greatest drivers' cars, as voted by you in our on-line poll, brought together in one glorious test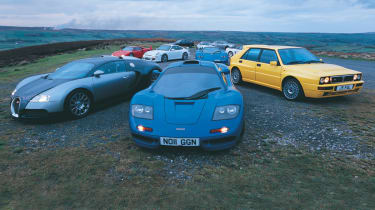 The Nissan Skyline has just filled its belly with super-unleaded and bursts back onto the A1(M), its barrel-chested straight-six gulping in cold, dense November air. Today is a good day. I've got a soft spot for Japan's craziest coupe and the slog up to Yorkshire seems somehow less monotonous when you've got a g-meter to keep you company. But it's not just the R34 GT-R that's lightening my mood, because every time I glance in the rear- view mirror, picked out by the low winter sun are two shapes that send a shockwave of anticipation down my spine.
Both are dwarfed by much of the traffic around them, but in stature they're giants. Close behind the Skyline's sooty exhausts there's a Porsche 911 2.7 RS. The RS is 911 in its purest form, devoid of everything that gets in the way of the driving experience and enhanced in all the areas that count. If evo had been around in 1973 this would have been our Car of the Year, by a landslide. Tucked-up behind the Porsche's pert ducktail spoiler is a McLaren F1. No superlatives required; there probably aren't any big enough anyway.
The harsh yellow light seems to give the tiny, backlit 911 and amazingly compact F1 a blurred halo, and the grey A1(M) has taken on the look of the yellow brick road. Only this time there are no uncertainties about what lies at its end: Honda NSX-R and Integra Type-R, Lancia Delta Integrale Evo 2, the latest 911 GT3, Pagani Zonda C12S, Ferrari F40 and Bugatti Veyron. Your Perfect Ten, selected for our 100th issue celebration, and I'd just like to take the opportunity to congratulate you on a discerning, varied and awe-inspiring collection.
Anyway, back to the GT-R, which feels stiff, bristling with aggression and fascinated by any ripple in the tarmac. The ride smoothes out the faster you go, but I don't mind the odd reminder that this is a car designed to work best at one speed: maximum attack. Besides, a bit of tramlining is a small price to pay for such rich feedback. Even on the most boring of journeys the big Nissan feels unique. If this is a taste of what's to come when we reach the rolling moorland roads then the next couple of days promise to be quite a birthday bash.