"Time will tell whether these electric hypercars are hollow, fatuous publicity stunts"
Not only is the way in which hypercars are built rapidly changing, but so is their raison d'etre. Meaden thinks he's identified a new trend.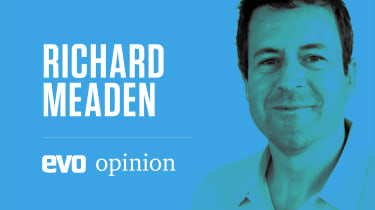 Just a few years ago, we, like every other motoring media title on the planet, were obsessed with the Porsche 918 Spyder, McLaren P1 and LaFerrari. And rightly so, for the so-called Holy Trinity of hypercars were something new, thanks to next-level performance delivered via clever and highly complex hybrid powertrains.
We didn't appreciate it at the time but those cars were like the cork firing out of the champagne bottle, for they have been followed by a torrent of increasingly extraordinary hypercars.
Funnily enough, I don't include the Bugatti Chiron in that wave. Not because it's somehow not worthy, but because it sticks to conventional methods – namely eight litres, sixteen cylinders, four turbochargers and an awful lot of petrol – to deliver its insane performance. Like the Veyron, it separates itself from its rivals.
Elsewhere, the pace of change has been breathtaking. Aerodynamics have leapt to LMP1 levels and hybrid has transcended its tree-hugging roots to become an essential performance booster. Both Aston Martin's Valkyrie and Mercedes-AMG's Project One employ hybrid tech – the Aston in conjunction with a bespoke, high-revving naturally aspirated V12, the AMG with a version of its 1.6-litre F1 V6 turbo.
>Click here to read our drive of the Ferrari LaFerrari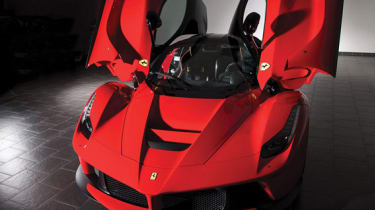 Yes, I know they're ridiculous machines, but I'd be lying if I said I wasn't hugely excited about them. As much to see if they really can deliver a worthwhile driving experience on the road (as their creators insist they will) as I am about attempting to access their full-blown capabilities on track. However, such is the madness of our times, it would seem things have moved on before either of these two fantastical beasts has turned a wheel. 
I suppose the advent of the all-electric hypercar was inevitable, but the speed with which they are appearing and the capabilities they claim to possess is succeeding in turning me off. Partly it's because they're all unfamiliar names – Vanda Dendrobium, for example – but deep down I think the noble supercar/hypercar has somehow been hijacked in the name of 'technology showcases'. 
Supercars have always served that purpose to a degree. They're halo cars. But at least we know what we're getting excited about with Ferrari, McLaren or Porsche. Getting in a lather about these unknown electric hypercars makes me feel like I'm falling for a sucker-punch, my natural inclination to be drawn to fast, exciting cars betrayed by something that's not real. Or perhaps a dazzling Trojan Horse filled with far less-interesting white-goods EVs.  
Of all the emerging players, Croatia-based Rimac Automobili is by far the most interesting, the most authentic and, to my mind, the most evo. A leader in battery and electric-motor technology, its Concept One hypercar impressively showcases the fruits of its labours, with a huge amount of the car done in-house. It has also built cars for 'Monster' Tajima's assaults on Pikes Peak and has recently been named as technology partner for the Aston Valkyrie. If Rimac's own Concept One becomes a production reality it could well be a game-changer – the Tesla of the hypercar world.
> Click here to read our review of the Rimac Concept One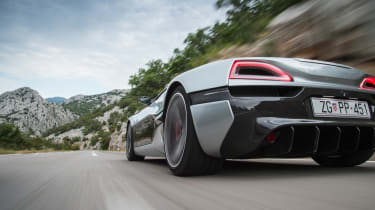 However, I'm not so sure about the projects from Singapore-based Vanda Electrics or China-based NextEV. Firstly because both rely heavily on outsourced engineering expertise – the former with Williams Advanced Engineering, the latter with RML – but mainly because the Dendrobium and Nio EP9 have little or nothing to do with what each company actually wants to sell us. It all feels a bit like chequebook brand-building: take a load of money to an established engineering consultancy, commission a hypercar that you have no real intention of building in any meaningful numbers, but stick your name on it in the hope it generates plenty of media exposure for your upcoming range of far more mainstream electric vehicles.
That's not to denigrate the ambition, effort or expertise that's being ploughed into each of these machines. The Dendrobium looks a long way from being ready, but the Nio EP9 is well advanced, with a raft of super-quick lap times serving as proof of its capabilities. Thus far it has come within a handful of seconds of the Porsche 918 Spyder's Nordschleife lap record and, perhaps more impressively, lapped the Circuit of The Americas both with and without a driver. I'm not sure autonomous technology and hypercars make great bedfellows – what dream are they trying to sell us? – but, if nothing, it's a great way to grab headlines. Or develop self-driving tech for bread-and-butter EVs...
Only time will tell whether these battery-powered hypercars are hollow, fatuous publicity stunts or genuine attempts at being the final nails in the traditional petrol-powered supercars and hypercars we've come to worship. In a rather unsettling way I hope it's the latter. Otherwise what's the point?