'A stranger tainted my car and it'll never be the same'
Mrs Porter's car has been damaged in the street. Mr Porter isn't taking it well...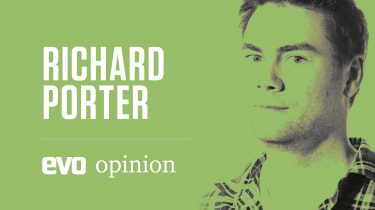 It was the night before bin day I went outside to complete the weekly ritual of dragging rumbling carcasses of wheelie plastic onto the pavement when I spotted a note on the windscreen of my wife's car. 'Sorry,' it said. 'I touched your car.' A strange choice of words, especially given what I found upon walking around the other side. While we were out, this note-leaving oaf had firmly smacked into Mrs Porter's ride as it sat immobile at the kerb. Scuffs up the bumper, a big ripple in the wing, more scuffage up the wheelarch trim. If this was a 'touch', I'd hate to see what this man does to his touchscreen phone. Operates it with a hammer, I suspect.
Still, at least he left a note with a phone number on it, rather than one of those 'Screw you, I'm writing this to make your neighbours think I'm being considerate hahahaha bye' messages of popular legend. Better yet, the phone number turned out to be real and the culprit made his apologies with a promise to take care of the repair costs. So all's fair in the rough and tumble world of urban street parking, right?
Not really. I know I shouldn't be so bothered about this. The damage will get mended and the perpetrator will pay for it. The car itself isn't really ours; it's a lease. One day it'll go back and any history of it being de-creased will become someone else's problem. Worse things happen at sea. Drowning, for example. Or cruises. But I can't get past the simmering resentment at someone violating our car.
You know when you check your tyre pressures, fill up your screenwash, dip the oil and brim the tank, perhaps even following the example of my colleague Richard Hammond by giving a normal car the occasional 'special treat' of a tank of superunleaded, and when you've done all these things in one go, somehow your car feels better? This is the opposite of that. Thanks to the 'touch' of a careless stranger, my wife's car now feels worse. Just six months ago it was brand new and pristine; today it's forever sullied.
The repair, I'm sure, will be seamless. But I'll know. A while back I went with a mate to look at a used car he was thinking of buying and, because he has an eagle eye for this stuff, he immediately spotted that down a small section of the rear door, it'd 'had paint'. That'll be our car now. Even though we'll hand back the keys in the accepted ephemeral way of modern consumerism and never have to deal with tyre kickers and time wasters and people who email, 'Is it teh trubo, m8??' it'll sit in the back of my mind that some prospective buyer will mark it down as a car that's been touched up. And while we still have the car, I'll forever know that it's 'had paint'. You hear about people whose houses have been burgled saying their home never feels the same again. Well this is in that spectrum.
> 'Car makers developing four-wheel-drive technology should take inspiration from a dog'
There's something else, too. Until the details are worked out with the clumsy stranger's insurance company, we're driving around in a scuffed-up car. It looks like I might have done it. Which, by extension, makes me look like someone who doesn't look after his own stuff in the most casual, entitled, obnoxious way possible. I'm happy to roll around in a dirty car because I've got better things to do than clean metalwork every weekend, and anyway cars, like sheepdogs, are designed to be left outside and are weatherproofed accordingly. But actual damage pains me. Parking dings bring on a nervous twitch. Kerbing an alloy sends me into a 24-hour fog of fury. Physical damage to a car isn't cool, unless you live in Paris where it appears to be obligatory.
Worse still, running around with a battle scar on an otherwise tidy car might suggest that I'm a blithering idiot behind the wheel. In supermarket car parks I avoid pulling in next to anything that suggests the owner doesn't know what they're doing. That is to say dented cars and Vauxhall Corsas. But now, through no fault of ours, the family wagon gives the mistaken impression that when it comes to driving I don't know or care what I'm doing. And that won't do.
So the car is going to the bodyshop as soon as poss to take away the scars that blight its front corner. But that will never erase the knowledge that someone dinged it in the first place and that, as a result, it'll never be the same again. You won't spot the mend at a casual glance but I'll know it's there below the blow-over and the polish. A stranger tainted my car. And really took the shine off bin night.
Find more evo opinion though the links below...