'Reborn classics are a hark back to simpler times – if only they were more affordable'
There's a powerful craving for cars that are compact, characterful and beautiful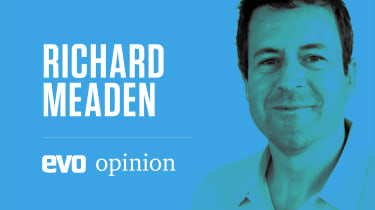 These are strange times to be a car enthusiast. While the government, big tech and automotive players persist in telling us that autonomous cars mean not driving is the future of personal mobility, a host of specialists and a handful of iconic sports car companies are busy bending the space-time continuum with a raft of restored, reimagined and continued classics. It's surely no coincidence that as technology tightens its grip on our cars, some of us yearn for simpler and more carefree times. That's why the resto-mod movement has been growing for years, but this rather clumsy term is an unflattering and inadequate catch-all for what has become one of the most exciting and dynamic areas of the market.
Thanks to the long-established efforts of firms such as Eagle and Alfaholics we've grown used to the notion of enhanced E-types and amplified old Alfas, but it took Singer to sell us on the notion of a perfected Porsche that was simultaneously updated and backdated. Of course, the big manufacturers are no strangers to the idea of plundering the past, either. Ford did it to brilliant effect with the last-generation GT, and Lamborghini teased us with a Miura Concept that sadly never saw production. However, these are the exceptions, with the main players in this collective nostalgia trip coming from independently funded projects.
> Automobili Amos' Lancia Delta Futurista is a Delta Integrale reimagined
Back in 2005, billionaire car parts magnate Michael Stoschek and car designer Chris Hrabalek created a one-off modern Lancia Stratos. It used Ferrari F430 underpinnings and looked fantastic. Talk was of plans to build as many as 40, but predictably Ferrari put the kybosh on it. Now it's back, apparently still relying heavily on the F430 for all the major parts, and built in a run of 25 cars by Manifattura Automobili Torino (MAT) – the same Italian specialist responsible for the development and build of Jim Glickenhaus's SCG 003 and the Apollo Intensa Emozione. Price? Around £500k, plus £100k or so for the Fezza donor car. Value of an original Stratos Stradale? Similar money, minus the donor car.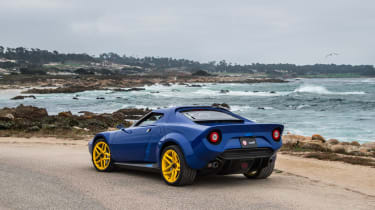 It's a mark of how deep the affection is for Lancia, and the tragic plight this once noble Italian marque finds itself in, that another wealthy enthusiast – Eugenio Amos – has taken it upon himself to 'do a Singer' with the £270,000 Automobili Amos Delta Futurista. This comprehensively reworked Integrale has carbon body panels, a 330bhp development of the original engine, suitably uprated brakes and suspension, and a beautifully appointed interior. Given the 'Grale's once legendary performance pales in 2018 this recipe looks and sounds just about perfect. Shame I'm about £265,000 short. Crowdfunding, anyone?
Two of the stranger offshoots of this rehashing of history are Aston Martin's Goldfinger DB5 Continuation Edition and Jaguar's E-type Zero. With its gadgets developed and installed by the special effects experts from Pinewood Studios, and its £2.75million plus taxes price tag, the former has copped a lot of flak – not least from our own Richard Porter. Aside from the thought of the kind of person the car might appeal to, much of the rancour stems from Aston's official line that it will not be road legal. However, if you know your onions (and Astons) you'll be aware that RML will be able to get the car through the IVA process, just as it has some of the Works-built 'track-only' DB4 GT Continuations.
As for the Zero, the more I think about it the more it upsets me, for so much of any classic car's identity and emotion is rooted in its engine. From in-line four to V12, they define a car's personality. In an E-type that XK straight-six is its heart and soul – a direct descendent of engines that powered C- and D-types to numerous victories at Le Mans. Remove this living, breathing engine and you're left to focus on the fact that like every 50-year-old-plus car, the E doesn't steer, stop or ride especially well and has the crash protection of a wet paper bag. Ultimately, I just don't see the appeal of whirring around in the soulless carapace of a once-glorious car, just as I wouldn't want my Sonos speakers styled like a '50s Bakelite wireless.
But the wider appreciation for classic cars and now this burgeoning breed of high-end reimagined icons send a common message. Namely, there's a powerful craving for cars that are compact, characterful and beautiful, but sidestep the mainstream industry obsession with ever-increasing performance and ever-decreasing lap times. It's surely no coincidence that the products of Singer, Eagle, Automobili Amos et al are not only priced like supercars, but the projects themselves are often funded by the same enthusiasts who are disenchanted with the manufacturers' merry-go-round. Sadly I can't afford to buy any of them, but if I could, I would. Stop the world, I want to get off.