'In praise of the Prius, a car that in some ways is the equal of any evo favourite'
It's actually an incredible piece of engineering. And as people who like cars we should also like incredible pieces of engineering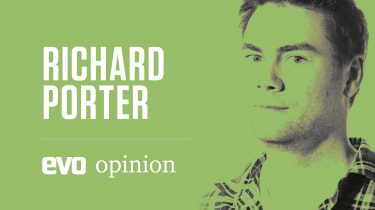 I'm quite lazy and I like a drink. That's why I often find myself in minicabs. Not long ago a minicab was a bracing and sometimes frightening way to keep abreast of developments in the world of seven-year-old medium-sized diesels stuck in a car/owner relationship best described as 'abusive'. What has happened to this velour to make it so sticky? Which bit of the engine is malfunctioning to bring on the check engine light? How long can a wheel bearing keep making that noise before full and final failure on the outer reaches of the North Circular? Then Uber came along.
I like Uber. I like that they've removed that nocturnal scratch around for a cab number so that someone in a shabby hatch can come and extract you from a night you should have bailed on two hours ago, like the last Laguna out of Saigon. I like that they tell their drivers not to engage you in conversation unless you really fancy a chat because, you know, sometimes I do, sometimes I don't. I like that they've removed that edgy feeling brought on by wondering when's the right time to lean forward and do that cautiously apologetic, 'Sorry mate, erm, would it be OK to, erm, stop at a cash machine?'
> New Toyota Prius review - how does the hybrid hero drive?
I know there are some question marks over Uber, but, like some other large American corporations, they've realised that the best way to see off objections to their corporate morality is to crush such concerns with convenience. Yes, I do wish they'd pay more tax, but also I can't be arsed to find a different sort of coffee/computer/way of getting USB leads and some new headphones delivered to my house.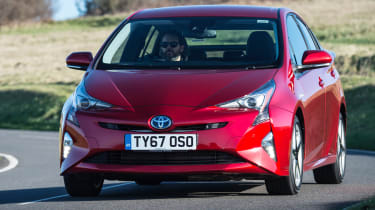 So I use Uber. And calling an Uber means someone is going to arrive in a Toyota Prius. Every so often it might be a Zafira or a Galaxy or even an E-class, but these are rare moments, like finding a picture of Piers Morgan that doesn't make you queasy or an evo Car of the Year that isn't a Porsche. In general, when you summon an Uber in my neck of the woods a Prius is going to arrive. As someone who likes cars you probably roll your eyes at the mention of the P-word. If you read this magazine you probably care about steering feel and tread shuffle and on-limit overpowered underthrottling and therefore, by default, you must hate the Prius because it seems to stand for everything we don't like. It's like a car, but less so.
If you're going full bore you'll even have a standard cliché you can trot out, filed just beneath the one about MX-5s being 'hairdressers' cars', which says the Prius is the car for eco-warrior idiots, as if this is a new and original thought that makes you the Oscar Wilde of PistonHeads.
Unfortunately, you, sir, are wrong. The Prius is actually brilliant. In fact, there's little short of an S-class I'd rather be taken home in. Compared to the average creaking diesel hatch a Prius is serenely smooth and quiet, to the extent that it's about the only taxi in which I can sleep, lurching back into consciousness just in time to give the traditional 'anywhere here's good, mate'. It's also got loads of rear legroom and the latest model even rides quite nicely.
But the Prius isn't brilliant just because it makes a decent minicab. It's also brilliant because it makes a decent minicab. As I flit in and out of consciousness in the back I'm always fascinated by the way the petrol engine of a Prius can do the same, and without dribbling on its own shirt or rousing itself by going 'MNNUURR' and then having to apologise to the driver. And if you think it's easy to make a hybrid drivetrain work that well, seek out the Citroën DS5 Hybrid4 from a few years ago to discover how a large corporation could sell paying punters a system that felt like an unfinished development hack.
Meanwhile, Toyota flogs thousands of hybrid systems that are not only seamless but also, and here's the greatest compliment any car can have, strong enough to tolerate minicab work. This is why I'm coming to the defence of the Prius; because it's actually an incredible piece of engineering. And we, as people who like cars, should also like incredible pieces of engineering just as we should admire cars that are completely fit for purpose. In which respect, the Prius is up there with the Caterham Seven or the 911 GT3 RS. It's not an especially nice car to drive, but then for most people driving is a functional thing and steering response or brake feel don't matter, they just want something reliable and economical.
It's about time we gave the Prius some credit for being no more dreary than the average diesel SUV, and a damn sight more interesting and intelligent under the skin. I know you don't want a Prius and, don't worry, neither do I. But, being lazy and sometimes drunk, I'm extremely happy to be driven home in one.