'The 996 Porsche 911 went from being the sweetheart of road testers to being something of a joke'
The world is embracing the pariah Porsche, and about time, says Jethro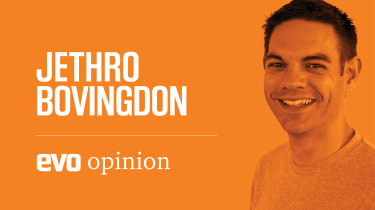 It's happening. It's really happening. The Porsche 996 is being rediscovered and celebrated. Or, at least, not reviled in the way it has been by some people for the last 15 years or so… 
As you know, I am a proud 996 owner and the model holds a special place in my heart. A vanilla 996 Carrera in Polar Silver and riding on tiddly 17-inch wheels was my very first 911 experience and it was magical. I'd never understood the Porsche adoration displayed in every car magazine I'd read since a nipper. Suddenly, after just a few hundred yards as a passenger with John Barker at the wheel, I got it. So fluid, such a rich, cultured noise and so much composure. It was the start of a love affair with the 911 – and, of course, you never forget your first love. 
> Porsche 911 Carrera '996.3' – Jethro Bovingdon's re-engineered 911 driven
It's a mystery to me how the 996 went from being the sweetheart of road testers to being something of a joke in a few short years. I'm not sure I ever read a group test it didn't win in various magazines from across the world and vividly remember various versions blowing my young mind as I experienced them. The savagely fast Turbo (eCoty 2000) with superhero point-to-point speed; the light, lithe Carrera (eCoty 1998) that found bite and aggression when spec'd with the M030 suspension kit; the raucous, gritty GT3 (eCoty 1999 and 2003). They all seemed pretty fantastic to me. The C4S only just lost to the Honda NSX-R at eCoty, for god's sake, and that's a car I'd say is one of the very best driver's cars of all time. The 996 might have gained some radiators and coolant but it was also lighter than the car it replaced, revved more freely and steered so sweetly. A 911 to its very core. 
Partnership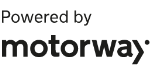 Need to sell your car?
Find your best offer from over 5,000+ dealers. It's that easy.
Some went pop. Then a few more. The M96 engine became a pariah. A narrative about cost-cutting took over and the 996's mechanicals, materials and interiors were derided. So pervasive was the propaganda that any scrap of goodness in Porsche's first water-cooled 911 was ignored or forgotten. In this revisionist world, not only was the 996 absolutely certain to eat itself, even when it was running sweetly it was rubbish. Ugly, unreliable, dynamically inept. All those memories I had, all those group test and eCoty wins, they were false. The internet knew the truth. 
Meanwhile the 964 and 993 had come to be worshipped. I remember, in the early days of my time at evo, writing a buying guide for the 964. I spoke to several specialists about them and when I asked for their top tip before purchase their answer was simple: 'Don't do it.' Each and every one said to buy a 993 instead and avoid the catastrophic oil leaks and the other disasters waiting to happen. Back then, 964s were in the teens. Now a clean 964 is at least £55,000. The less problematic but perhaps less 'pure' 993 is easily £60,000 plus. Even if you believe that all 996s will go pop, you could budget to buy a really sweet Carrera, set aside the money for two full engine rebuilds (and why not do a capacity increase to 3.7 or 3.9 litres?), a thorough refresh of the chassis, an interior retrim, some nice new forged wheels… and still be under what you'd pay for a 964 or 993. 
Porsche Classic has now adopted the 996. Its new Classic Club Coupe project, built for the Porsche Club of America under the bespoke Sonderwunsch or 'Special Wish' programme, is based on an early 'fried egg' 996 Carrera and is intended to 'shine the spotlight of the global Porsche community on the 996'. It's a cool-looking thing in the style of the 997 Sport Classic, complete with double-bubble roof, 'Sportgreymetallic' finish and hand-painted Sportgrey Light and Clubblau stripes.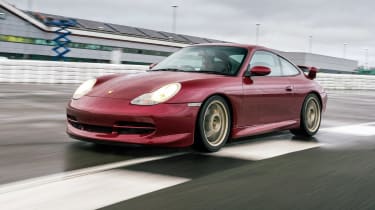 The Classic Club Coupe also features a 996.2 GT3 powertrain and a prototype (since destroyed to keep the undisputed one-of-one status) was tested in the wind tunnel and at Nardo, too. The head of Porsche Classic, Alexander Fabig, sums it up nicely: 'The Type 996 is unjustly overshadowed by the other 911 ranges. That's why we were happy to choose it as the basis for demonstrating all the things we can do with Porsche Classic and the recently expanded Sonderwunsch programme.' It's a shame Porsche Classic chose to reference older, air-cooled Porsches with the fitment of a ducktail and Fuchs, but to see all their expertise lavished on a 996 is pretty cool for an owner and fan to witness, I can tell you. 
More heartening still is that normal 996s are now being rescued from lives of gentle shabbiness and improved, modified, restored and loved. On a recent trip to LA, the 'canyon' roads were positively teeming with 996s sporting yellow headlights in the style of RSR endurance racers, splitter-skimming ride heights and drivers wearing wide grins. I hope when I finally get back to the Nürburgring this trend is repeated. I'll be in my own modified 996 and will be very proud indeed. The 996's time is here. It's been a long time coming.
This story was first featured in evo issue 297.