The Porsche Carrera GT, with its all-carbonfibre construction, 604bhp 5.7-litre V10 engine and top speed on the far side of 200mph, is evo's pick of the recent supercar crop. But if you're lucky enough to be in a position to buy one, how exactly do you go about it?
When the Carrera GT was first introduced, Porsche Germany sent prospective customers a contract that required an initial £25,000 deposit followed by a further £25,000 payment upon specification. It was an attempt to discourage speculators from ordering a GT and immediately selling it on at a premium, and, it has to be said, the tactic proved largely successful, with the majority of Carrera GTs being bought by and delivered to genuine Porsche enthusiasts. My approach, however, was not to purchase the car new at a list price of around £330,000, but instead to wait a while for the initial excitement to die down and then find a low-mileage second-hand example, saving £80,000-90,000 in the process.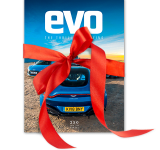 Subscribe to evo magazine
If you're passionate about the world's greatest performance cars, experience the thrill of driving with evo magazine. Try your first 5 issues for £5.
The first decision I needed to make was whether to import a GT from Europe - meaning further potential savings - or buy one already in the UK. Talking to Porsche GB revealed that a number of changes would need to be made to a non-UK car, including the fitting of an mph speedo, right-hand-drive headlights and a new rear bumper assembly (complete with fog light on the 'correct' side). The estimated total cost for this work was somewhere upward of £18,000, thus negating any savings that would be made by importing a car, so it was clear that it would be simpler to source a UK car.
Porsche GB supplied 49 Carrera GTs, and a few were now being offered on the second-hand market. After viewing a number of cars, I found a low-mileage example in mint condition at Modena Cars High Wycombe (01494 519100). Graham Schultz, their managing director, was particularly accommodating, even when I told him that I wanted the GT Silver Metallic paintwork replaced with bright yellow...
Yep, not only was I lucky enough to own my dream car, but I was also brave/crazy enough to have it completely stripped and repainted in the colour of my choice. Madness, I know, but the first Carrera GT that I saw on a public road was yellow and I had my heart set on the same stunning hue for mine.
Once the finance agreement had been completed via Supercar Finance, the time-consuming task of removing, painting and refitting each of the carbonfibre panels began. I was updated regularly throughout the process and provided with a full photographic record of the colour change. Everyone involved thought that I was slightly barmy to repaint such a beautiful car, but when the job was finished we all agreed that the result was nothing short of breathtaking.
The next requirement was to have the car serviced by Porsche GB in Reading - the only approved service agent for the Carrera GT in the UK - where my visit culminated in me being presented with the last remaining Carrera GT customer gift- box. Originally given to owners when they took delivery of their new GTs, the hand-made box contains a fully detailed model of the amazing V10 engine, a video introducing the car, and a hardback book about its origins, from the original plan to build a Le Mans racer to the road-going supercar that exists today.
With the GT nearly ready to hit the road, the final job to be done to the car was to have Armourfend film fitted to all the vulnerable areas of the bodywork to protect the flawless paint from inevitable stone-chips.
All that now remained was the small matter of insurance. The Carrera GT was added to my annual 'collector's policy' for £1824, which provides fully comprehensive cover and, importantly, includes trackday use too. It also covers my wife, Selena, who is looking forward to the Carrera GT experience as much as I am and will be able to provide a second opinion on how the GT compares with the other supercars in our collection.
So, now that all the work has been completed, I will at last be able to drive the car. The wait has been excruciating. Next time I'll report on my experiences, both on the road and on track...
Running Costs
| | |
| --- | --- |
| Date acquired | February 2006 |
| Total mileage | 3707 |
| Costs this month | £9000 (respray), £989.33 (service), £956.91 (Armourfend) |
| MPG this month | n/a |