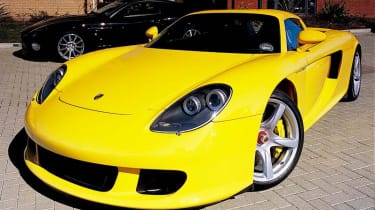 Although I have owned my Carrera GT for four months, it has taken that long to have the car prepared, not least because of the full respray which I described last month. So with the car finally delivered, it's difficult to express the anticipation upon blipping the conventional Porsche key-fob to unlock the doors ahead of my first drive.
Opening the driver's door (the left-hand one, remember) via a release hidden under the door recess allows reasonably good access over the sill to the carbonfibre racing seat. The whole interior of the car is swathed in leather and carbon, except, of course, for the distinctive wooden gearknob which sits immediately to your right hand.
Key in the ignition, press the clutch (to please the American market), twist the key, and the car fires immediately. Right away I'm struck by how raw the car sounds from the inside, up close to the internal workings of the race-bred V10 engine.
Into first and away, then. Except, well, the GT is extremely easy to stall, the ceramic composite clutch being tricky to engage smoothly, the transmission snatchy. When successfully launched it also becomes apparent that the slots for the gears are extremely close to each other - a little concerning when you consider how disastrous slotting the wrong gear could be!
The steering has fantastic feedback and is very direct, allowing you to feel exactly what the car is doing. Even in comparison with the Ferrari F40 the car feels extremely light, with undulations in the road moving the front-end around at high speed, much like a 911 Turbo.
Pushing through each gear, the acceleration is relentless; foot to the floor, the engine screams towards its 8400rpm red line with absolute ease. There's no doubt that this is a genuine 200mph car.
Ceramic composite brakes help keep all that speed in check, with a rock-hard centre pedal giving access to instantaneous deceleration and (unlike the F40) providing huge confidence in the car's braking ability.
At the end of my first drive, with the engine switched off and the car cooling, I just stand there, staring at the beautiful lines of this rare supercar with the biggest smile on my face ever. Needless to say, I'm already looking forward to spending more time behind the wheel of the GT; I know there is so much more to learn and experience. I'm particularly keen to get it on track at the first available opportunity. I'm sure that this is where the car will prove to be truly unbelievable.
Running Costs
| | |
| --- | --- |
| Date acquired | February 2006 |
| Total mileage | 3950 |
| Costs this month | £0 |
| Mileage this month | 243 |
| MPG this month | 16.8mpg |