Renault is 120 years old this year. We're most familiar with the company's later output - particularly those wearing Renault Sport badging, which have been among the best drivers' cars of their type for the 20 years evo itself has existed.
But the company's history is much broader than that, and as well as recently visiting Renault's incredible collection of road and race cars at its Flins factory, we were able to sample some of the firm's most significant non-performance models.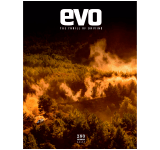 Subscribe to evo magazine
Subscribe today to have every issue of evo delivered straight to you. You'll SAVE 39% on the shop price, and get evo for its original cover price for a whole year!
Call it an education; call it an excuse to drive like the stereotypical swarthy boulanger making his morning deliveries, ricocheting from village to charming village through the beautiful countryside around Paris. And a lot of fun for a group of cars collectively producing less power than the average modern hot hatchback...
> Renault's history - celebrating 120 years 
1980 R4 GTL
Knowing we'd not be able to get our hands on something Gordini-badged or one of Renault's many 1980s forays into turbocharged hot hatchbacks this time around, I left car choice largely up to our Renault hosts before embarking on the Eurostar to Paris.
Apart from one. I've always wanted to drive a Renault 4, for little other reason than nostalgia for all the family holidays I experienced as a kid in the 1990s, when decrepit old Renaults were still in huge supply in French town centres. R4s were particularly common, which isn't really surprising when you consider that Renault made eight million of the things from 1961 until 1992.
As a 1980 car this one sits closer towards the later cars than the 2CV-rivalling early models, and enjoys such luxuries as a fourth gear. Like its rival, the 4 used a "semi-monocoque" structure with a full body on top of a separate rolling chassis. It famously features a longer wheelbase on the right than the left due to the independent suspension with its rear torsion bars mounted horizontally fore and aft, while that gearbox was mounted in front of the longitudinally-aligned four-cylinder, controlled by a large rod that passes over the engine and sprouts from the middle of the dashboard.
The gearshift pattern is conventional however and there's synchromesh on every gear, so the 4 (in upmarket GTL spec) proved incredibly easy to drive. With a 720kg kerb weight the 34bhp 1.1 wasn't even much of a hardship, aided by close ratios in the 'box, and like a 2CV you get amusing levels of body roll but actually surprisingly good roadholding.
It brims with the kind of "driving a slow car fast" appeal that French hatchbacks have always exuded, and its sense of simplicity and the understressed engine give you a sense you could abuse it all day and still spend very little on maintenance or fuel. That said, I hear a few people have dropped Renault 5 Gordini engines into R4s. Really must try one of those one day...
1980 Estafette
Today's van drivers enjoy surprising levels of refinement and comfort, ease of use, and performance, which makes you wonder why they seem so angry all the time. The world might be a better place if a few more were driving Estafettes, and I don't really mind whether that's because it's impossible to be grumpy driving such a quirky vehicle, or because it's hard to tailgate someone when you're struggling to reach 50mph.
This 1980 model is a last-of-the-line vehicle and develops a heady 53bhp from its 1289cc four-cylinder - an engine shared with the contemporary Renault 5 and 12. That makes it front-engined, front-wheel drive, but the cab over-design would have made fitting the engine in its conventional position (gearbox-first) a little difficult, so Renault simply turned the whole thing around, transmission and all.
To the casual user this becomes apparent the first time you try to change from second, which you'd assumed to be first, into first, which you could have sworn was second. That's a mistake you'll make only once, and thankfully not because bits of cog are lying in the road underneath you. The gearlever's location down by your hip is almost of secondary concern but once mastered the shift is fairly slick, and the 'box is all-synchromesh.
What the engine lacks in power it makes up for in torque (and at roughly a metric ton, the 'fette is hardly heavy) so you can chunter along in fairly high gears even in town. On the open road you quickly reach a gearing and aero-limited 50-ish at which point the little Cléon-Fonte mill's thrashing is reverberating around the box-like interior, and the brakes - once you've adjusted your foot to miss the steering column - are strong enough to haul you and your cargo from maximum speed fairly quickly.
Steering is light through the enormous wheel and points the Estafette in vaguely the correct direction, but it's far from unpleasant. Even the act of stepping in and out of the unusually small driver's door alone feels unique, and like any van there's a great view over folks in regular cars. I'd struggle to call it "evo" but there's more for the driver to master here than in one of those air-conditioned, satnavved luxury vehicles they call modern vans...
1957 Frégate Domaine
At a glance Renault's Frégate could be American. Even more so in Domaine estate form, and doubly so in a shade not unlike the "Daphne blue" of a vintage Fender Stratocaster. The seats are the same shade while the rest of the cabin, much of which is formed from Bakelite, is an easy-on-the-eyes cream. Ahead sits a strip speedometer above four other gauges and you peer at them through a huge two-spoke steering wheel that could have been snagged from an old Cadillac.
Throw in the four-speed column shift, squashy bench seats and wood-panelled luggage space and none of it feels very French, until you fire it up and receive the gentle murmur of a modest four-pot - though at 2141cc it's not that modest by the standards of European cars of the day - the Frégate served as Renault's executive model, after all, in a line that continues to the Europe-only Talisman in 2018 (via cars as diverse as the understated 25 and the loopy Vel Satis).
Unfortunately the Frégate had the misfortune of being around at the same time as Citroen's DS, whose styling and technology makes the Renault look even more dated than it does in isolation. Unfortunately for Renault, Monsieur de Gaulle preferred the "goddess" too, so the Frégate didn't enjoy the high profile that comes with being the vehicle of choice for a head-of-state.
It's a pleasant device, lolling easily through the French countryside and taxing only in its gearshift. The column shift itself is easy to figure out, but finding gears with it is easier said than done. Curiously, the driving position seemed built for someone much taller too, so the pillowy seats weren't as comfortable as they might have been either. Still, as a slice of Americanesque style without V8 fuel bills, it's worth a look.
1947 Juvaquatre coupé
I make no apologies for focusing on the gearshift in each of these cars. Partly because the method is different in every single one, but partly because it's frequently the trickiest aspect of driving an old car. Throttles, steering wheels and brakes might come with varying levels of response and competence, but none vary quite so much as a gearshift.
I didn't have high hopes for a car built in 1947. The Juvaquatre is compact - 3750mm long, so only slightly longer than the current Twingo, but whereas the Twingo is mostly cabin, the Juvaquatre probably has a 60/40 split in favour of bonnet and boot. The bonnet houses a 1003cc four-cylinder with only 23bhp - about a third that of the most basic Twingo. It weighs about 100kg less than Renault's current city car though, at 760kg.
The starting procedure would instantly flummox most drivers familiar with modern cars (though the idea of a floor-mounted starter button is something that should make a comeback, don't you think?) and as well as the oldest car I've ever driven, it's also the first with trafficators rather than indicators. Watching them flip up and down is quite addictive.
The surprise though is that the driving position, while cosy, is actually fairly good, and ball-topped rod that sprouts somewhere way down in the footwell controls one of the sweetest gearshifts I've had the pleasure of using. For a 'box with no synchromesh it's as easy as can be, a firm and swift movement slotting it neatly into gear and a patient double-declutch helping on the way down.
I'm not sure what I was concerned about. I should have been more perturbed by the 71-year-old brakes: after needing to apply my full weight to the pedal in order to avoid our chase Clio on a downhill section towards a stop sign, my worries about the gearshift evaporated entirely. Still - what a beautiful little car.
1989 Espace Turbo DX
I derived plenty of joy from posting a photo of this car's instrument cluster on Twitter on the day I drove it. People could be certain of only two things: It was a 1980s Renault, and with a tiny turbo gauge embedded in the tachometer, that it was turbocharged. Only one or two spotted the low red line associated with diesel engines, and nobody got the model itself correct.
It's probably the only time I'll ever drive a Renault Espace and it's certainly the only time you'll read about one in evo, so if you make it through these next few paragraphs then we'll agree to never speak of it again.
Actually, it was surprisingly enjoyable. 87bhp from 2.1 litres is hardly the stuff of legend, but at 1250kg this seven-seater is lighter than most 2018 Focus-sized hatchbacks. Each seat feels like your favourite sofa and compared to the older metal previously driven the upright driving position with its sensibly-spaced pedals and gearlever and power-assisted steering felt blissfully "normal".
But not normal enough to be uninteresting. This is still a 29-year-old car, older than most of the cars we drive as part of evo's Icons series, but hails from that 80s-90s window which now feels like the best of the old and new worlds combined - character and novelty in great quantities, but also reliability and ease of use.
The engine's relatively smooth and punchy, for example, yet you'd struggle to find better visibility in a car this side of a Caterham SuperSprint. One day I'll spot someone driving to the Le Mans Classic in one of these, full of mates and camping gear, and I'll give them a knowing nod.