Nice. Not a good word, nice. It's a word you dread hearing after a first date. It's bland but pleasant, inoffensive, nondescript, toothless – a word we were banned from using in English class at school.
At first glance the new Audi S5, BMW 440i M Sport and Mercedes-AMG C43 coupes are all 'nice' cars: expensive, fast, comfy. Nice badges on the nose. Nice dealerships, too, with nice coffee and nice sales people. They're the indulgent purchase without getting too carried away. After all, each tends to have a bigger brother that gets the really exciting looks, the outrageous performance, the headlines: the M4s, the RS5s, the C63s – the real deal. Below our trio sit the big-engined diesel variants of the same cars, so smug in their claims that 'in the real world' they're just as quick, while offering lower CO2 and fuel consumption. Given these are usually daily drivers often run through a company, not Sunday-morning thrillers, that's uncomfortable pressure; awkward numbers on the tax bill. But what if 'The Thrill of Driving' motivates you? Where do they fall then: a potent everyday compromise, or an awkward irrelevance?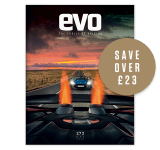 Subscribe to evo magazine
Subscribe today to have every issue of evo delivered straight to you. You'll SAVE 39% on the shop price, and get evo for its original cover price for a whole year!
> Click here for our review of the Audi RS5 coupe
The 'old money' in this test is the BMW. Not because Munich's representative has a penchant for tweed and also owns a 30-year-old Volvo estate – although it is the oldest design in this confrontation, dating back to 2014 – but because long, long ago, before Audi was capable of producing a convincing powerful luxury sports coupe and Mercedes was seemingly disinterested, this was BMW's natural stomping ground. So if you wanted a small-ish, sporty, two-door body with an oversized and blue-blooded six-pot motor up front and a focus on enthusiast driving dynamics, once upon a time you'd just have bought the BMW and been done with it.
Times have long since changed. It's no great surprise that we're hanging this group test off the arrival of the new Audi S5, because the art of making a thoroughly useable, slickly designed, beautifully appointed and unassumingly rapid coupe has become an Audi hallmark. And from the outset, the S5 presses all the right buttons. It's a great big chiselled hunk of German automotive power with its immaculate radii, and there's just enough of the original A5's distinctive lines intact to continue the resemblance. At its core is an all-new, 349bhp 3-litre V6 with a single turbocharger instead of the supercharger of before. It's priced at £47,000, but thanks to its extravagant list of optional extras our test car costs £57,895, the most expensive here.
What then of the BMW? The current 4-series may well adhere to the definition of a coupe but it rather plays it down in spirit. It costs £42,235, but like the Audi, this particular 440i suffers from the usual options price inflation, no doubt subsumed on the monthly PCP or lease smoke and mirrors. It remains the 'cheapest' car here (only just), but it's still a meaty £55,350. Sadly, the 440i badge doesn't equate to a 4-litre V8 but rather the latest iteration of BMW's single-turbocharged straight-six, here producing 321bhp.
> Click here to read our review of the Mercedes-AMG C63 Coupe
Finally, there's the C43. That's another nameplate that sparks distant memories, but this is AMG's junior model line to the V8-powered C63, using the 3-litre V6 with twin turbos that appears in cars such as the SL400. Here it has 362bhp. Like the Audi, but not the BMW, the Mercedes is four-wheel drive. At £47,605 it's a few quid more than the Audi, but at £55,935 as tested that order is overturned today.
All three cars here use a traditional torque converter auto 'box, rather than anything more racy such as a twin-clutch unit (as in the old S5). The BMW, note, is the only one also available with a stick and three pedals.
First impressions of the Audi continue to be positive when opening the door and dropping down into the deeply bolstered sports seat. Ahead is the glow of the 12.3-inch Virtual Cockpit screen, just one element of a broad, narrow dash and high centre console festooned with carbon and silver-highlighted switchgear. It feels special and exudes quality. That may only be a perception, not based on any cold hard fact of how reliable the oily parts underneath may turn out to be, but it's not hard to see the S5 signing up converts before it's even left the showroom floor.
> Click here for our review of the BMW M4 
The Merc shares the Audi's extrovert nature inside; in fact, it's more flamboyant but in a notably different way, with curvier, friendlier shapes to the interior, just as the view out, while narrow-of-glass and coupe-like, is softer than the Audi's brutal, straight-edged vista. I can never quite make up my mind on these new-age interiors from Mercedes. On one hand I applaud the willingness to experiment, to use different materials and textures, but look beneath that and it doesn't feel like the sturdiest of creations. The BMW is unquestionably the least interesting of the three inside, with its broad, blocky centre stack and familiar switchgear. Having said that, it is the one I find easiest to use, and the additional leather surfaces and 'Individual' seats lift this particular4-series cabin hugely, if at a cost.
All of these cars place an ability to adapt to time, place, circumstance and driver mood at the very heart of their proposition. And all choose to achieve it with configurability accessible through drive modes and an adaptive chassis. Mercedes includes it in the list price whereas, for example, the adaptive sports suspension is part of the optional M Sport Plus package on the BMW, and our S5 has the options of S suspension with damping control, Dynamic Steering and the Sport Differential. However, the bottom line is that driving, at least in the initial stages, is inevitably going to be a chore of button pressing and experimentation. 
The overriding first impression of the S5 is of cool, exacting competence. It drives how its looks suggest it might, how its interior makes you feel. It's a very refined car, and while the ride quality is firm, in Comfort or Auto it's actually very well controlled. It takes less than a mile to realise that this is another very well sorted Audi; that those years of ham-fisted dynamics and harsh rides with little to compensate for them are very much behind us. Oddly, the new V6 seems notable by its absence, a small flourish on start-up, then retreating until it's little more than a murmur, shuffling through the gears briskly under light throttle loads like all these cars do. You tend to drive the Audi with small, precise inputs. The Dynamic Steering gives a fast ratio, and in the less sporty modes the steering is very light. Frankly, it's a rather odd facsimile of what a steering rack in a car used to feel like, but thankfully there's nothing too weird about its self-centring or general weighting to make it feel actually unpleasant.
> Click here for our comparison of an Audi S4 and Mercedes-AMG C43 Saloon
A few miles in the BMW is very revealing. The 440i is entirely capable of padding around, offering minimal intrusion into the driver's life while they access one of the seemingly endless different ways you can listen to media. Fine. But the manner in which it goes about this is hugely disappointing. The chief culprit is the steering: in the standard setting it's as if its initial operation and weighting are controlled via a mechanism of elastic bands. It's so sloppy and lifeless, so disconnected, you can't help but wonder how it could be signed off like that. The BMW's ride quality is curious too. In essence it rides well in Comfort on a smooth A-road or motorway, and with its comfortable seats (a shade better than the AMG's, a lot better than the S5's) and great driving position, it's a really nice way to travel. But on urban or B-roads the body control is poor, and the dampers seem to run out of ideas very quickly, after which the intrusion of a pothole seems to be transferred straight into the bodyshell, complemented with a bang or a creak from the interior.
The BMW may well be the least powerful car here, but it's also the lightest, and whatever the figures say on paper it feels extremely keen. So keen that with winter road temperatures the 4-series has a really hard time of containing the sudden, massive build-up of torque from the straight-six, and the rear tyres more often than not give up the fight. 
Shouldn't we be extolling such things as 'character', the antidote to 'nice'? Yes and no. It's always worth peeling back a layer of DSC, else you become a prisoner to it, but while the 440i's willingness to wag its tail is sometimes a giggle, without a limited-slip diff there's not a great deal you can do with it, and it's hard to know just how much 'entertainment' you're going to get. It's well worth moving into Sport or Sport+ mode, because the steering gains weight and the body control tightens up too. Driven thus it can be amusing, even if a lot of your time is spent managing traction. Incidentally, in left-hand-drive markets the 440i is available with xDrive four-wheel drive, which would undoubtedly help today.
> Click here our review of the Alfa Romeo Giulia 
It's AMG time. The biggest mistake you can make is to approach the C43 as though it's a 'diet' version of the C63 Coupe, or any other V8 AMG monster of recent years. It is a proper AMG, but it's not anything like the V8s, certainly not in spirit and definitely not in terms of oversteer. Like the other cars here, it's an effortless place to cover big miles in, the ride compliant enough in Comfort although without the same control and isolation as the Audi. What's initially most impressive is the steering, for while it's a relatively feedback-free device in the modern style, it combines an immediate response with linearity and normal weighting, and I never give it a second thought – which is meant as a compliment. You can add more weight to it, but it's hardly necessary.
The AMG-fettled biturbo V6 is distant in normal driving but it builds boost rapidly and punches very, very hard, as you might expect with 383lb ft of torque. Free from the traction headaches of the BMW, it's probably the quickest car here, and it's not all low-down punch either – it likes to rev as well. When you want to have fun the AMG is best driven in manual mode, though with nine gears it can be hard to know precisely where you are. In auto it's too keen to downshift. With so much torque, part of the joy is to feel the performance build in a gear, but the constant shuffling of cogs in auto blunts that feeling and interrupts the acceleration, albeit briefly.
The C43 has more in common with an all-wheel-drive hot hatch than a rowdy coupe. Even in terrible weather it finds amazing traction (69 per cent of the torque goes to the rear axle), which combined with strong brakes and the AMG-developed chassis (C63 parts, stronger components and completely new geometry) means you can really commit to corners with confidence and maintain a lot of corner speed. It's not the most three-dimensional driving experience, but some sense of personality is added by the sports exhaust, which howls, pops and bangs ludicrously loudly.
> Click here for our review of the Infiniti Q50
In comparison, the Audi never quite steps up to the same level. Instead it takes its inherent competence and simply goes down a road in a significantly quicker manner when asked to do so. Select Dynamic for the steering and it really takes on weight. The V6 finds its voice in its Dynamic setting, but it's a curiously thin, reedy note, in keeping with an engine that's more effective than charismatic. It's the sort of car where you really need the speedo to get a sense of how fast you're travelling, while the response of the gearbox seems a little slow at times, as though it can't quite make up its mind.
The behaviour of the S5's chassis is more impressive. Possessed of a sense of measured control in almost all conditions, it's also surprisingly neutral when pushed to the limit. The optional Sport Differential doesn't mean oversteer on demand, yet it's also hard to get the S5 to understeer, and in extremes – say, provoked by braking into the corner – the car is more likely to slide deftly with all four wheels. If there's a disappointment, it's that after a few miles there's a realisation that it's just not that much fun: the car has proved it can do it, job done.
BMW doesn't make an M Performance 440i, but that would be a more natural rival to the other two here: the regular 440i, despite its almost too powerful engine, doesn't feel special enough, either in a touchy-feely sense or to drive. The caveat is that the 4-series range gets another facelift this spring, and we're told the suspension, steering and stability will be improved via higher quality suspension components and retuned dynamics. But for now, the BMW's nice in parts, but bringing up the rear in this test. 
> Click here for our drive of the Lexus RCF coupe
The Audi is a fine car. Too good to be labelled 'nice', yet hard to truly love. It's impressive, capable and fast, and if that's the beginning and end of what you're looking for then fine. But as an evo reader, you'll be after more. Hence the AMG C43 is our winner here. 
If these three cars really are about duality of purpose then the AMG is best at it. It's very good at being comfortable and undemanding and linking to a smartphone, but it's also got a wild side where it can get from A to B in foul weather at a crazy rate while making a lot of noise. Naughty but nice – now that's a winning combination.