Head on block time, and I don't mean we're about to reassemble an engine. So far, the new-generation Subaru Impreza has baffled the world by trading the old model's visual individuality for a second-rate, me-too approach salvaged only by the fact it still has four-wheel drive. Even the frameless door windows have gone.
'We need to broaden the Impreza's appeal,' say the Subaru suits defensively, but what hope now for the breed that became a deep, if narrow cult among those who knew? The car you see here may be that hope. In fact it has to be, because this new Impreza STI is the current Impreza generation's last chance to reclaim its soul.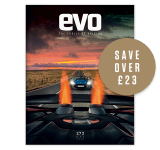 Subscribe to evo magazine
Subscribe today to have every issue of evo delivered straight to you. You'll SAVE 39% on the shop price, and get evo for its original cover price for a whole year!
It's the usual formula, updated and mixed into a new container. The heavily over-square, turbocharged flat-four engine is still of 2457cc but now makes 296bhp instead of 276, with an extra 11lb ft of torque taking the total to a neat 300. Variable cam timing and a bigger intercooler are why. The gearbox has gained triple-cone synchronisers to eradicate that second-gear Impreza crunch, and the ensemble sits lower in the body.
Compared with the old-shape STI, the tracks are wider, the wheelbase is 95mm longer, and instead of struts at the back there's a double-wishbone-based arrangement with toe-control links. There are also new ways of tailoring the front : rear torque split and throttle response. Honing tools for keen drivers or gimmicky gadgets? We shall see.
First, though, there's the matter of how the STI looks. Let's just say to the bug-eyed, pre-final-facelift, second-generation Impreza, all is forgiven. Today's regular Impreza has the feeblest, least-original front end of any new car available today, like something from the darkest recesses of a struggling studio in Seoul that never makes it to the western world.
To this unpromising base Subaru has added, for the STI, blistered arches, a deep front valance whose vane-flanked foglights are a desperately clutched straw from past turbocharged Imprezas, and mesh in that anonymous front grille. There's a giant bonnet scoop for the intercooler, of course, plus exit vents behind the front wheels through which the intercooler's air escapes. Rear spoiler? Rear diffuser? Obviously.
Inside, the materials are shocking for a car that will sell for around £27,000. The seats are fine, with their leather and Alcantara, and there's the option (recommended) of very supportive Recaros. But the door trims, inserts apart, are rock-hard plastic right up to window level, the dashboard ditto. The finish is matt, true, achieved by making it abrasive enough to file away your skin, but in an age when even a supermini can have a decent finish on its facia you do wonder what on earth Subaru was thinking.
Does it matter? Won't the STI driving experience make everything all right? Possibly, to those still bought into the STI cult, but Subaru is looking for a broader buyer base, which means stealing people away from those pesky German brands. Yet the Legacy proves Subaru can do interiors well. Could the situation be salvaged at facelift time, maybe? 'Too difficult,' says STI development chief Hiroshi Mori. 'It will have to wait for the next model change.'
We'll ignore the interior and go driving. The Fuji Speedway beckons, a fast, three-dimensional track with two heart-in-mouth, right-hand sweeps and some devilish esses. I'm in a Japan-spec STI, which has a 2-litre engine with yet more power (304bhp) and torque (311lb ft), albeit both peaking a few hundred rpm further up the rev range. Also, the tyres are Bridgestones rather than Dunlops, but still of the same 245/40 R18 dimensions. Kilometric speedo and 118mph limiter apart, everything else is the same.
First impressions on leaving the pit lane are of turbo lag (despite the twin-scroll turbo) and the wrong noise. UK cars will be better here, thanks to lower boost pressure and an exhaust system whose pipes are linked differently. They will lose the twin-scroll turbo but gain more of the vital Subaru flat-four throb.
The Driver's Control Centre Differential (DCCD) is set to 'Auto'. That means it varies the front : rear torque split between 50:50 and 41:59, which isn't a huge spread. There are Torsen diffs in both axles, by the way. Out on the circuit the STI feels safe but soft, its engine coming to life at high revs, the nose understeering in tight corners. Tightening the line under power on a bend's exit isn't an option; the whole car feels a bit inert.
Let's try 'Auto -' mode, which loosens the centre diff. That's better. The tail is now helping to point the nose into fast corners, and on Fuji's tightening right-hander there's less fear of understeering off the edge. (There's also an 'Auto +' mode, but that's for maximum traction on slippery surfaces and minimum tail-end mobility.)
The VDC – Subaru's take on ESP – is still intervening too much for track work, so I loosen it to the intermediate 'Traction' mode. Still, though, I can't get that tail-end flourish I liked so much in the old STI. A feeling of cautious nose-heaviness still dominates. So here's the answer. Switch the DCCD to manual and tab it back to maximum rearward bias. Now deactivate VDC altogether.
That's done it. From soft and a bit clumsy, with steering frustratingly unfocused because of the understeer, the STI rediscovers its roots. I can steer it on the throttle, its front wheels aren't overwhelmed by a rapid bend-entry, the tight corner before the main straight is now taken in a single, slightly oversteering sweep instead of in two bites. The STI has come alive.
It may be that when we drive the STI on proper roads, all this torque-split adjustability might be useful. Same goes for the three throttle-response maps, although I can't imagine many owners using anything other than the 'Sport' or 'Sport Sharp' modes. As for the soft 'Intelligent' mode, it has a change-up light to help improve your mpg. I'm lost for words.
The new STI is trying to be all things to all buyers, and is thus in danger of shooting itself in the foot. And something is wrong when you have to neutralise all the gadgets before you can uncover the car beneath.
Specifications
| | |
| --- | --- |
| Engine | Flat-four, 2457cc, turbo |
| Max power | 296bhp @ 6000rpm |
| Max torque | 300lb ft @ 4000rpm |
| 0-60 | 5.0sec (estimated) |
| Top speed | 160mph (estimated) |
| On sale | Spring 2008 |