Subaru Impreza WRX STI
Our Impreza's taken everything in its stride, and can be fuel-efficient, too, if you drive sensibly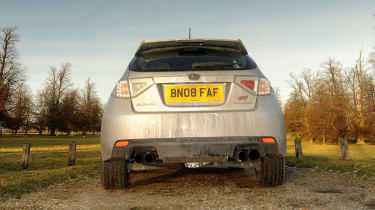 The STI recently developed a disconcerting clunk from the vicinity of the front offside wheel when manoeuvring at low speed. I took it along to the ever-helpful Souls of Olney, who concluded that it was simply the noise of the pad falling away from the disc after an application of the brakes, probably caused by a slightly sticky caliper. Nothing to worry about.And just as well, because we've thrown everything at the STI over the last month or so – kids, dogs, substantial mileages and absolutely filthy weather – and it's taken everything in its symmetrical four-wheel-drive stride.
The latest-generation Impreza is robust and reasonably commodious, though the shallowness of the boot combined with the sloping rear glass means it's less accommodating than the old-style Impreza wagon. Our pointer certainly gave me a pretty stern look as I squashed her in with the bags of pressies for the haul down to South Wales for some New Year festivities.
Given that the car was heavily laden with young Tomalins and canines, but mostly because at an indicated 80mph-plus the road-roar from the fat Michelin Pilot Sports virtually drowns out conversation, I took it steady and saw a record 28mpg. That won't happen again – now I'm back in work mode and it's just me, I'm enjoying the STI's walloping performance and staggering traction to the full.
In fact I've started craving even more power, and that's got me wondering about the Prodrive Performance Pack. Able to be retrofitted by your dealer, it's basically a new ECU and exhaust system, which raises power from 296 to 325bhp. It's expensive at £1600 but it does fill out the top end, where the standard car starts to get a little breathless. All we need is the go-ahead from Subaru UK. I'll keep you posted.
Running Costs
| | |
| --- | --- |
| Date acquired | May 2007 |
| Total mileage | 16,601 |
| Costs this month | £0 |
| Mileage this month | 2412 |
| MPG this month | 24.9 |