Depreciation has always been the used supercar buyers' friend, especially so when values of the latest wedge of exotica fall as quickly as they accelerate. Even with today's trend of anything considered a supercar to be worth more than life itself, there are still some serious bargains to be had. 
Better still, many are from the analogue generation, where manual gearboxes were mated to V10 engines and the traction control was either on or off. Here, then, are five of our favourite supercars you can own for £50,000 or less.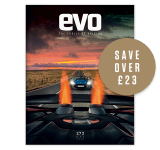 Subscribe to evo magazine
Subscribe today to have every issue of evo delivered straight to you. You'll SAVE 39% on the shop price, and get evo for its original cover price for a whole year!
Audi R8
Launched with a 414bhp 4.2-litre naturally aspirated V8, the Audi R8 soon gained a pair of cylinders and an additional 100bhp when Lamborghini's 518bhp 5.2-litre V10 was added to the price list. 
Both are hugely exciting powertrains straight out of the supercar top drawer and both can be had with either a six-speed manual or an S-Tronic auto gearbox.
Initially you'd think the V10 would be the car to go for, but the V8 is so full of character that a wise purchasing decision would be to go for the smaller engined car that's covered fewer miles. 
Find an example with a manual gearbox and not only will you have a sublime driver's car, but one which could give you a potentially decent return on investment in future.
>Read our review of the new Audi R8
evo has praised the R8 in the past for its dynamic prowess. As a package, the car remains fairly exceptional and both the V8 and V10 powertrains are sublime, while the balance and grip on offer is always impressive.
It's worth noting that there are many differences between the V8 and V10 iterations than just the engine. The chassis setup on the V10 is slightly stiffer and more aggressive, while later versions of the V10 were stacked with standard kit.
Updates to the auto gearbox came in 2013 with a new dual-clutch S-Tronic unit installed. It's a big improvement over older systems, but it's unlikely you'll find a car fitted with it for under £50,000.
A more realistic option is a V8 engined R8, both with or without a manual gearbox. There are some higher mileage V10 cars to be had within this budget, but we'd suggest playing it safe and opting for the smaller engine.
>search for Audi R8s on Classic and Performance car
Lamborghini Gallardo
You can now own a bonafide Italian supercar for less than £50,000. Admittedly, you'll be looking at the bottom end of Gallardo price range, but that needn't put you off. 
Being from the Audi generation it's more reliable than Lamborghini's of old and shares enough parts with VW Group products that some spare prices can be remarkably affordable.  Although this a 500+bhp V10 engined, four-wheel drive supercar we're talking about so don't expect Fiat Punto bills. 
Like the R8, the Gallardo can be had as either a manual or an 'e-gear' auto and, like the R8, it's the manual that delivers the true driver's car experience.
While you might expect the R8 and the Gallardo to be fairly similar, in reality the experience is very different. Simple things, like visibility, are much more supercar-like in the Gallardo. Then there's its more aggressive throttle response, quicker steering and less polished dynamics. There are still some refreshingly old school supercar traits to the Gallardo.
With a superior power-to-weight ratio, the Gallardo's 374bhp per ton, out muscles the R8's 325bhp. 
Earlier Gallardo's struggled with slightly clunky auto gearboxes, but there's still plentiful feedback and the Lamborghini never feels anything but an event to drive.
>Read our review of the Lamborghini Gallardo
You'll need to keep on an eye on those V10 oil levels, because while the owner's manual advises a litre every 6000 miles, it's more like every 4000. It's also imperative that Agip oil is used, as multiple engine failures have been reported following cheaper alternatives being used.
Over its considerable lifespan the Gallardo has continued to thrill and excite evo in virtually all its different guises. For £50,000 you're getting an early, 552bhp, 202mph  V10 engined Italian icon. Be it the spine-tingling soundtrack from its V10, or the details in its design, it's still a very special thing to own.
>Search for Lamborghini Gallardos on Classic and Performance Car
Porsche 911 Turbo
The Porsche 911 Turbo has always been the understated giant-killer. Later generations are capable of setting some truly absurd 0-60mph times and for less than £50,000, you can get in on the action.
A 996 911 Turbo (2001 – 2005) is an ideal blend of old-school charm and serious straight-line performance from its water-cooled, 'Mezger' 3.6-litre engine. This is the all-weather, all-road supercar that you can use every day and while it's been out of production for over a decade it's still just as quick as some modern competition.
As standard, a 996 Turbo produces 414bhp, with the optional X50 package increasing this to 444bhp. The former will reach 60mph in 4.1 seconds and go on to 190mph, all while easily returning 20mpg on a cruise. If you want a supercar that you can use every day for under £50,000, this is the smart choice.
While the Porsche might seem like the more docile car in the list, don't for a second think it's lacking in excitement. The 996 has serious credentials, and is a former evo car of the year winner.
We loved the 996 for being 'magnificent in all weathers' and the perfect combination of speed and refinement. It remains impressive to this day and, unlike modern Turbos, can be specified with a manual gearbox.
Thankfully the Turbo's engine is seriously tough, but 996s are prone to some electrical issues. Alternators can fail, while the front radiators can leak and corrode if the front intakes aren't kept clear of leaves. The 996 shouldn't cause many issues, making it the easiest to run on this list.
>Search for a Porsche 911 Turbo on Classic and Performance Car
Noble M12
The outsider's choice, but delightfully analogue and with supercar-rivalling performance, the Noble M12 is worthy of considering in this company.
Throughout its lifespan the M12 gradually increased in power. Early versions - the Noble M12 GTO - used a 2.5-litre twin-turbo V6 producing 310bhp before evolving into the M12 M400 with 425bhp and a 3-litre twin turbo V6. 
Performance throughout the model range was suitably extreme, with even early M12s managing 0-60mph in 3.9 seconds. The M400 was capable could reduce that by seven-tenths of a second, which is still in line with range-topping supercars of today.
The Noble M12 is much more of a track focused car that was equally up to regular road use. A rollcage, was standard, the steel frame chassis and fibreglass composite bodywork all worked to keep weight down to a minimum. Don't think of an M12 as just a bigger and badder Lotus Elise however, as it's much more extreme, driver focussed and significantly quicker machine than that.
>Read our Noble M12 buying guide
Like the 996 Turbo, the M12 made an appearance in evo car of the year 2000. While it fell behind the competition in terms of fit and finish and to some extent feedback, evo loved the way the car drove.
The Duratec V6 is more exciting than you'd expect, offering plentiful wastegate chatter and a bassy exhaust note. The car is also extremely well balanced, doing away the mid-engined nervousness and instead behaving more like a GT racer.
Admittedly it's an unconventional choice, but the Noble is still an excellent alternative to traditional sub-£50k supercars.
There are a few big things to watch for when buying an M12. Firstly, avoid cars that use the Magneti Marelli engine management system, instead aim for one with the MBE logo on the ECU.
Also, the M12 isn't a particular fan of water. The fuel pump's connections can corrode if left damp for long periods of time, while the engine bay fuses can fail if the car is left to stand outside.
>Search for a Noble M12 on Classic and Performance Car
Nissan GT-R
Quit possibly the definitive modern performance bargain. Even in its early, least powerful guise the Nissan GT-R is still a blindingly quick sports car with supercar performance, while the later cars and special editions only build on this staggering performance.
It's also inherently tuneable, with a simple remap releasing plenty more power from the car's twin-turbo V6. On top of that, the GT-R is relatively reliable but not to the detriment of feedback and excitement.
From the outset evo has had a strong affinity for the GT-R. On its initial launch covered all the way back in issue 113, evo called the car 'an utterly unique, full-on, banzai experience'.
To this day it remains very much the same.  evo's Jethro Bovingdon recently ran one on our Fast Fleet and enjoyed virtually every moment in the car. While it has a reputation as being overly digital and slightly synthetic in its driving experience, the GT-R is anything but. In fact, compared to modern competition, the GT-R often offers more interaction.
You might not make money on one, but as GT-Rs continue to depreciate you can pick up an example in good condition for below our £50,000 threshold.
Key checkpoints, particularly when buying an early car, are the gearbox. Changes need to be quick and smooth and while standard gearboxes are largely reliable, they're very expensive to replace.
Brakes and tyres too require frequent replacement. The car's performance and weight mean that track work can be particularly tough on consumables. Look out for cracks around the drilled holes in the discs.