While many of you will have read the verdict on 2016's greatest cars in issue 229 of evo, written words are only ever part of our annual evo Car of the year test.
Now, our video is finally here, and you can watch it in full above. It's been another spectacular year for performance cars and it was another spectacular eCoty event, as you'll soon see.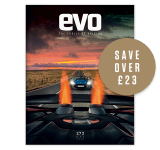 Subscribe to evo magazine
Subscribe today to have every issue of evo delivered straight to you. You'll SAVE 39% on the shop price, and get evo for its original cover price for a whole year!
For more information on each of the cars featured in the video, we've analysed each car's changes below and over the next few pages.
Mercedes-AMG C63 S Coupe
'Exuberant'. That was the word we used to sum up the C63 S Coupe this year, the most potent specification for Merc's smallest but no less angry two-door hot rod.
With 503bhp and 516lb ft, the C63 S Coupe is undernourished only in the eyes of power-crazed despots, tin pot dictators and Internet billionaires the world over. This is a sledgehammer to crack a nut, and possibly a rather worried looking BMW M4 at the same time, with 0-60mph dipping under four seconds and a top speed limited (with the Driver's Package, naturally) to just 180mph.
But the C63 S Coupe is so much more than just a ludicrously lairy engine, it's been reinforced, stiffened, strengthened in all the right places, and to put enough rubber on the road now has some seriously evocative wheel arch flares. Even the standard 'S' spec brakes discs measure 390mm on the front axle, and if you go for the optional ceramics they're 402mm (then again, it does weigh 1,725kg).
> Mercedes-AMG C63 Coupe review - is it an M4 beater?
Before we explain why it's much more than just a stunning set of performance figures, and why it fully deserves its place at eCoty on merit, let's pause for a moment to recognise just how good the V8 sounds. Adding turbochargers could have smothered the familiar AMG V8 soundtrack, but as Jethro noted: 'It's full of character and just incredibly exciting.' Just firing the thing up at a standstill makes you smile every time.
The dynamic picture is nearly as rosy, with enjoyably balanced handling, surprisingly decent traction - that can nevertheless always be overcome with an enthusiastic throttle input - and a well-controlled ride. Jethro again:
'The more relaxed ESP setting is a real help here, subtly trimming away your excesses but allowing the car to still drive out of turns hard and poised on the cusp of oversteer.'
Only the steering has failed to impress so far, proving disconcertingly light and feedback-free immediately away from the straight-ahead. Last year the AMG GT S was arguably the disappointment of the test. This fiery little two-door C-class has AMG's honour and more to uphold in 2016.
Aston Martin Vantage GT8
You just can't imagine some people growing old; their spirit burns too brightly for beige slacks to ever be a reality. Some cars are the same, and the gorgeous Aston Martin V8 Vantage is a perfect example. As it nears retirement it's not taking it easy with a pinstripe and commemorative plaque. No, it's donning an aero kit every bit as aggressive as the V8s that pound round Le Mans for 24-hours every year and making a noise that must drive the residents of Warwickshire country villages into a frenzy of outrage. The GT8 is loud, obscenely loud.
This is the car, remember, that has formed the bedrock of the Aston Martin range since its introduction in 2005. The GT8 is surely the last - or if not then nearly the last – hurrah for the old V8 bruiser, a car that, to be fair, still possesses one of the most beautiful exterior forms of any car, at any price.
> Aston Martin Vantage GT8 review - does racing improve the breed?
For the GT8 though that beauty has been, shall we say, marginalised, in favour of extreme aero. It's still no lightweight at 1,510kg, despite that figure being 100kg less than the regular car, and its this, when viewed in light of the 361lb-ft peak torque figure, that really characterises the GT8's performance. You have to work the V8 hard to feel the full force of its 440bhp, but then that's no hardship: with a terrifically direct six-speed manual 'box (Speedshift is an option, but manual is surely the way to go), and a handling repertoire so natural and full of feel that it left our Henry Catchpole in raptures, the GT8 is a car that rewards far more on the road than it does when viewed on paper.
'Then, right there, balanced, you have the GT8 gliding in a genuine four-wheel drift' – that probably gives you some inkling why Henry loved it enough to award the fabled five stars.
Can the GT8 give the V8 Vantage an eCoty gong in the twilight of its career? If exhaust volume were the sole measure, the GT8 would walk this one.
Volkswagen Golf GTI Clubsport S
The VW Golf GTI Clubsport S is the fastest vehicle of its type around the Nurburgring Nordschleife; just 150 out of a meagre production run of 400 are coming to the UK; and if you haven't already got your name down for one it's already too late – you've missed out. Yes, there's more than a hint of a modern-era GT department Porsche about the Clubsport S, a feeling that intensifies when you learn the man behind the project used to work on GT3s for a living.
The Clubsport S is the latest in an arms race escalation between the makers of high-end hot hatchbacks to see who can claim the coveted Ring time prize. It's based on the GTi Clubsport Edition 40, itself part of a broad range of front-drive GTis even before the ubiquitous R is considered. Its EA888 engine is the most powerful of them all at 306bhp, while there's also 280 lb ft of torque on offer starting at just 1,850rpm.
However, there's much more to this car than just increased power. There's less in fact – less weight, via such measures as the removal of the rear seat and some sound deadening. The chassis is pretty special too, with bespoke damper tuning, various new elements such as redesigned front knuckles, and a lighter sub frame made from aluminium.
> More - Volkswagen Golf GTI Clubsport S review
Bespoke Michelin Pilot Sport Cup 2 tyres play their part, as do the subtle but wonderfully aggressive body modifications, which not only cut lift, they actually introduce a little bit of positive downforce. All in all, the more you look at the Clubsport S recipe, the more you sense this car is very much the real deal.
The question, then, is whether the GTI package will translate from the Ring to the uneven, unique roads of remote Scotland. As a clue, this is what we had to say after we'd driven the new wonder-hatch in the UK for the first time:
'All in all, it feels like a very complete package. There is always a worry with cars that seem to have a leaning towards lap times that they will forget their roots and be less enjoyable on the road. But the upgrades that Karsten Schebsdat and his team have made have allowed the Golf to shine even more brightly on exactly the sort of roads where a hot hatch should feel at home.'
Fellow eCoty contenders, be afraid – very afraid.