Porsche 911 R
The Porsche 911 R is the car that has it all to lose. Wise sages and conspiracy theorists alike, please now enjoy a rare moment of harmony formed around mutual agreement.
You may have noticed that 911s have a habit of doing quite well at eCoty, but that's because, guess what, they can sometimes be quite good cars. And of course, the 911 R is, predictably, a very good car indeed.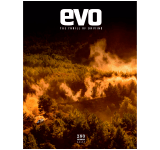 Subscribe to evo magazine
Subscribe today to have every issue of evo delivered straight to you. You'll SAVE 39% on the shop price, and get evo for its original cover price for a whole year!
On face value, the 911 R has everything it needs to establish itself as the clear favourite this year. Remember, last year the 991 GT3 RS looked set to walk away with the competition, but its extreme performance, the very ability that forms the foundation of its appeal, somehow didn't quite transpose to the extraordinary Highland roads of eCoty 2015. At sane speeds it could just feel a little, well, aloof, as though it wasn't even awake yet. The Cayman GT4 was completely the opposite, and that's largely why it won.
But the R adopts a much more GT4-like mantra. If track-focus, big wings and a twin-clutch gearbox were the RS's undoing on the road, then the R presents a solution with typical Germanic thoroughness: that same, crazy RS-spec 4-litre flat 'six' with 493bhp, but this time connected to a proper six-speed manual 'box. A car largely shorn of aerodynamic devices, aimed specifically at driving enjoyment on the public road. It's even lighter, too. What more could the driving purist want?
But eCoty is never a foregone conclusion. Can the bigger, more refined 991 ever capture our hearts in the way 996s and 997s did? Will our judges, like so much of the car enthusiast population, feel jaded by the baggage of GT department 911s: the fact that you can't buy one; that you could probably never have bought one, even if you could have afforded it, because you still hadn't bought enough new Porsches compared with the names at the top of the dealer principal's Christmas card list. The fact that prices have now spiralled away into obscenity; can one car really be that good? eCoty week is when we find out.
Alfa Romeo Giulia Quadrifoglio
The Alfa Romeo Giulia Quadrifoglio: here we go again - another new Alfa. Cue unbearable levels of expectation, a partisan and very vocal 'Alfisti' ready to slay any disbelievers, and all the usual gushing clichés. 'Alfa's last chance'; 'this time it really is Alfa's very last chance'. Win or bust. You know the drill by now.  
And yet Alfa did it; it really did it. After all the years of disappointment, when goodwill was stretched to the very limit, never mind the equity of the brand, here at last is the big Alfa Romeo sports saloon we all yearned for: a 500bhp rear-drive monster with bucket loads of flair and genuine depth of ability. Most of us were, momentarily, a bit lost for words.
Then again, maybe we should have known, what with those engineers drafted over from Ferrari. Alfa talked about a 'skunk works' mentality for developing the Giulia 'Q', and it wasn't just lazy marketing speak. A 7m39s lap around the Ring was another pointer that th
is wouldn't be a false dawn like the frustrating 4C.
> Read: Alfa Romeo Giulia Quadrifoglio review
Henry Catchpole summed his launch review up thus: 'Fundamentally, the Giulia felt great fun to drive and it feels like a huge relief to be able to say that. A good Alfa! I just found myself grinning an awful lot every time I got behind the wheel, which has to be a good thing.'
There was no let-up for the Alfa in the pages of evo as it then headed straight into a group test with the Mercedes-AMG C63 and the love it/loathe it BMW M4. In the end Jethro Bovingdon gave the nod  - just - to the AMG over the Alfa, but it was an admirable debut for the Italian, a genuinely close one to call. That might sound like damning with faint praise, but there's no shame at all in such a result so fresh out of the box.
eCoty will be our first chance to drive Alfa's new supersaloon in the UK, a prospect that has every judge more than just a little bit excited. Can the big-hearted Italian do the unthinkable and challenge for overall honours?
Ford Focus RS
No one could accuse Ford of not listening to customers, forum keyboard bashers and journalists alike when it came to the new Focus RS. At last, here is a Focus hot hatch that deploys its power – all 345bhp of it – through not just a hard-worked pair of front tyres, but all four of them. And it's not just an atypical modern 'power on demand' sort of four-wheel drive system; this is a sophisticated 'active' rear 'differential', with multi-plate clutches for both rear wheels. Moreover, the Focus RS is now a global car and brand, which must make a big difference to the economies of scale, and hence the business case.
'A couple of times I ask more of the Michelin Pilot Super Sports as a corner tightens', said Henry Catchpole as he placed the very blue Ford above the ubiquitous VW Golf R and bellicose Audi RS3 in evo's on-launch group test, 'and the RS simply bites harder and scoots around. The body control is extremely impressive too, the tail just nicely mobile.' Sounds good.
> Also read: Ford Focus RS review
On paper at least, the Focus RS appears to be the perfect sporting hatchback. 'The Greatest Hot Hatch Ever', have screamed some, but is it really worthy of such a title? eCoty should provide the ultimate test, the beauty of which – and to the Ford's advantage – is that it's the ultimate level playing field. eCoty isn't about money, or top speed, or glamour. If a hot hatch achieves that higher state of driving bliss there's no reason why it can't relegate the exotica to the also-ran places. Mere numbers don't dictate how special a car feels, and that's what really separates the great from the very good.
But is the RS special enough? Not every evo staffer has been convinced so far of its one-size-fits-all approach to global hot hatch domination. The Focus is relatively heavy for its type, it's undoubtedly firm-riding, and while the 'Drift Mode' has caught the headlines, will it turn out to be more of a gimmick than a source of lasting satisfaction? In short, does the Focus RS have what it takes to be one of the truly great Fast Fords?