The evo team has returned with their best buys, this time lifting the budget to a substantial £35,000. Though that figure would only just get one into a modern hot hatchback from new, that figure opens doors to a surprising level of capable machinery, even venturing into the mildly-exotic.
Picks range from legendary super-hatches of years gone by, to supercars and modern-day performance saloons. Read on to find out which cars would receive evo's £35,000.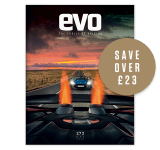 Subscribe to evo magazine
Subscribe today to have every issue of evo delivered straight to you. You'll SAVE 39% on the shop price, and get evo for its original cover price for a whole year!
> Best cars to buy for £20,000 – evo garage
Audi R8 V8 FSi (manual) - Jordan Katsianis 
Audi shook the car world in 2007 when it popped out the original Audi R8 from nowhere. Back then fast Audis were well built, modern and desirable, but ultimately flat performance tools that were easily dealt with by contemporary BMW and Porsche rivals. Then the R8 appeared. 
It was groundbreaking, prompting John Barker to express it as being "simply outstanding… a fantastically poised and dynamic mid-engined car that blends inspiring, absorbing dynamics with suppleness". If JB gushes, you shut up and listen.  
Our £35k budget will only get you into an early V8 model, but that's arguably the best one, specifically when paired with a manual transmission. It might have lacked the ultimate crispness of a 997-generation 911 Carrera S, but in its place was fine adjustability underpinned by a playful all-wheel drive system and emphatic V8 engine. 
> Audi R8 review – verdict, specs and prices
Add this to an interior that was as exotic as any traditional supercar, but built with Audi's vault build quality and a purity of design that keeps it as dramatic to look at now as it did in in 2007 and it's not surprising to see it's growing cult status – and one without the sky-rocket values that usually accompany most cult classics, yet. 
Renault Sport Clio V6 - Antony Ingram
This one stings. There was a time when Clio V6s dipped under the £10k mark, and now I'm having to squeeze Renault's wide-hipped hatch into our £35k bracket. In fairness, you won't need £35k for all but the most pristine of Clios, but somewhere between £20k-£30k is now a reasonable ballpark, with a few early, high-miles cars coming in at just under £20k. Still, ouch.
If you're spending this much money then the obvious choice would be the later cars, wearing the facelifted Clio's nose and built at the Dieppe factory now turning out Alpine A110s, rather than the friendlier-faced early models built by TWR in Sweden. That's not a slight on TWR, more that the later models had a longer wheelbase for better stability, revised suspension, and a more powerful engine.
> Renault Sport Clio V6 - review, history, prices and specs
The 3-litre V6 of early cars made 227bhp and later ones 252bhp, while the phase 2 cars also got the Clio's revised and slightly higher-quality interior. The phase 2, in fact, was talented enough to achieve a third-place finish in evo Car of the year 2003, behind only a 996.2 911 GT3, and a Lamborghini Gallardo.
There are certainly more capable cars available for the money – any number of Porsche 911s, for a start – but the draw of one of the most unlikely yet also most desirable performance cars since evo started is a hard one to resist.
Nissan GT-R (2009-2011) - Steve Walker
Nissan's technological tour de force has been on sale in the UK since 2009 and prices are well inside our self-imposed £35k bracket. The GT-R has always looked like a bit of a bargain on the all-important price-to-performance ratio, and age seems to be doing little to diminish its lustre.
It's the pre-2011 facelift cars in the main that our budget allows for and by now the recipe is familiar. Updates have boosted power outputs at regular intervals over the years, but in the early models the high-tech 3.8-litre twin-turbo V6 sends 471bhp and 434lb ft of torque to the ATTESA E-TS all-wheel-drive system that's as complex as the name suggests with its differentials and twin driveshafts. Torque is sent fore and aft, left and right in an instant as required and the result is that this 1740kg car is astonishingly fast on the straight and around bends.
> 2017 Nissan GT-R review - first impressions of Nissan's more grown up GT-R
If you can keep your eyes open, you're looking at 0-62mph in around 3.4sec in these early cars, and the GT-R would be pushed under the 3.0sec barrier by later updates. Top speed is 193mph, and the ride is on the busy side, but it's the way the car uses its power that is so efficient. The suspension, brakes and gearbox give every confidence they can cope with more power and speed. For me, the GT-R feels like the definition of 'a lot of car for the money'.
Alfa Romeo Giulia Quadrifoglio - Sam Jenkins
The Giulia Quadrifoglio is one of best performance sports saloons money can buy, with handling you'd expect in a machine from Maranello and a powertrain to match. At £64,900 from the new Giulia is a fair whack outside our pricing bracket, but go for one that's just a few years old and you can now find examples for around £30,000 less.
Under the bespoke carbonfibre bonnet is a 2.9-litre twin-turbocharged V6, sending 503bhp and 442lb ft of torque to the rear for a sub-4sec 0-62mph time and 191mph top speed. Though missing a pair of cylinders, it shares DNA with the V8 from Ferrari's California T, unsurprising given the sounds it produces…
> Alfa Romeo Giulia Quadrifoglio review - a truly great super saloon
Thanks to a low 1524kg kerb weight and the best chassis in its class, the Giulia Quadrifoglio performs like no other saloon, with sharper responses, better balance and an exuberance missing in German rivals. These abilities are underpinned with superbly calibrated adaptive suspension and a quick Ferrari-esque steering rack.
Though a few owners have reported issues, the vast majority have proven to be just as reliable as their German counterparts. You will only find a handful of sub-£35k examples at the moment, however thanks to depreciation will only grow in number. 
Aston Martin V8 Vantage (2005-2017)
Aston Martin V8 Vantages retailed for around £80,000 back in 2005, and now just £35k will buy you an early example. With a sonorous Jaguar-derived 4.3-litre V8 under the bonnet and a proper manual 'box (optional Speedshift autos are less desirable), the little Aston mixes classic British sports car charm with modern usability. 
It wasn't the fastest car in its price bracket, but 380bhp and 302lb ft of torque was good enough for a 4.9sec 0-60 dash and respectable 175mph top speed. Admittedly, the 4.3-litre engine needed to be revved hard to achieve this performance; but that's not such a bad thing when there's a brutal sounding V8 up front. 
> Aston Martin V8 Vantage buying guide
Combined with that sculpted Aston Martin body, the V8 Vantage almost seems like one of the last of the old boys. And thanks to precise handling and impressive balance, the baby AM goes as good as it looks.
Its relative simplicity means looked-after Vantages are as reliable as any Aston. Due to most having lived cherished lives, you're somewhat stuck for choice in the UK. 
Add a few thousand to your budget and the later, more potent 4.7-litred cars creep into the classifieds. But even if £35k is your limit, you'd be far from disappointed with a baby Bond car.