BMW 1M Coupe: Long term test
A recent 'incident' in the 1M has left two of its alloys badly kerbed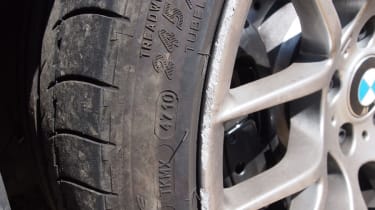 > Click here for the evo review of the BMW 1M Coupe.
What's pretty much the worst thing you can do when you start a new job? Steal from the petty cash? Insult the boss's wife? Or worse, crash the boss's car?
For evo's new film-maker, Sam Riley, it turned out to be the latter. Yep, late one night recently Sam called me, clearly in some distress. He'd taken the 1M home – 'my' 1M – and switched off the stability control. His ambition overtook his talent, just as the rear end of the BMW nearly overtook the front, and Sam slid the car into a kerb. Both nearside wheels have been damaged, but the 1M is clearly tough – the tracking remains straight and there's no damage to suspension or steering. Oddly, the seat-height adjust has also broken, but I believe this occurred before the shunt.
There's little doubt the 1M's short wheelbase, big power and tight diff combine to create an entertaining handling car but even evo's top road testers have reported that you disengage the DSC at your peril. On track, the 1M's playfulness is a joy – but on the road it can bite you. Just ask Sam.A recent 'incident' in the 1M has left two of its alloys badly kerbed
In other news, dozens of @evomagazine and @evoNickTrott followers have suggested the 1M should be wrapped in a classic 2002 Turbo-tribute colour scheme. Hopefully by the next report the BMW should be wearing a nice new suit, and Sam will have left the doghouse…
> Click here for the evo review of the BMW 1M Coupe.
Running Costs
| | |
| --- | --- |
| Date acquired | June 2011 |
| Total mileage | 7561 |
| Costs this month | £2.99 (washer fluid) |
| Mileage this month | 1943 |
| MPG this month | 26.9 |