Our picks, by Sam Sheehan
E30 M3 1986-1990
Though it was not the first M car, many label the E30 M3 as the car that kicked BMW's performance arm into public the spotlight. Selling in 17,184 units, the E30 M3 transformed the traditional performance car into something far more practical. Originally powered by an atmospheric 2.3-litre four-cylinder engine, later guises gained a 238bhp 2.5-litre engine that could accelerate the car from 0 to 62mph in 6.5 seconds and on to a 154mph top speed.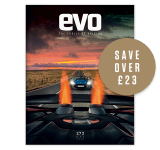 Subscribe to evo magazine
Subscribe today to have every issue of evo delivered straight to you. You'll SAVE 39% on the shop price, and get evo for its original cover price for a whole year!
But the car could also seat four and its boot had enough space for the weekly shop, making the E30 M3 one of the first properly usable performance cars. It set the trend for following M3s, and even the newly unveiled M2 is claimed to have taken influence. 
Prices for the first M3 are soaring – you'll need upwards of £40,000 for an excellent car, and the rarer Evo Sport models can fetch as much as £90,000.
>Find E30 M3s on Classic and Performance Car
E60 M5 2004-2010 
While the rapidly appreciating E30 M3 is beginning to look a bit like a collector's item, more reasonable prices for used E60 M5s make the model a comparable bargain. The car has a lot going for it, and many have warmed to its once opinion-splitting looks, but its most attractive asset can be found under the bonnet – that 5-litre V10. 
With links to the 3-litre unit found in Juan Pablo Montoya's old Williams F1 car, the M5's unit gargled all the way up to 8250rpm, producing a peak of 500bhp en route. Though the atmospheric unit's performance is dwarfed by the one found in today's turbocharged M5, it possessed a note and character so distinctive that many argue that it is one of the greatest engines ever put into production.
Prices are far from cheap, but we have found several fairly low mileage cars up for considerably less than £20,000. One's a 2007-plate, 68,000-miler on sale at Munich Legends for £16,995. It's a heck of a lot of car for the money; just don't expect to see more than 20mpg.
>Find E60 M5s on Classic and Performance Car
Z3 M Coupe 1998-2003 
The styling of the Z3 M Coupe – affectionately known by owners as the 'clown shoe' – still divides opinions today with its long bonnet and taught tail. But with a  3.2-litre straight-six under the bonnet, delivering as much as 325bhp to the rear wheels through a five-speed manual gearbox, it made for an epic drivers' car and was a real supercar slayer.
The 0 to 62mph sprint was dispatched in a claimed 4.3 seconds, two-tenths faster than a Ferrari 360. Admittedly the lighter Ferrari was quicker in almost every other way, but the BMW – which sold for £40,595 when new – was far more affordable.
Today, prices are creeping up, but £18,000 should still find you a desirable example.
>Find Z3 M Coupes on Classic and Performance Car
1M Coupe 2010-2012
Many argue that the 1M Coupe is the best M car of the 21st century. It flaunted a steroidal body kit and purposeful, squat stance, and was the first car of BMW's M division to be powered by a new generation of twin-turbocharged engines. Thankfully, concerns this would dampen its responses were quickly quelled.
Producing a peak of 335bhp at 5900rpm, the 1M's engine mixed performance with character, and the same could be said for its chassis. We ran a 1M for eight months in our Fast Fleet, and much of the miles covered were spent going sideways – it was a car focused on having fun.
Production numbers were slim – just 6309 cars were sold – and as such, prices for this modern classic haven't really decreased at all. £40,000 is still the going rate for a used car, which is exactly what the 1M's list price was when it was on sale. 
>Find 1M Coupes on Classic and Performance Car
E46 M3 2000-2006
The E46 M3 is a modern, old school M car. With a naturally aspirated 3.2-litre straight-six under the bonnet, the rear-wheel-drive coupe expelled an addictive and typically BMW metallic rasp while producing a healthy 338bhp. 
Performance was brisk: 62mph came in a claimed 5.1sec and top speed was limited to 155mph. But even so, the E46 is often best remembered for its balanced chassis and all-round usability.
Today, those traits make it a great entry-point into reliable M car ownership, and with good cars still frequently selling for little more than £10,000, it's probably the biggest bargain on this list. 
>Find E46 M3s on Classic and Performance Car
Serial M car buyer, Fergus Calder
Fergus Calder got hooked on the M doctrine driving his father's E46 M3, and years later realised the dream by acquiring an E92 M3 Coupe himself.
'I averaged 12-13mpg. At best I got 18mpg. The fuel costs were mental, and were one of the reasons I got rid of it. It does take its toll on your wallet. Even so, I'd have another one.'
Calder replaced the much-loved M3 with a 1M in Valencia Orange. 'It felt smaller than the M3. It was nice to have something more intimate. There was no messing about with it, but once you'd learnt how it worked, it never scared you. And it always wanted to go sideways – in a good way.
'I put a Larini exhaust on it as it was way too quiet after the V8 M3. I had it for 16 months. I actually sold it for more than I paid for it, and given that it had the service pack, it only cost me fuel and tyres. I'd find any excuse to get in and go for a drive.
'I might get an E39 M5 next. After all, it's not about lap times; it's how it makes you feel. The 1M didn't have all those silly electronic aids, and the E39 is the same sort of thing.'