We've already driven the new G30-generation BMW 5-series in 530d xDrive and petrol 540i form and found it to be a quite astonishing all-rounder. From its chassis, to its comfort and its technology there's little in the class that comes close, and it suggests rivals should be particularly worried when the M5 eventually rolls around.
There's a risk though that slotting in a humble four-cylinder diesel engine, such as you'll find in the 520d, can undo all that good work, particularly when fewer of the new Five's advanced technologies are specified. This is our first taste of such a car, in M Sport trim.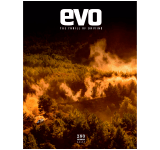 Subscribe to evo magazine
Subscribe today to have every issue of evo delivered straight to you. You'll SAVE 39% on the shop price, and get evo for its original cover price for a whole year!
Engine, gearbox and 0-60 time
Power comes from a 2-litre version of BMW's modular family of diesel engines, and like previous 520ds the latest car features four cylinders to the 530d's six. And, in true BMW fashion, it's mounted longitudinally and generally sends power to the rear wheels - though BMW also offers xDrive all-wheel drive (an increasingly popular option) which can shuffle up to 100 per cent of the car's power to either axle.
Where this model significantly differs is that a manual transmission is no longer available, making the sole gearbox option an eight-speed ZF unit tuned to BMW's own preferences. Some will decry the lack of a manual option (though paired with a four-pot diesel, it's hardly seems like a massive shame) but as we'll see further on it's not much of a hardship.
The diesel produces 187bhp at 4000rpm and develops its 295lb ft of torque from 1750rpm, though with the automatic taking control you'll rarely find yourself below this peak when you call for more performance. Officially, the 520d will reach 62mph in 7.5sec and hit 146mph - each perfectly respectable figures for a car that can, on paper at least, sip a gallon of fuel every 65.7 miles.
Technical highlights
Some of the 520d's performance capabilities, and indeed its economical abilities, come from a significant reduction in weight compared to the car it replaces - up to 100kg in some models, though the 520d M Sport is still 70kg lighter than its direct predecessor. An increase in high-tensile steel is mostly to thank, though increased use of aluminium and magnesium have also helped. What the new Five doesn't have is a 7-series-style carbon core, so you imagine there are more weight savings to come when the next-gen 5-series eventually arrives.
The latest 5-series is more aerodynamic too, and the eventual Efficient Dynamics version slips through the air with a claimed drag coefficient of 0.22 - an even lower drag figure than that of a Tesla Model S. Vents to relieve pressure in the front wheel arches and an active grille contribute to this figure.
What's it like to drive?
In the specification tested the 520d's talents aren't quite as mind-bogglingly broad as those of the 530d in xDrive form, but it's an impressive car nevertheless.
The first surprise is the engine, which doesn't quite feel like the downgrade you'd expect from opting for a four-cylinder diesel in a large executive saloon. That's mainly because in most driving conditions the four-pot is unfailingly smooth and remarkably quiet, while the combination of strong low-down torque and a perfectly-matched gearbox mean you can travel at a decent lick with very little effort.
Up the pace and it continues to deliver. Left in automatic the 'box will change up at 4000rpm regardless of how hard you're accelerating, and nipping the lever into manual reveals why: you'll go little faster spinning to the 4750rpm cut-out, and while the engine never feels strained, nor is it quite as hushed over those final few revs.
> BMW 530d xDrive review - An astoundingly capable car
The 5-series' other talents remain: the steering is fluid and direct, and while there's not a great deal of feedback, natural-feeling weighting means you do get a decent impression of how hard you're working the tyres. It's an impression partly muffled by the needlessly thick, squidgy M sport steering wheel rim - that's one box we'd leave unticked - but essentially BMW does better steering on a diesel executive car than it does on an M4.
BMW doesn't promote its 50:50 front-to-rear weight distribution any more but you can still feel it in the 520d. Tip the car into a corner and you can feel the rear tyres sharing as much load as the fronts, and there's that satisfying rear-drive sensation of having to wind off a little lock to compensate.
With its smaller engine and lower levels of grip and traction the 520d doesn't quite have the same incredible cross-country pace as a fully optioned-up 530d xDrive, but it's still far better to drive than any diesel, tax-friendly, luxurious and infotainment-infested saloon car has any right to be.
Price and rivals
Resist the temptation to tick any option boxes and a BMW 520d M Sport starts at £39,025. It's incredibly easy to raise that figure though, and our test car came to around £46,000. Most owners could probably expect a similar figure by the time they've left the showroom, and a similar figure from rivals too. The closest Mercedes-Benz E-class is the E220d AMG Line (at £39,010), while a similarly-trimmed Audi A6 (the 2.0 TDI Ultra S Line) is slightly cheaper at £36,470. Buyers may also consider the Jaguar XF 2.0d R-Sport (£36,850).
The BMW would be our choice. It isn't the most handsome, and its cabin doesn't quite match the sense of occasion of the E-class, but as a driver's car none of its immediate rivals can really match it.