Porsche Panamera vs BMW M5, Jaguar XFR and Mercedes E63 AMG
evo tests the Porsche Panamera, BMW M5, Mercedes E63 AMG and Jaguar XFR against each other, on road and track, to find the best supersaloon money can buy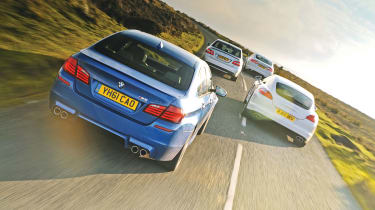 Only a fortunate few have the means to buy a new BMW M5 – or any one of the three rivals, the Porsche Panamera, Jaguar XFR and Mercedes E63 AMG, that we've assembled here in this, its first UK group test. Fortunately that doesn't stop the rest of us from appreciating their significance and intrinsic appeal, for along with the hot hatch, the sporting coupe and the exotic supercar, the supersaloon is an enduring cornerstone of high-performance car culture.
Rarity plays its part in this mystique, as does raw power and potency, but so too does the fact these are wholly practical, useable cars. Of course it helps that once the altruistic first owner has taken the fiscal pain of depreciation, such extraordinary cars as these can be had for money mere mortals can afford…
So, whether you've got £80K burning a hole in your offset account or you're simply curious to see which of these monsters will be leaping out of the classifieds at you in five years' time, sit back and enjoy a quartet of the finest four-seaters money can buy, slugging it out on road and track.