Times are hard for the V12 engine. Combusting air and fuel in twelve separate chambers is becoming difficult to justify in a world seeking ways to reduce fossil fuel consumption.
Only a select few manufacturers still persist with the V12 – Aston Martin, BMW, Ferrari, Lamborghini, Mercedes-Benz and Rolls-Royce, and most produce fewer than they used to.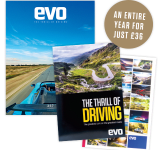 Subscribe to evo magazine
evo is 21 and to celebrate, we're returning to 1998 prices! Subscribe now to SAVE 39% on the shop price and get evo for its original cover price of £3.00 an issue, plus get a FREE gift worth £25!
Thankfully, there are still plenty of options on the used market, some of them surprisingly affordable.
This being evo, we're not seeking ways to find the cheapest V12s out there. Realistically, they aren't the wisest purchases at four-figure sums, and few of them truly provide the thrill of driving. Instead, we've sourced a range of V12s available at various budgets, some representing huge savings on their original price.
It goes without saying, however – none of the cars below will be cheap to run or maintain. evo does not take responsibility for erroneous V12 purchases…
Mercedes-Benz CL600 (from £10k)
As hinted at above, it's possible to find plenty of V12s below £10,000, but we'd not spend any less on a CL600. The V12-engined coupe isn't much of a sports car but provides creamy power in an elegant body.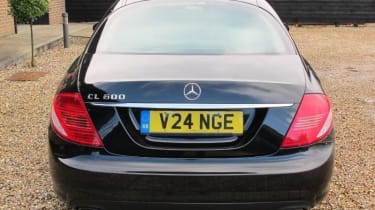 Thanks to Targa Florio cars for the image
Engines are understressed though some report issues with the cylinder deactivation system. While aluminium and composite body panels mean they don't rust like other Mercedes of the era, some do still suffer from aluminium corrosion.
What we said: 'Bury the throttle and the note picks up some bass but you won't notice that because you'll be slammed hard into the backrest' (evo 049)
>Find Mercedes-Benz CLs for sale on Classic and Performance Car
Rolls-Royce Silver Seraph (from £30k)
The Rolls-Royce Silver Seraph sits in a kind of limbo on the used market. Not as affordable as earlier Rolls-Royces and sitting in the shadow of the Phantom that followed, the Silver Seraph was nevertheless engineered following BMW's takeover. It was also built at the historic Crewe plant, before the firm moved down to Goodwood.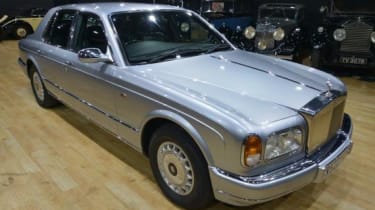 Thanks to Vintage and Prestige for the image
The engine is a 5.4-litre BMW-sourced unit and the £30k you can now find Seraphs for is just a fraction of the £155,000 they cost new. They're alleged to be very reliable on the whole, and while you shouldn't dive blind into a purchase, they're not inherently risky either.
>Find Rolls-Royce Silver Seraphs for sale on Classic and Performance Car
Ferrari 456 (from £35k)
Just £5000 more than the Rolls-Royce swaps Spirit of Ecstasy for Cavallino Rampante. The 456 is another partially-forgotten model of the 90s – 1992, for the earliest cars – but it's among the most affordable Ferrari V12, 400-series excepted.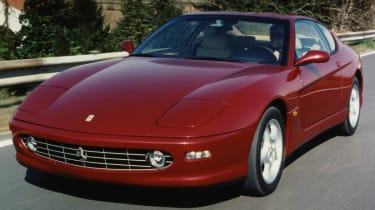 Like the Roller they're essentially fairly reliable. Engines are understressed (456 owners are less exuberant than owners of the mid-engined V8 cars), though minor oil leaks from the cam cover aren't unheard of. You'll still want a specialist at hand when you buy and a full Ferrari service history would be wise, but V12 Ferraris don't get much more usable.
>Find Ferrari 456s for sale on Classic and Performance Car
Aston Martin Vanquish (from £50k)
There was a time when early Vanquishes could be had for £30k – indeed, we wrote about such a price in our Aston Martin buying guide. Since then however, rarity and the buzz of a more recent Vanquish model has seen prices slowly rise, and now £50k is a more realistic starting point.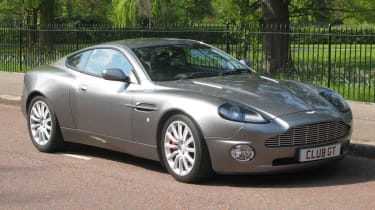 What does your money buy you? A beautiful, brutish chunk of Aston Martin history, which has subsequently influenced the styling of almost every Aston since. Early cars feature a recalcitrant automated manual gearbox, but Aston Martin Works offers manual conversions – for a price. Coil packs may need attention and front subframes can rust.
What we said: 'It grumbles at low revs, passes through a bellowing stage, then roars in a deeply classy, V12 sort of way to the red line' (evo 025)
>Find Aston Martin Vanquish for sale on Classic and Performance Car
Lamborghini Murcielago Mk1 (from £75k)
Evo's Fast Fleet is home to one of the highest-mileage Murcielagos in the UK. Simon George from 6th Gear Experience looks after a car that has now done more than 258,000 miles, much of those miles at the hand of inexperienced customers.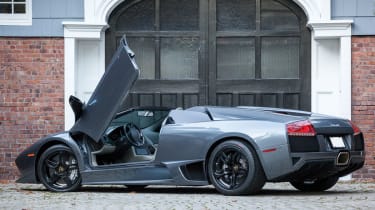 It's had troubles in that time – including a huge crash – and plenty of replacement parts, but generally it's an example of how far Lamborghini has come under Audi ownership. A full service history is still essential though, and clutches can be thought of as a routine maintenance item. The V12 itself though is generally reliable.
What we said: 'The sound of 6.2 litres of V12 erupting and then idling busily behind you confirms its status as a fully paid-up member of the supercar elite' (evo 89)
>Find Lamborghini Murcielagos for sale on Classic and Performance Car
Bonus car: Bentley Continental GT (W12) (from £25k)
No, the Continental GT isn't a V12 – it's a W12. But that's still the correct number of cylinders and their popularity means you can buy used with extreme prejudice. GTs start from as little as £25,000 now but realistically you'll want to spend another ten thousand to get a model in tip-top condition.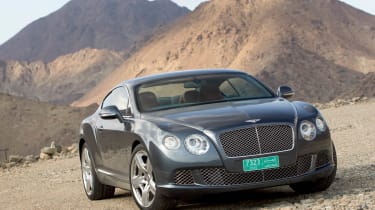 The 6-litre engine produces 552bhp at 6100rpm and 479lb ft of torque. Combined with standard all-wheel drive, and despite the 2350kg kerb weight, it serves up huge performance. The engine, once again, is reliable, but servicing is expensive because major work is an engine-out job. The Bentley's bulk also means Conti GTs are hard on brakes and suspension.
>Find Bentley Continental GTs for sale on Classic and Performance Car